Written by George Dimitriadis Photos By: John "Action" Jackson | 15 June 2010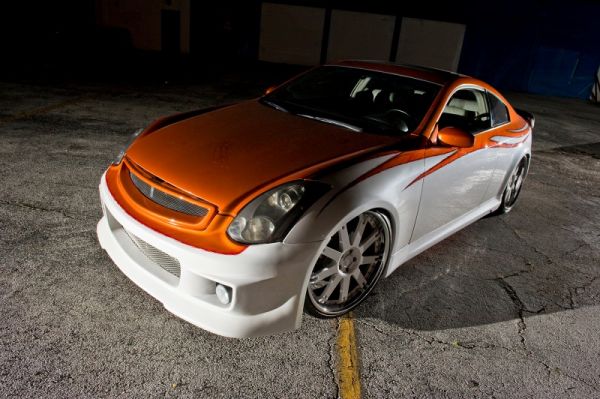 When audio builds come with two-tone paint jobs and two-tone interiors you know they mean business. Especially when they rock it in cream and orange like my personal favorite frozen treat, the Creamsicle. With a tangy orange interior and smooth vanilla ice cream filling, the combo just works and in this particular G35, it's working well too.
Stemming from a Kenwood DDX-714 headunit, the speakers and amplifiers are all courtesy of Kicker.
Beyond the popular two-tone treatment, Andy Wong's '05 Infiniti G35 Coupe took a departure from what we typically see around here. Usually, heavy audio builds have no power adders and although this one doesn't have a twin turbo setup, it does have a supercharger. A Vortec supercharger provides all of the jam along with supporting roles from GReddy, Deatchwerks and Megan Racing.

The focus shifted to the exterior where some JDM parts found their way onto a car which is decidedly dirty south style. A GReddy GRacer front bumper along with an INGs rear bumper is complimented by IMPUL sideskirts and AIT wing. The exterior was clad in a 2-tone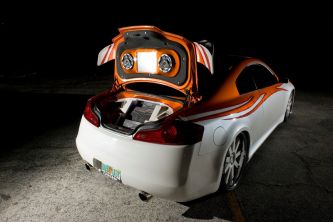 350Z orange with pearl white paint by DysfunctionalDesigns.com in Orlando, FL for the right look.
The correct stance was achieved using Sprint lowering springs and Tokico D-Spec dampers. The wheels are Avus AF901 measuring 22x9-inch and 22x10.5-inch sizing. The wheels are cloaked in Nexen N3000 tires 245/30R22 with 295/25R22 for added grip all around.
Then it was time to spruce up the interior as well as audio and multimedia. The headliner and pillars were recovered in suede by Hector's interiors. All of the engine vitals are relayed on Auto Meter gauges. But the real story is the audio install...
THE ESSENTIALS:
Owner: Andy Wong
Location: Wintergarden, FL
Vehicle: 2005 Infiniti G35 Coupe

 

ENGINE:

Nissan 3.5L VQ35DE V6

ENGINE MODIFICATIONS

Vortech Supercharger
Dynotune Nitrous Kit
MD Plenum spacer
Walbro 255lph pump
GReddy BOV
Deatschwerks 440cc injectors
GReddy exhaust

 

WHEELS, TIRES, BRAKES

Avus AF901 wheels
F: 22x9-inch
R: 22x10.5-inch
Nexen N3000 tires
F: 245/30R22
R: 295/25R22
StopTech rotors

 

SUSPENSION
Tokico D-Spec dampers
Sprint lowering springs



EXTERIOR
GReddy Gracer front lip
INGs rear bumper
Shaved door handles
Impul sideskirts
AIT rear spoiler
2-tone 350Z orange with pearl white
paint by DysfunctionalDesigns.com in Orlando, FL

 

INTERIOR

Suede headliner and pillars
Hector's Custom Interiors
Auto Meter gauges

 

AUDIO / MULTIMEDIA
Kenwood DDX-714 headunit
Kicker 1000.1 mono amps x2
Kicker 600.4 4-channel amp
Kicker 300.4 4-channel amp
Kicker KS 6.5-inch door speakers
Kicker KS 6.5-inch trunk speakers
Kicker KS 6.9 rear fill
Kicker L7 15-inch subwoofers x2
Optima Redtop under hood
Optima Yellowtop
Stinger wiring and fuse blocks
TView LCD screens x 12
Stemming from a Kenwood DDX-714 headunit, the speakers and amplifiers are all courtesy of Kicker. The low-pass signals head to a pair of Kicker 1000.1 mono amps to light up the quad Kicker L7 subs in a sealed enclosure for maximum sub bass. Also located in the trunk are Kicker 300.4 and 600.4 4-channel amps to run the Kicker KS 6.5 speakers in the doors and the Kicker 6.8-inch rear fill speakers in the trunk lid. Tview LCD screens are found all over this project including two in the trunk and three in the bottom of each door – you can never have enough screens! Powering it all up is a pair of Optima YellowTop deep cycle batteries mounted in the trunk and a stout Optima Redtop under the lid. When it comes to power and interconnect it doesn't make sense to cut corners which is why Stinger was chosen.
With all of the these bold moves, this South Florida cruiser gets noticed and with its color scheme it creates an intense craving for a Creamsicle everywhere it goes.