Written by Dave Pankew // Photos By: Jacob "The Rising Sun" Leveton | 24 August 2010
Page 2 of 2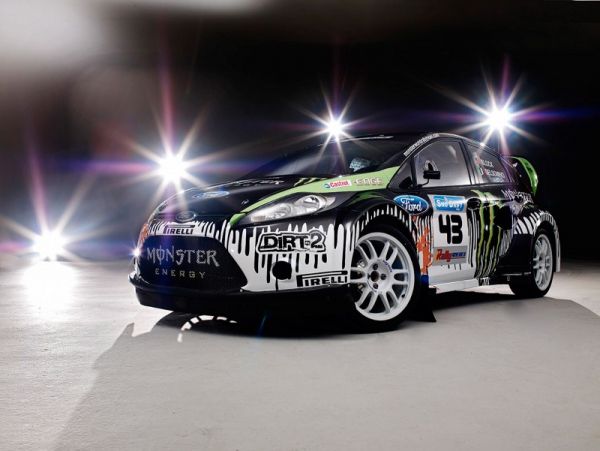 The shell of the car is a straight custom widebody from OMSE. You won't see another like it and the function aero is all constructed of carbon-Kevlar. Inside the cabin, Block has everything he needs to stay safe and competitive. The KBT cage surrounds a pair of Recaro Profil seats. The buckets are dressed with Sabelt harness and all of the driver inputs are made with a Sparco carbon fiber wheel. In the trunk are a pair of ATL fuel cells and all of the obligator custom carbon fiber and sheet metal work.
From what we have seen from Block over the last decade he doesn't half-step anything. He carved out a legendary rep in the extreme sports world, made millions in the fashion industry and has rewritten the rules of what is hip in the performance aftermarket. Everything he touches turns to gold and we expect nothing short of an outstanding rise in popularity for the motorsport he has truly put on the map.
THE ESSENTIALS
Owner: Ken Block
Location: Long Beach, CA
Vehicle: Monster Energy Ford Fiesta
Power: 650whp on race gas
ENGINE
Ultra Motor 2.0L Duratec

ENGINE MODIFICATIONS

Ultra Motor Build
OMSE ported & polished head
JE 10:1 pistons
Carrillo rods
Arrow crankshaft
ARP studs
WRC-spec Garrett TR3076R turbo
OMSE top-mount manifold
TiAL 44mm wastegate
Bosch 800cc injectors
Bosch in-lines
OMSE intercooler
OMSE custom IC piping
HKS SSQV3 blow-off valves.
ENGINE MANAGEMENT
OMSE SAAB ECU
DRIVELINE
OMSE magnesium transmission
OMSE LSD F&R
OMSE axles and driveshafts


WHEELS, TIRES, BRAKES
Volk Racing TE37 18x9-inch forged alloys
Pirelli Trofeo 245/45R18 tarmac-spec
Alcon 6-pistons
Alcon 4-piston rear
OMSE hydraulic e-brake
SUSPENSION
Öhlins 4-way adjustable coilovers
Öhlins custom springs
Öhlins in-car adjustable compression and rebound controller.
EXTERIOR
OMSE widebody
OMSE rear wing
INTERIOR
Recaro Profil race seats
Sabelt harnesses
Sparco steering wheel
ATL fuel cells