Page 1 of 2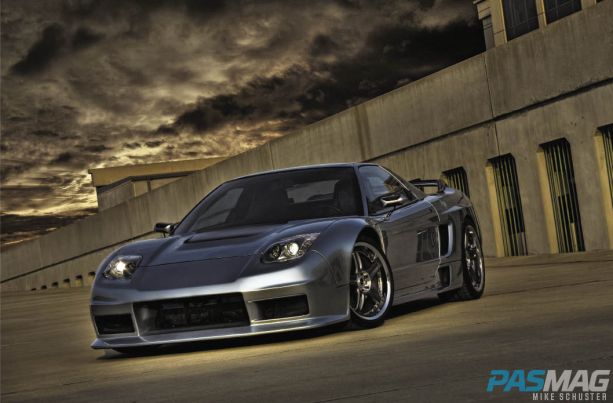 Written by Dave Pankew / Photography by Mike Schuster
Trends come and go. Some come around full circle sooner than expected. Like anyone ever predicted to see kids rocking studded belts and high tops in like barely 10 years after it was still hip. But then again, hit up some backwoods towns and the Joe Dirt look never really left. 'Cause some styling is really timeless. And the same holds true for certain models of auto styling where they were really so far advanced they remained current for over a decade. The same body style (with some modern twists) could drop tomorrow and buyers would still line up to order one. And there is no better example than the Acura NSX.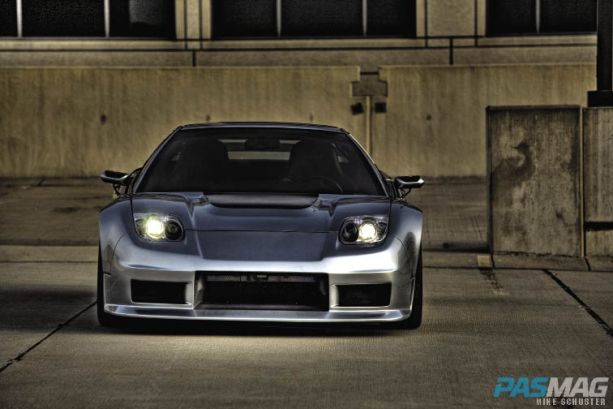 The silhouette of the NSX is so immune to becoming dated that there are actually people out there that have no idea what it year it might be from. On a recent cruise, I was rolling with my homeboy who actually got quizzed at a gas station as to if this was a new Acura. While he skirted around the issue that it was actually a 17 year old car, the gawkers still weren't convinced.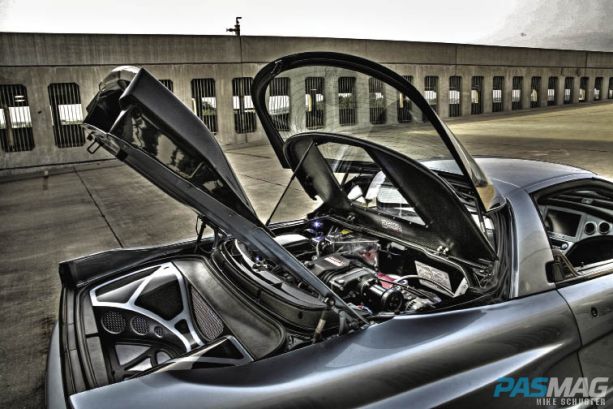 Now we gawk at enough NSXs during a regular week, but nothing ever popped up like this. It is as if owner Ron Warnick of Cinncinnatti, OH decided his mission was to eradicate anything that harkened back to the days when Clinton was still jogging 10 miles a day. He started in 1997 by simply adding a Tubi exhaust and dreamt of other mods but never found the right time to build was he describes as "what the next NSX should have looked like." But after some life future-shock-ron-warnick-1991-acura-nsx-comptech-volk-racing-cantrell-studios-bridgestone-jl-audiochanging events, he decided to tackle what shows the age of the NSX, which has always been the boxy and mundane interior. So Warnick decided he would not only revise it but reinvent it. And on that tip, it was removed and put in a corner.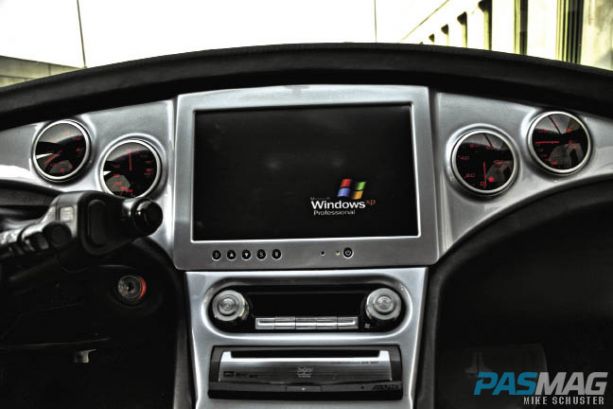 He turned to Spade Kreations in Cinncinnatti to hit the computer and design something that resembled nothing of the original. The most outstanding feature is the sweeping arc dash panel housing several gauges and a fully functional tablet PC in the center.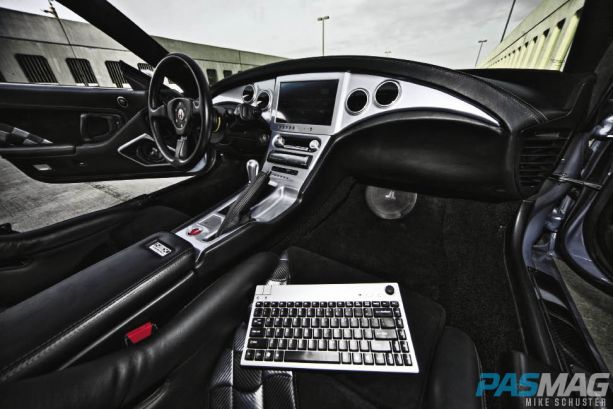 This color matched panel houses several Defi BF gauges including: oil pressure, fuel pressure, boost and water temp. The entire dash has been recreated out of fibreglass as are the door skins. The carbon fiber accents are found all over the interior: trim bexels, door inserts and Ritmo carbon door sills. All of the control knobs have been machined in billet aluminum to really fast forward the look a couple decades. The pedals have been swapped for Autovation racing models and they continued by adding a Science of Speed shift knob and Sparco quick release wheel. The Recaros have also been recovered in suede to complete what we consider one of the most innovative, yet functional interiors seen in years.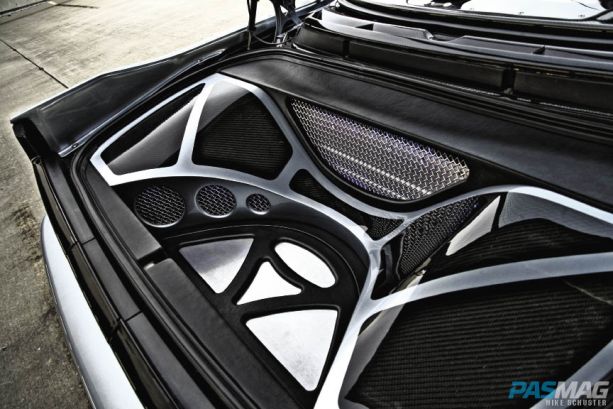 The lunacy spread to the trunk area where even our amazing photos by talented photographer Michael Schuster found it tough to capture the insane level of workmanship. Several carbon fiber panels are integrated with painted inserts and color-matched meshed curved into the center of the trunk. Lurking behind all that flare is one serious sub, the JL Audio 8W3V2 8-inch brute. In the cabin are JL Audio ZR525CSI components and the whole package is driven by a JL Audio 450W 4-channel amp. Warnick decided on Kicker for all of the wiring and distribution blocks and has the system lit up by four Kinetik KHC-2000s. The Alpine DVA-5207 DVD player is only once source of media since Warnick also has the Xenarc MP-FL11 mobile computer to deliver any type of media.