17 October 2011
Page 2 of 3
We all know that time attack is as much, if not more, about handling than it is about power and the crew at Sierra Sierra is well aware of that as well which is why almost every component of the suspension system on this corner-carving Evo is custom fabricated in-house. A slew of custom suspension pieces allow for precise adjustment of everything from camber to bump steer. The custom rear sway bar is even adjustable on the fly by the driver via a lever in the cockpit. The only part of the car's sophisticated, yet straightforward suspension system that Sierra Sierra didn't make themselves are the struts and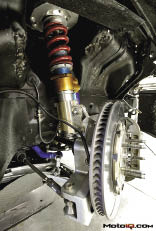 springs. For the struts, the team chose high-tech and extremely adjustable Dynamics DSSV struts paired with Eibach springs. The car's handling prowess is finished off with 295mm wide Hankook Ventus TD Z221 DOT tires and are wrapped around 18" Rays wheels. A Brembo Group N Rally Spec brake kit is in charge of stopping this bullet.
O
ne of the best things about time attack is the freedom to innovate in the aerodynamics department. Sierra Sierra has gone to extreme lengths to create an exceptional aerodynamic package for their Evo VIII and it has worked. Nearly every aerodynamic aid protruding from the exterior of the Evo has been designed by their in-house experts. The front bumper and front spoiler are designed by Sierra Sierra and brought to life by Kaminari using lightweight dry carbon fiber. Kaminari is also responsible for the dry carbon fiber hood, side skirts, and rear diffuser. SEIBON dry carbon fiber front fenders, doors, and rear trunk lid are also used to help shed weight. An APR Performance rear wing is mounted directly to the chassis while APR Performance side mirrors are also used due to their low profile shape. Perhaps the most interesting aerodynamic aide on this car is the tunneled flat bottom belly created by Sierra Sierra.
Inside, the Sierra Sierra Evo VIII is strictly business. Almost every bit of stock interior has been scrapped to provide the most weight savings possible. A custom carbon fiber dash shell replaces the factory dash while a Cosworth Electronics Omega D2 digital dash replaces the factory gauge cluster. Professional driver David Empringham straps himself into a carbon fiber racing seat from Recaro and cinches down on the Willans racing harnesses before grabbing a Sparco steering wheel and getting on to the track.
So there you have it, a detailed look at one of the fastest production based cars in the world, the Sierra Sierra Enterprises Mitsubishi Evo VIII. The team at Sierra Sierra is a stunning example of innovation, expertise, and professionalism within the world of time attack. As the sport continues to grow in the United States and around the world, it is teams like Sierra Sierra that demand our attention by continuing to change our definition of what can and cannot be done with a production-based car.
For an in-depth look at the Sierra Sierra Evo visit www.MotoIQ.com
---