Written by Dave Pankew | 27 November 2009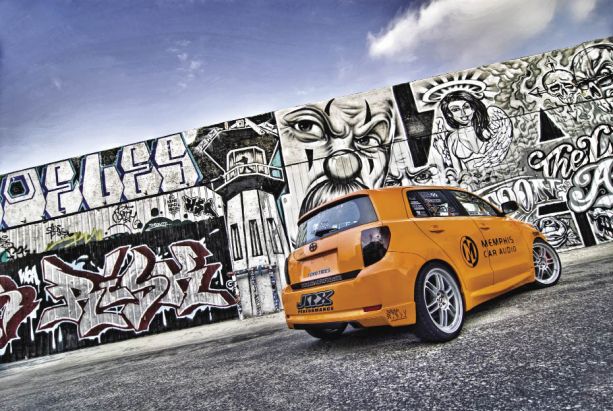 Written by Dave Pankew | Photos by Josh Mackey
I'm probably dating myself by saying that when I was in high school the Cameo haircut was official. Not just any fade either, but a serious vertical afro á la Kid from Kid'n'Play reaching a foot high. Then there were all kinds of variations to the cut, with lightning bolts in the temples, dollar signs in the back or maybe even words like "FRESH" shaved into them. For what it was, the haircut survived for a long time and that was because it was personalized in many different ways and went through several different phases. The key to success in any trend is variation and nowhere is that more evident that in the Scion brand.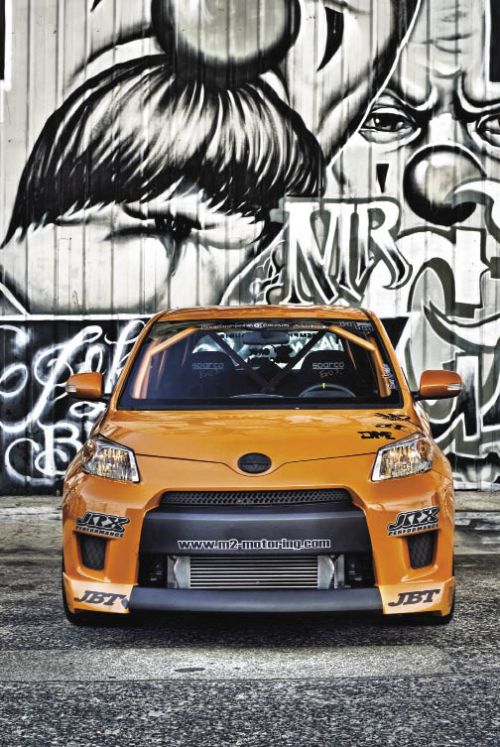 Scions come in a variety of configurations from the dealer and their list of TRD upgrades and accessories is impressive. Everything from an air freshener to superchargers is available for purchase at the dealer and new buyers are eager to accessorize their sub-$20K car on the spot. It doesn't stop there, because most aftermarket manufacturers have applications for tuners eager to ramp up their car. Some lean towards show, some towards performance but in the case of Mike Ma at M2 Motoring he nailed both.
Michael Ma and M2 Motoring (www.m2-motoring.com) have partnered up with Memphis Car Audio on many previous projects, and they always seem to be magazine worthy. Memphis Car Audio is of course involved in Drifting and Time Attack as a true supporter of the enthusiast scene. They have done a solid branding job by backing the right drivers and when it came to building a demo car, they ensured it would have wide appeal. The parent company portfolio includes Memphis Audio and Fulmer racing helmets, so this Scion xD would embrace both the audio and competition realms to illustrate that.
How did the crew at M2 Motoring and Memphis Car Audio accomplish this? Well, let's start with the fact that the interior has been gutted, yet retains a full audio install, some of which is integrated in to the cage! The Memphis M Class 10-inch subs are sitting in tiny custom enclosures that are bolted to a rear cross bar of the color-matched cage. Driving the subs is a Memphis S Class SC1.500 mono amp situated on a cargo area rack along with a pair of S Class SC4.55 amps to drive the balance of the speakers. Found throughout the cabin are four Memphis M Class 6.5-inch speakers all connected with Memphis wiring. The source unit is a Valor 7-inch double-DIN headunit with multiple playback capabilities.
The interior itself has undergone quite a lot of modification. Starting with reclining Sparco Evo3 racing seats, the 4-point harnesses were supplied by Crow Racing. The steering wheel is a deep dish NRG unit with a short hub and quick release. Oink Fabrications supplied the multi-point cage that surrounds the interior making the chassis mega-stiff. Adam Nonis created the custom carbon fiber door panels.
Oink Fabrications also attacked the chassis by completely stitch-welding the entire car. Not something you see in many Scions. A set of KW Suspension Variant 3 coilovers were added in addition to a JBT big brake kit to bring the Scion to a stop with some hustle. The rolling gear was carefully selected to be all about going fast with a set of ultra-light Enkei 19x8-inch RPF1 MAT-forged wheels. On all four corners are a set of Toyo T1R tires to keep the xD from coming unglued.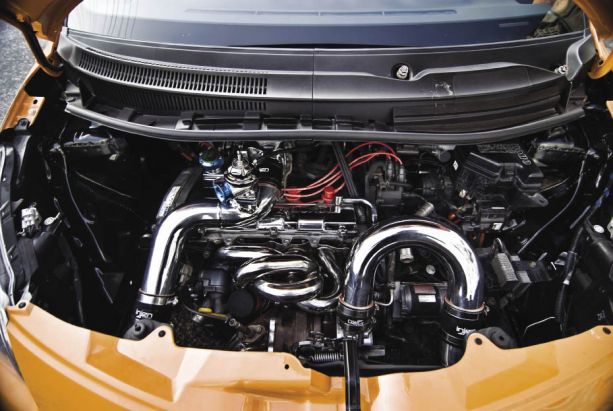 Under the tiny lid is where some more of the magic happens. Gone is the sickly 1.8L stock motor and in its place is a fire-spitting 3S-GTE 4-banger turbo. JRX Performance took the potent MR2 motor and dropped it in there with the utmost precision. Then they started upgrading the factory turbo motor with a Warehouse / Airwerks K24 turbo upgrade,
a custom JRX turbo manifold and downpipe ending up in DC Sports stainless exhaust. The attention turned to the cool side where a JRX custom front mount was connected to Injen IC piping and vented with a GReddy Type-RS blow-off valve. To keep things extra cool, a custom Mishimoto aluminum radiator was added with upgraded Mishimoto electric fans. The whole package delivered solid power when tuned with a Microtech ECU.
Still in progress, we have no official horsepower numbers but the current estimate is 400hp at the wheels. Michael Ma and his M2 Motoring crew plan to both show and track this Scion and promises to surprise some sports cars with it. For them, the exercise was all about fitting a load of their audio gear into a race car with minimal weight gains. As many tuners realize that a system doesn't always have to harm their performance, you'll be seeing many more projects just like this.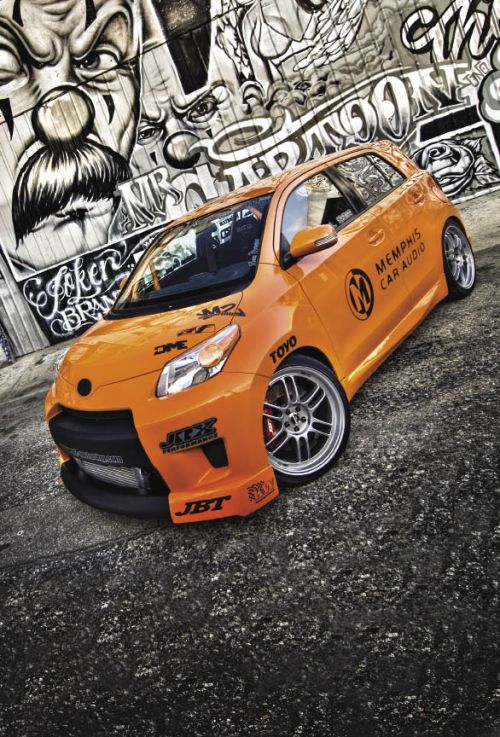 THE ESSENTIALS
Builder: Michael Ma
Location: Los Angeles, CA
Vehicle: 2009 Scion xD
ENGINE
Toyota 2.0L 3S-GTE inline-4
ENGINE MODIFICATIONS
Complete 3s-gte engine swap by JRX Performance
JRX front mount intercooler w/ Injen piping
Mishimoto custom race radiator
Mishimoto custom radiator fans
Engine polishing all by Injen
The Warehouse turbo upgrade
ARC oil cap
Greddy type RS blow off valve
JRX performance Custom turbo manifold
JRX performance Custom downpipe
DC sports exhaust system
JRX performance custom axles
Warehouse / Airwerks K24 turbo upgrade
ENGINE MANAGEMENT
Microtech standalone ECU
WHEELS, TIRES, BRAKES
Enkei RPF1 19x8-inch wheels
Toyo T1R 225/35R19 tires
JBT 4-piston big brake kit
SUSPENSION
KW variant 3 coilovers
EXTERIOR
Oink Fabrication full stitch-welded chassis
Magma Orange Paint job
5axis models lip kit
2 tone accents
Stickers
INTERIOR
Sparco Evo3 seats w/ custom brackets
Oink Fabrications custom roll cage
NRG steering wheel, quick release and short hub
Adam Nonis carbon fiber door panels
AUDIO / MULTIMEDIA
Valor DVD 7-inch double din head unit
Memphis Car Audio S Class 16-SC4.55 (1)
Memphis Car Audio S Class 16-SC1.500 (2)
Memphis Car Audio M Class 10-inch Subwoofers (2)
Memphis Car Audio M Class 6.5-inch Component speakers (2)
Memphis Car Audio wiring kit
Custom enclosures