Written by Shaun Keenan. Photos by Matthew Jones | 28 August 2012
This month's cover car is the stuff that dreams are made of. I mean, what serious import enthusiast hasn't drooled over the thought of owning and modifying an Acura NSX? Well, the owner of this exquisite looking 1995 Acura NSX-T has been around the scene for many years. In fact, Russell Antonio of Buford, Georgia started the Jade Motorsports import car club in Orlando, Florida way back in October 1997. Over the years, the club's membership has grown and now boasts members from Florida to California.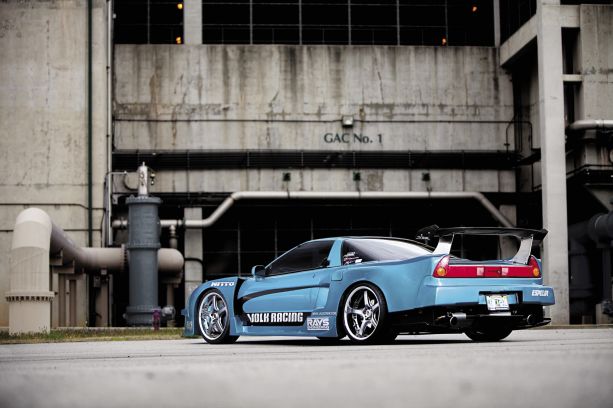 Antonio works in the medical field as a RMT and is also the part-time access lead at the Northside Hospital's emergency room. "The NSX has always been and still is one of my favorite cars," he says. "It was ahead of its time and, despite its age, still keeps up with today's cars. When it first came out in 1991 with a price tag close for $97,000, I thought to myself, 'one day, but not right now.'"
Well, that day did eventually come; and, in August of 2004, Antonio and some members of the Jade crew headed out on a road trip to Ft. Myers to follow a lead on a NSX that had just come up for sale. "I immediately fell in love with the car – it was Berlina Black with a black leather interior – but the dealer wouldn't let me test drive it," he recalls.
"We were in our 20s and I guess it didn't look like we could seriously by the NSX when we got to the dealership. As we were leaving the dealer uttered 'I can't guarantee it will be here tomorrow' to me, so I put down a small deposit and gave them my number."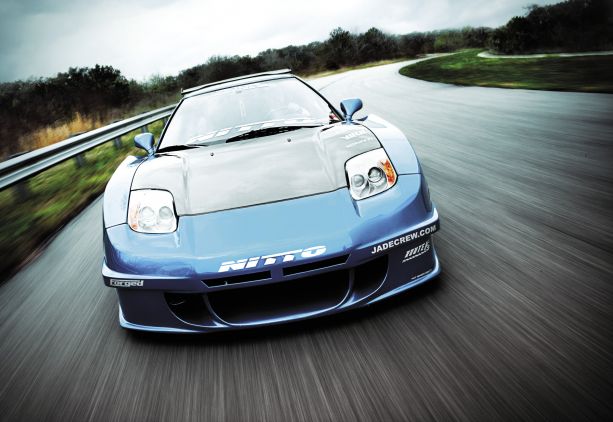 "Thirty minutes into the drive back to Orlando and I get a call from the guy. He said, 'Congratulations, the NSX is yours if you still want it. Your credit is golden!' We immediately turned around, I signed the papers and the rest is history. Jade Motorsports had a new member and I was already itching to modify it to the fullest!"
"Words could not describe my excitement at getting the car of my dreams, the powerhouse of Honda," says Antonio, whose previous builds have included a 1994 Ford Probe GT with a custom Bomex kit, BMW Le Mans Blue paint and a 100-shot of nitrous, plus a 1988 Honda CRX Si with a B16A all-motor swap, Wings West Mugen body kit and Top Secret gold paint.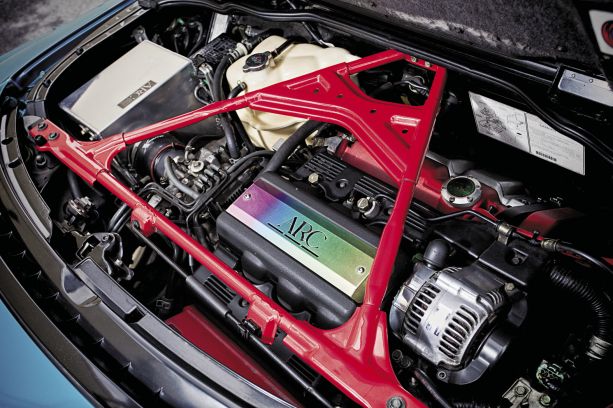 According to Antonio, getting the NSX to this point has a taken roughly $40,000, though he admits to having lost count. The standard three-liter DOHC V6 with Vtec remains pretty much stock for reliability though it has been kitted out with a cold air box, cylinder head cover, radiator cap and oil cap from ARC. A cat-back twin exhaust from Espelir and six-puck Exedy racing clutch are the only other performance mods. Bone stock, the C30A motor makes 270 and 210 lb-ft of torque. Here, with the little that's been done to it, Antonio puts realistic figure of 300 hp to it before mentioning he plans to add a Comptech supercharger to bring it to the next level.
Speaking of which, this NSX-T boasts a very rare Route KS wide body kit from Japan that looks killer. In fact, it's apparently one of only 22 such kits in the world and the first and only one on American soil. To put an exclamation point on that, the car has been fitted with 2005 NSX projector headlights and taillights, a carbon fiber hood from Importfan.com and is painted in a custom "Jade Green" matched to the 40th Anniversary Lamborghini Murcielago by Rob's Autobody. To finish off the racy JDM look, an adjustable carbon fiber GT-style wing sits on aluminum stanchions that keep it secure.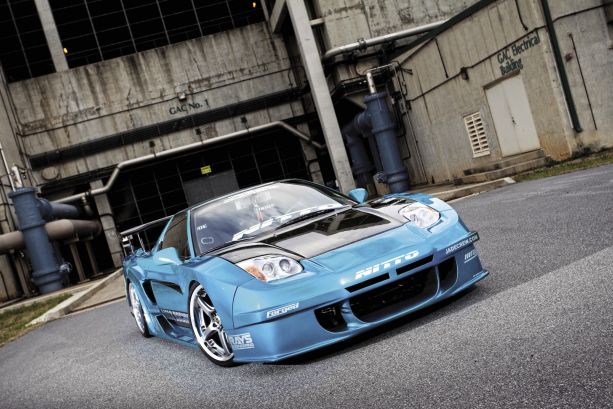 The car is pictured with a set of gunmetal-colored 19-inch Volk GT-S rims and Nitto Tires; however, will be rolling on a fresh set of gold Volk GT-V wheels and Toyo rubber by the time you're reading this. Neuspeed race lowering springs and a Project Mu big 14-inch brake kit give the car enhanced handling and stopping abilities.
A number of other modifications have been planned for the future and will likely be on the car soon. These include JGTC-style side mirrors, a Route KS rear diffuser, carbon fiber front canards, HKS cat-back exhaust as well as the aforementioned Comptech supercharger to boost the power and prestige of this car even more. A fresh set of Volk GT-V wheels and new Toyo Tires are inbound as well.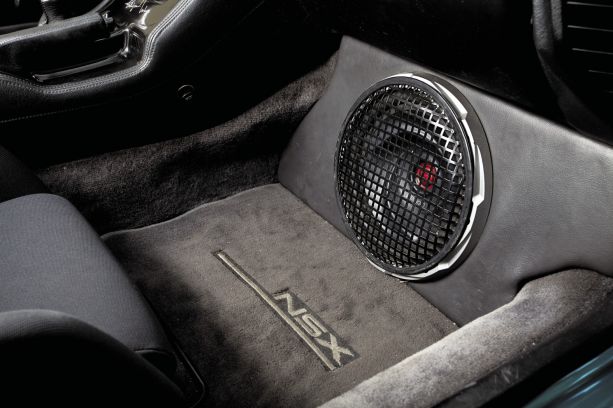 Inside, the black leather interior has been supplemented with a Type R steering wheel by Momo and Signal Auto quick release hub. An ARC titanium shift knob and Project Mu racing pedals are stylish and functional upgrades for the driver, who also benefits from an APEXi Vtec controller that's flush-mounted in to the center console below the Kenwood eXcelon TV/CD/DVD/AM/FM/XM motorized head unit.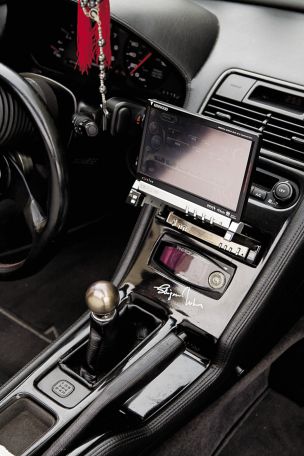 The rest of the in-car entertainment system is all from the eXcelon series and features a navigation system and Music Keg, which can store thousands of MP3s, plus a pair of multi-channel amps in the trunk. Speaker upgrades consist of six-inch midranges in the factory locations, 1.25-inch tweeters mounted in the upper door near the A-pillar and a single 10-inch sub mounted in a sealed enclosure in the passenger foot well.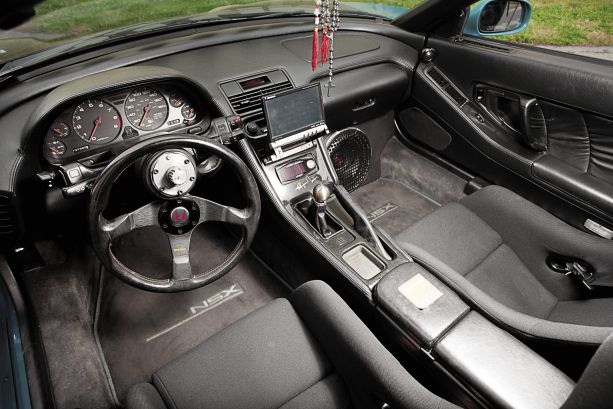 "The NSX build has been a dream come true," says Antonio. "It has won numerous awards at HIN, Nopi, Dub and other shows over the years. It was one of the cars in the Fast Five movie along with me as one of "Diego's boys." Modifying cars has been my passion since I was old enough to drive. It's a great feeling to receive compliments from different generations and people who aren't even into cars."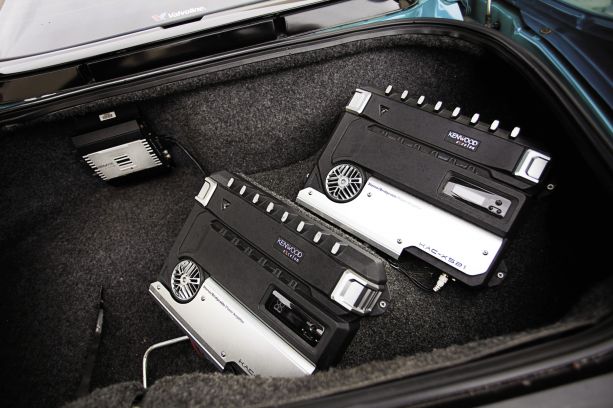 The Acura NSX exudes performance and sex appeal and Antonio's is certainly one of the best examples of a modified one out there. It's not the most powerful nor the fastest, but it's most definitely uniquely clean and well-rounded thanks to the rare wide body kit and thoughtful JDM inspired mods. Seeing as how eager Antonio was to get his hands on this car back in his younger days, it's probably a safe bet to assume he's eye-balling the next Acura NSX, which should see the light of day sometime before 2015. Judging by this jade trophy, let's hope so.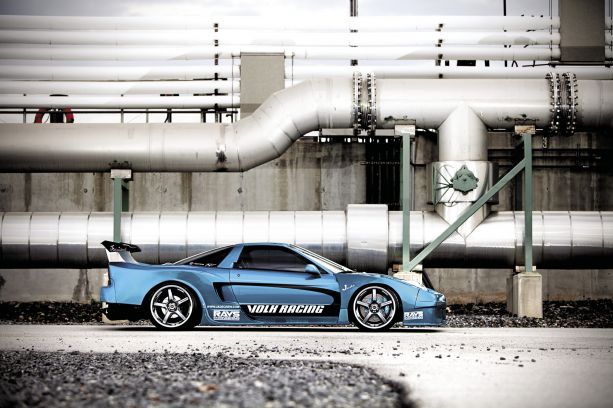 ESSENTIALS
Vehicle: 1995 Acura NSX-T
Driver: Russell Antonio
Team: Jade Motorsports
Engine: 3.0L DOHC VTEC V6 (C30A)
Horsepower: +300 hp
ENGINE MODIFICATIONS
Injen cold air intake
ARC (cold air box, manifold cover, radiator cap and oil cap)
EXHAUST
Espelir JGT 500 cat-back exhaust
DRIVETRAIN
Exedy six-puck racing clutch
CHASSIS / SUSPENSION
Neuspeed race lowering springs
WHEELS / TIRES / BRAKES
Volk GT-S (gunmetal) wheels – 19 x 8, +23 offset (f), 19 x 10.5, +5 offset (r)
Toyo Tires – 225/35/19 (f), 285/30/19 (r)
Project Mu Big Brake Kit (14-in. SCR-PRO front rotors, four-piston calipers (f), SCR rear rotors (r); B-Force pads, Teflon brake lines, G-Four brake fluid)
EXTERIOR
Route KS Zero Force wide body kit #22
2005 NSX (projector headlight and taillight conversion)
Importfan.com carbon fiber hood
Jade Green 40th Anniversary Lamborghini Murcielago custom paint by Rob's Autobody
INTERIOR
Black leather
Type R Momo steering wheel
Signal quick release steering wheel hub
Project Mu racing pedals
ARC titanium shift knob
Broadway mirror
APEXi Vtec controller II
AUDIO / MOBILE ELECTRONICS
Kenwood eXcelon (TV/Tuner/CD/DVD/AM/FM/XM head unit, navigation system, Music Keg (storage of 5,000 MP3s), KAC-X521 amplifiers (x2), 10-in. subs (x2), 6-in. midrange, 1.25-in. tweeters)
SPONSORS
Volk Racing, Project Mu, ARC, Project Kics, Toyo Tires, Mackin Industries, Mothers