Page 1 of 3
Life wasn't meant to be easy. Even if you're born into money, you face challenges along the way. When you want something, you can't always expect it to be handed over to you without putting in work. More often than not, the more pain and suffering you endure during your journey, the sweeter the reward is in the end. That's how Rob Kochis of West Covina, Calif. felt when he went on what seemed like an endless quest to seek out and build his dream 2013 Scion FR-S.
---
As many stories from diehard car dudes and dudettes go, Kochis started gathering parts for his FR-S before he actually owned it. Fortunately, he was no stranger to fixing up cars and knew the path he had to head down. His first ride was a Toyota MR-2 turbo, but "my parents made me sell it because they heard I was driving too aggressively on the streets," Kochis recalls. His more recent 2008 Nissan Sentra Spec-V build also went south.
Kochis made a visit to his friend Mike's place to try to come up with a plan B by looking at more cars on the Internet. They came across SpeedHunters.com where his infatuation with the Rocket Bunny FR-S began. Like an overgrown boy that just saw his first issue of "Playboy," Kochis' obsession for the car began to blossom.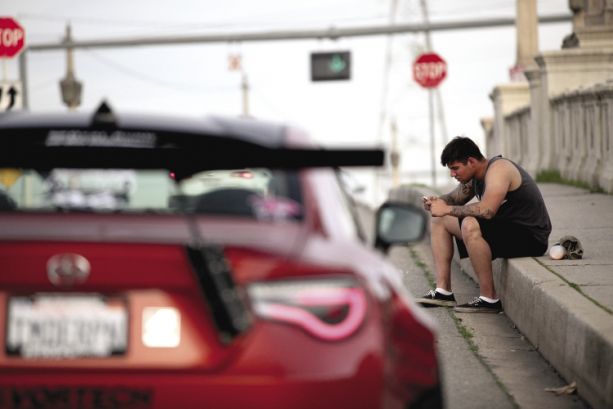 "I was working 50 hours a week doing sales for Verizon Wireless and was going to school full-time, so I knew this wasn't going to be easy," he tells. The popularity of the FR-S meant that getting one wouldn't be so simple either, with some Scion dealerships selling the car for more than $7,000 above sticker. However, that didn't stop Kochis from committing to display his yet-to-be-purchased FR-S in the JDM Sport booth at the 2012 SEMA Show. And at this point, he really had to get his hands on the car and body kit because that was all part of the agreement to get into the booth.
After getting shunned by dealerships left and right, Kochis finally got in touch with George Burg from Dealership Services Direct who found him the exact FR-S he was looking for and at sticker price. With the first task in his dream build complete, there was so much more to do. Next Kochis managed to track down Kei Miura on Facebook and messaged the TRA Kyoto owner regarding the FR-S he was planning to build for SEMA. To his surprise, Mr. Miura responded with a sponsorship offer; so Kochis quickly sent the necessary funds over to get the ball rolling. Slowly more sponsors started lining up and things got off to a smooth start. Anyone that's ever built a SEMA car can confirm there will be problems up to (and sometimes past) the eleventh hour.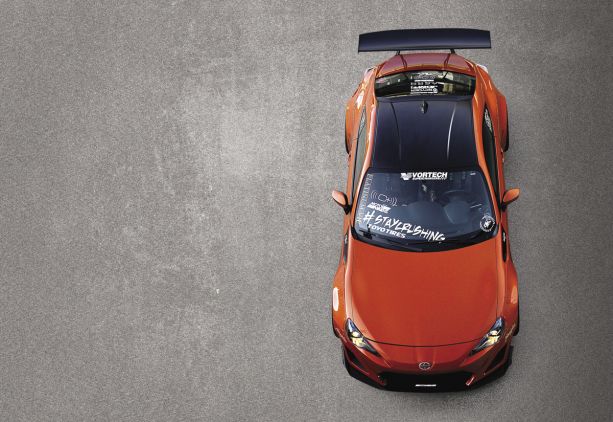 With this FR-S project, the installs and body work didn't even begin until five weeks before the show because of various complications. "People helping out were telling me the car just wouldn't be done on time, which was a huge heartbreaker," Kochis recalls. Starting to feel the pressure, he woke up one morning with a huge resurgence of determination to get his project completed by SEMA.
As the parts started to come in, he would load them up in his 240SX coupe and make a run over to Kennedy Nguyen at Platinum VIP to get things put on the car.
On went the TRA Kyoto Rocket Bunny body kit – the precursor to all this madness. The massive front bumper gives the FR-S an aggressive look that looks like it's about to devour everything in its path, and the new body lines from the widened fenders are curvaceous enough to make Kate Upton jealous. Stare at it long enough and you begin to understand why Kochis became such a lunatic about it. Kennedy was able to match the factory Hot Lava paint perfectly and yet somehow still made it look better than when it came off of the Scion assembly line.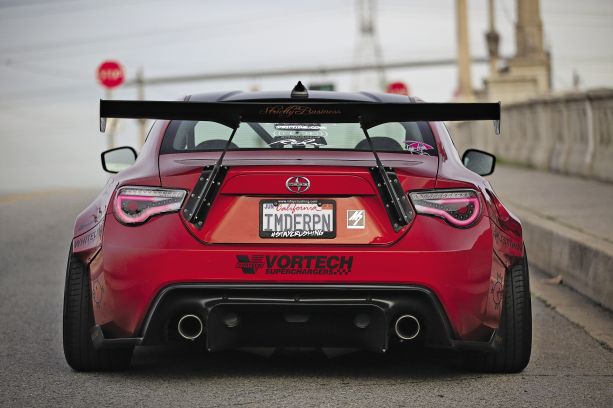 A few of the final body kit pieces had gotten lost in transit and Mr. Miura had to rush to ship them to the States in time for SEMA. The scary part is this was only the beginning and both time and Kochis' bank account funds were running ridiculously low. He had some money set aside from his commissions dedicated to this car, but full sponsorships don't come easy nowadays and he was burning through that stash at an accelerated rate.