Page 2 of 3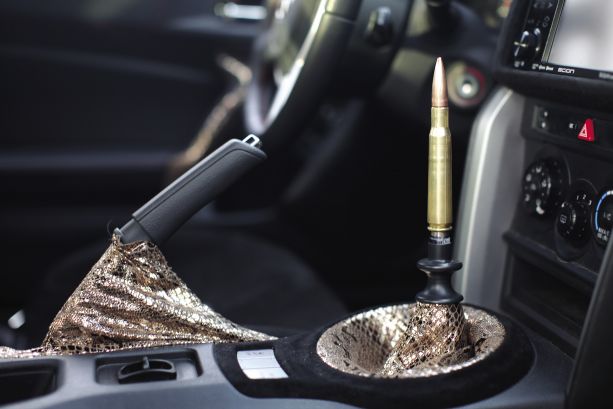 Fully aware that a body kit and paint job don't make a complete car, Kochis put a little bit of his own flavor when figuring out the interior of his dream car. Buddy Club racing seats with Takata harnesses were the first to go in followed quickly by a 9K Racing shift knob made out of a .50 caliber bullet. The shifter and emergency brake boots are made from snake skin, which is not a combination you'll see very often unless you hang out a lot with Jimmy Goldstein.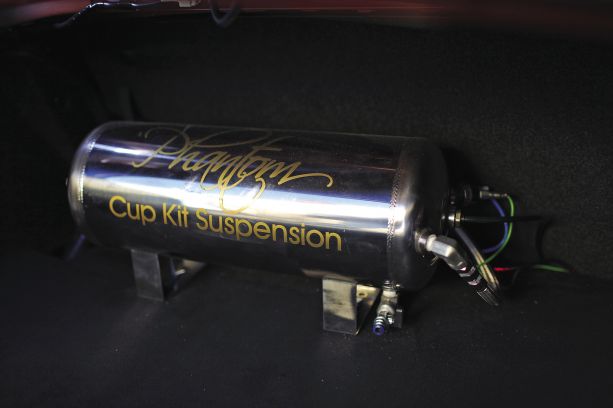 At this time, the car wasn't even halfway complete. Forgestar F14 wheels were chosen and paired with Toyo T1 Sport tires like a wine connoisseur would do with cheese. A regular suspension upgrade might have given the FR-S sick stance and handling, but then it would be too low to drive daily. This would not do, so Kennedy put on the Platinum VIP Phantom Cup kit to help raise the front when it's called for. Yet, even with the project deadline getting dangerously close, more unforeseeable problems would arise. The Rocket Bunny side skirts, while amazing, didn't allow extra spacing for the larger wheel and tire combination, making driving the car to Las Vegas and back practically impossible. Kochis had to raid his rainy-day funds once again to pay for a trailer just to get to the City of Sin.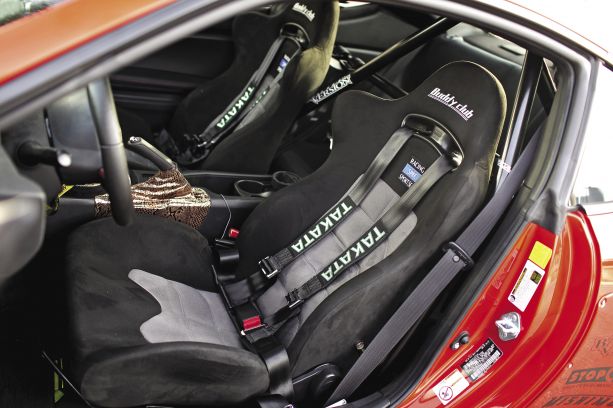 By the time the car made it to SEMA, Kochis and friends were literally (and figuratively) running on empty from lack of sleep and wired from too many energy drinks. But the car did make it, which is the most important part, and became the talk of the show. It was getting a lot of attention on the social media front and, Kochis, who had been turned down many times over for sponsorships, was now rubbing elbows with industry leaders such as Kenji Sumino, President of GReddy Performance Products.
What was once a fantasy for Kochis began transforming into an even more unforgettable experience after a chance encounter with some PASMAG brass over at Aria's Haze nightclub during the week. "To put it simply, I was impressed with Robert's attitude and enthusiasm as much as his car," says Shaun Keenan, Managing Editor. "I knew I wanted to work with him and before long we were talking about a cover feature."
When the week was finally over, Kochis got back to his real life where a rude awakening saw him get let go by Verizon. Rather than hang his head and sulk, however, Kochis decided to go full force with the branding of his FR-S and marketing his company, Stay Crushing. While waiting for those unemployment checks to roll in, he decided to move back home and pay some bills by slinging stickers and t-shirts out of the trunk of his car at events. Although things have been a bit tight, he loves the hustling life whether it's getting up at 8 A.M. to unload a container or making parts runs in exchange for a tow from Victor Reyes at Emergency Hooker.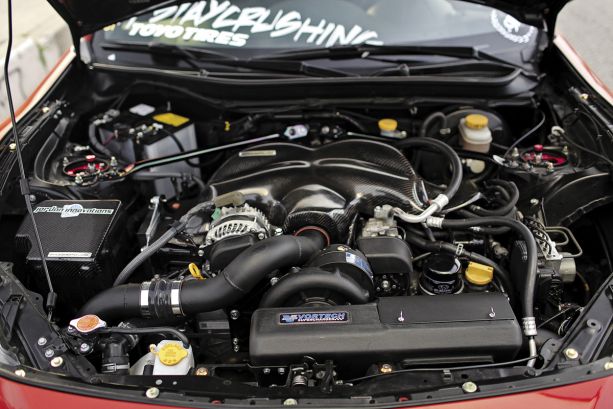 As many hits as it got from SEMA, the Stay Crushing FR-S was seriously lacking on engine modifications. But thanks to a sponsorship from Vortech, its brand new supercharger kit was installed in time for the shoot. Vortech's Brian Ellis and Neil Tjin worked frantically with the R&D team to make sure the kit (still in development at the time) not only made it in time for the shoot, but also fit and ran perfectly so they could go until full production with it.
The kit features a gear-driven V-3 H67BC centrifugal supercharger (designed for the FA20 Boxer engine) with an internal oil reservoir and remote fluid drain hose for simple fluid changes. The factory cold air ram intake benefits from a stylized airbox and reusable high-flow air filter housing that works with the integrated air-to-air intercooler for maximum efficiency. The complete bolt-on system maintains a "factory-type" appearance, and can be installed in about four hours. Teamed up with a Borla header and Injen down-pipe and exhaust, it's expected to put down 260 hp at the wheels on the Evasive Motorsports dyno. We'll be revisiting the install in a future issue of PASMAG to update you with real-world numbers.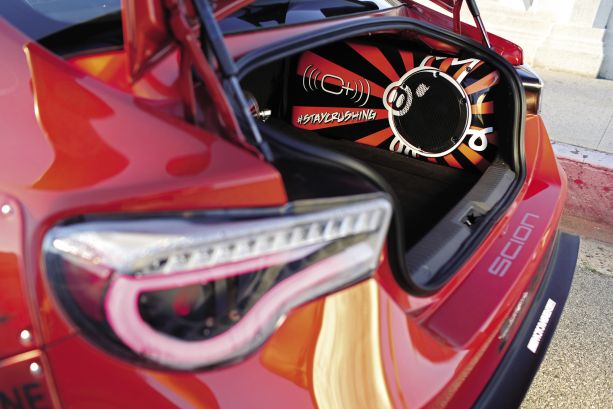 To round everything off, the stock audio system has been upgraded by OEM Audio Plus with a Special Edition Reference 400CF | Scion FR-S system that features eight new speakers, two amplifiers and a vehicle-specific sub enclosure, which has been custom wrapped by Granjaworks. Each component is built from the ground up by OEM Audio Plus and integrate fast and easy with the Quick-Sync wiring harness. All drivers utilize the factory mounting points and connectors for a truly integrated look with no cutting, splicing, drilling or guesswork.
Kochis still feels a bit like Cinderella (the guy version of it) with people he idolizes going completely out of their way to help on this build. "It really is like a fairytale," he says.
That said, you'd think he would be content with the great feedback and hugh amount of publicity the car has received, but not Kochis. He now wants to attack every car show across the country and rack up on trophies like a deranged soccer mom in 2013. Judging by what we've seen from him to this point, it shouldn't pose much difficulty for Kochis and his FR-S. But if you do see him reaching for t-shirts and stickers from his trunk store, buy a few and always try to "stay crushing."