Written by Richard Morrison | Photography by Jae Ludo and Shannon Ahearn | 18 October 2013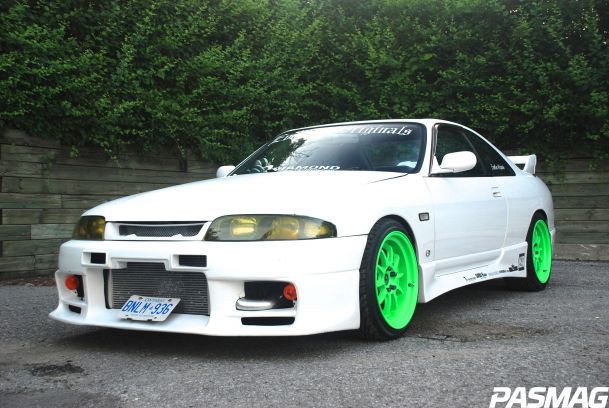 Turning heads on the show car scene is always a challenge. Buying a cool car is just the first step; it merely provides a foundation to begin a build towards show car status. Once the project is done, it's easy to think all of the hard work is over, when in reality there is still a lot left to do. From preparing and maintaining the car for shows, to keeping the equipment in pristine condition, to setup, takedown and travel, it all starts to look a lot tougher.
For Mike San Antonio (better known to many people as DJ dBase), this 1993 Nissan Skyline GTS-T represents the return of a car show and sound-off veteran. For many years, San Antonio was heavily involved as the founder of one of Canada's biggest car clubs, Team Evolution Concepts. Over the years, the team displayed and competed at numerous shows and sound-offs, winning more than 80 individual awards and over 60 car club awards, including a record for the most cars from a single club at a single show, with 76 cars in attendance.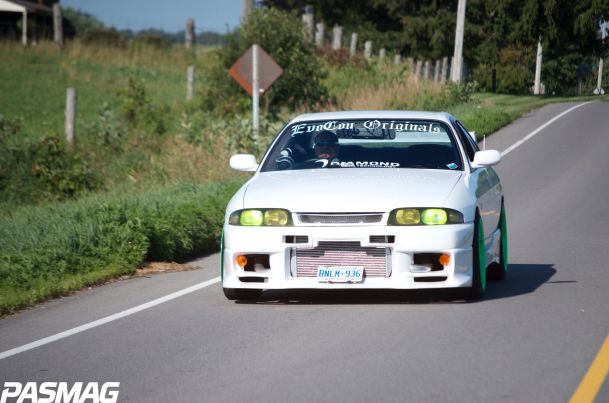 Organizing a big club and taking on all of the work of building and maintaining his own show cars took its toll and, in 2009, San Antonio retired from the scene. But after performing as the DJ for the CSCS Sport Compact Racing Series for 2011, he was inspired to return.
This time around, he was looking to keep some balance in his life and in his ride, making sure it was as fun to drive and own as it was to take to shows. Wanting to make a statement, he sourced a JDM R33 Skyline GTS-T, still a rare sight on his Ontario turf.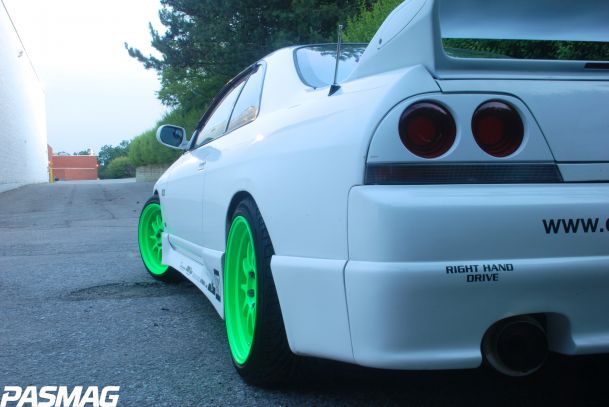 The all-white Skyline made decent power in stock form with its RB25DET 2.5-liter turbocharged inline-six, but San Antonio raised the output with a number of upgrades and some help from engine builder Sidewais.com. HKS supplied the intercooler, wastegate, BOV, header, down-pipe, turbo timer, air intake and filter. An APEXi exhaust is also added along with a Blitz sequential boost controller, Walbro fuel pump, GReddy regulator with a wet NOS kit for an extra big hit of power to top it off. Shifting that power is an Exedy Stage 3 clutch and lightweight flywheel.
The Skyline comes from the factory with great lines, but San Antonio added some nice touches with a Nismo GTS 400 R body kit and GT-R wing, R33 grille and blacked-out headlight housings with HID headlights and LED markers. Covering the exterior is an all-white scheme that lets the classic Nissan styling speak for itself.
With its already stout chassis, there isn't much needed to improve the handling. The Skyline is dropped on a set Tein and HKS full coil-overs and shocks, with a R33 Cusco front strut bar and heavy duty GT-R sway bars in the front and rear. Ikon 18-inch wheels finish the package on Falken rubber.
Moving inside showcases a Momo steering wheel, shifter knob and E-brake and shifter boots. Gauges from GReddy and Auto Meter let San Antonio keep tabs on the engine, while a JVC KWX830 head unit controls the entertainment when time permits.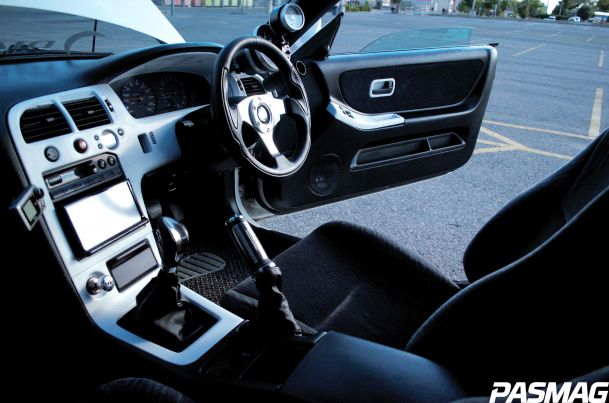 As a pro DJ, DJ DBase takes his audio and his car stereo very seriously. He began competing in car audio back in 1995, so he has owned or has experience with almost every brand of car audio out there, and knows that you usually get what you pay for. For this build, he stepped up to Diamond Audio, a longtime standout in car audio sound quality competition to supply his sound.
Two big amplifiers supply the power for the system. A super-efficient class GH Tour Series TX10001 amplifier delivers over 1,000 watts of continuous power to the subwoofers, while an ultra-clean Tour Series TX6004 four-channel amp delivers 400 watts to the component speakers all around.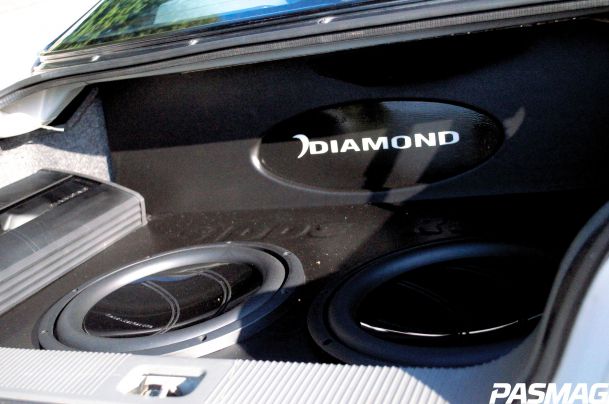 The crystal clear sound comes from two sets of Diamond Audio SX65v convertible component speakers. They provide incredibly accurate vocals and a perfect blend of mid-range and highs. The serious bass punches from two 12-inch TX122 subwoofers housed in a custom vented enclosure near a beautifully-finished amp rack built by SIDDS Radio.
Back in the day, Diamond Audio was one of only a couple of brands that could consistently produce championship-quality SQ gear. Since their return to the marketplace, they are back to the pinnacle of the podium - a fitting choice for San Antonio, who is making a comeback of his own.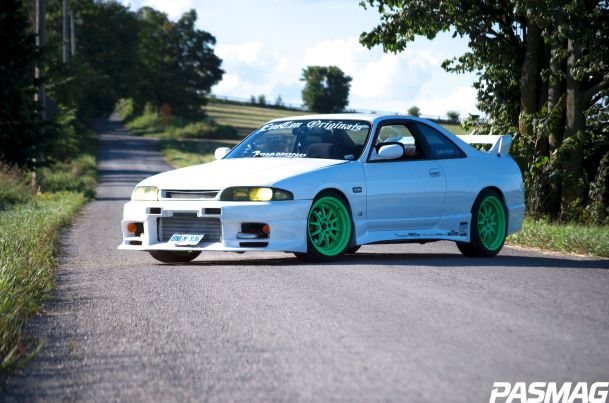 ESSENTIALS
1993 Nissan Skyline
Driver: Mike San Antonio
Club Affiliation: EvoCon Originals
Location: Toronto, ON
Engine: RB25DET


ENGINE MODIFICATIONS
HKS (intercooler, blow-off valve, air intake and filter, waste gate, turbo timer)
Blitz sequential boost controller
Samco hoses
NOS wet nitrous system
GReddy fuel pressure regulator
Walbro fuel pump
NGK spark plugs
Cusco oil catch can

EXHAUST
APEXi (catalytic converter, exhaust)
HKS (header, down-pipe)

DRIVETRAIN
Exedy Stage 3 clutch

CHASSIS / SUSPENSION
TEIN coil-overs (f)
HKS coil-overs (r)
Nissan Skyline R33 GT-R sway bars (f/r)
Cusco R33 front strut bar

WHEELS / TIRES / BRAKES
IKON wheels – 18x8 (f), 18x9 (r)
Falken tires – 215/40 R18 (f), 235/40 R18 (r)
Nissan dual piston calipers

EXTERIOR
Nismo (GTS 400 R body kit, GT-R wing)
Nissan Skyline R33 grill
Pulled and rolled rear fenders
HID Lights
LED signal lights (f/r)

INTERIOR
MOMO (steering wheel, shift knob, shift knob boot, E-brake boot)
GReddy (gauges, gauge pod)
Auto Meter gauges
Custom paint interior

AUDIO / MOBILE ELECTRONICS
JVC KWX830 head unit
Diamond Audio (TX10001 amplifier, TX6004 amplifier, TX122 subwoofers (x2), SX65v 6-in. convertible speakers (x2))
Pyle 7-in. monitors
Lightning Audio (front fuse holder, main power wire, distribution block)
Optima Yellow Top battery

SPONSORS
Diamond Audio, Auto Glym, Wheels Direct, IKON Wheels, SIDDS Radio, Auto Gallery, Rockstar Graphics, Sidewais.com