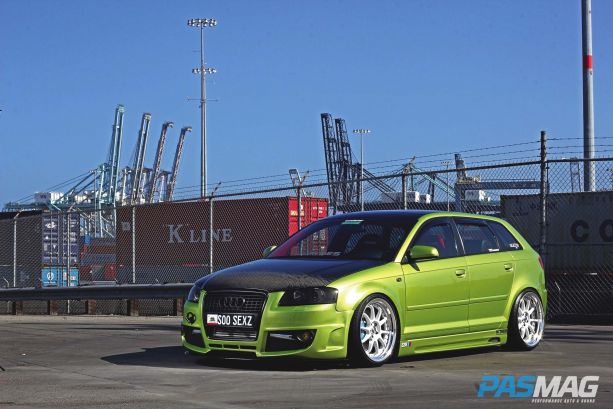 Some things just go together. Like peanut butter and jelly, or three-piece forged wheels on a built VW. Others less so. Such as dipping your fries into your milkshake (it'll change your life), or going all Japanese on your German hatch. Joser Romo's Audi A3 is what happens when you're raised on JDM, but fall in love with the Euro scene. It's all good though, because like putting chips on your sandwich (you're welcome), it totally works.
It's not like Romo was new to the scene and just didn't know the distinction between the two. You see, building cars has always been in his family – he grew up on it.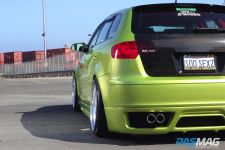 "My pops always had cars lowered with wheels, like 13-inch Daytons on his Toyota Tercel," Laughs Romo. "My uncle had a crazy VW Bug he built. I have always been into it."
Things started off in the form of a 1999 four-door Honda Civic with a full Bomex body kit, some interior parts, suspension and wheels – "just the basics," according to Romo. Unfortunate circumstances intervened, however. A student driver was stalled directly in his path but, with traffic on either side of him, Romo knew that swerving to avoid the car wasn't an option. He just didn't have enough time to stop, so he was forced to bite the bullet and hit the stationary student. "That car ended up being totaled."
An enthusiast without a car is just not right, so Romo's top priority after the accident ordeal was over with was getting a new ride. This time he found himself leaning towards an Audi. Romo even went to the dealer with an A4 in mind as his next purchase. Just as he was looking over some models on the lot, something changed his mind.
"Suddenly a truck appears with a load of new A3s," recalls Romo. "It was a brand new model in 2006. I was like, 'This is something different, a sport hatchback from Audi.' I test drove it and fell in love with it."
With a new 2.0L TFSI (8P), Romo was ecstatic. He had never owned a turbocharged car before and made sure to put it to good use. Before he locked in on the A3, Romo knew he was going to modify whatever car he chose. His friends at High End Performance, and even his family had encouraged him to do so.
"My friends and family have always been there when I needed help with parts," says Romo. "They always give me advice on what, and what not to do with the car. If it wasn't for them, I don't know what I'd have!"
What Romo has now though is a bad little piece of machinery. From any angle, you can see the JDM styling cues. When looking at it head-on, the yellow running lights and fog lights are definitely JDM-inspired. Romo gave his Audi some shades with a light smoke on the headlights and taillights. The stock grill has been blacked out with the lower bits punched out to reveal the intercooler hiding just behind the Oettinger front bumper. For a bit of charm, Romo bolted on a "SOO SEXZ" vanity plate. Indeed.
| | |
| --- | --- |
| | |
The Rieger skirts and rear bumper are matches made in Euro heaven for the Oettinger bumper, giving the car just the right amount of aggression. Adding to the aggression is the Audi's stance. D2 Racing coilovers lower the pulled fenders over the 19-inch SSR Professor SP3 wheels, which are sporting MayRun MR500 tires. If you take a peek past the spokes on the SSRs, you'll see some baby blue Rotora calipers that clamp onto some 13-inch slotted and drilled rotors. On the outside, custom carbon fiber panels go from hood to trunk and cut a nice contrast on the unique pale lime green paint.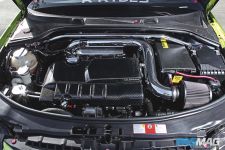 Under the Seibon Carbon hood it is nice, simple and looks just right. A K&N air filter attached to a polished Neuspeed intake pipe winds around the engine. Polished to match the intake, a EuroSport custom front strut bar keeps things rigid. A carbon Neuspeed engine cover sits over the turbocharged inline-four, which is being manipulated by Revo Stage 2+ tuning software. EuroCustoms up- and down-pipes carry exhaust gasses to and from the Audi turbo and out the MagnaFlow exhaust with a nice note.
"I think that it's something different," says Romo. "Like, it has more of a JDM style than Euro and people trip out when they see it."
The A3 definitely isn't what you'd expect, and Romo has carried the theme into the cabin. The first thing you'll notice is there's Bride everywhere – the brand, not the newlywed. Bride carbon-Kevlar Gias Lowmax buckets with Scroth harnesses looped through them take the place of the cushy Audi seats. Red Bride fabric is used on the rear seats and the hatch cover to get the message across. Matching red suede coats the door inserts, headliner and A-pillars. Carbon fiber door inserts sit just above the suede to tie the outside to the inside. Glowshift gauges ensure Romo can see his speeds in any light, while pounding on ABT pedals and a Sparco shift knob.
| | |
| --- | --- |
| | |
Romo didn't skimp out on the audio side of things. Smack in the middle of the dash is a Sony XAV-A1 head unit with an in-dash display. From there, Romo has access to Sony tweeters, Alpine Type S speakers and 12-inch Alpine Type E subwoofers. An Alpine MRP-M500 amp drives the subs in the custom box enclosure in the back, while a MRP-F300 moves the speakers up front. A Rockford Fosgate LED capacitor and AudioControl Bass Epicenter helps to ensure the Audi shakes the ground as well as people's heads.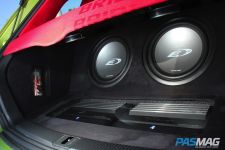 Romo built this A3 in hope that it would be known at shows, and to hopefully get a magazine feature (here you go, buddy!). He also says that one day he would like to track it. But, what about those out there who have the same goal and want to build up something nice to show off?
"It takes time and yes, anyone can build their dream car," says Romo. "Sometimes you will have your ups and downs, but I never thought I'd have a car like this. I worked hard."
Oh, and one more thing:
"Always drive your show car. I daily mine all the time because it's nice and I won't hide it in the garage."
Damn right.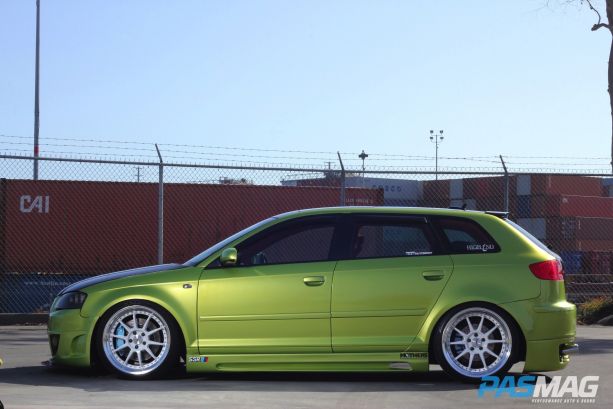 ESSENTIALS
Car: 2006 Audi A3
Owner: Joser Romo
Club Affiliation: R-RYDES
Engine: Volkswagen Group 2.0L I4 T-FSI
Horsepower: 275 hp
Torque: 300 lb-ft

ENGINE MODIFICATIONS
Forge Motorsport blow-off valve
K&N air filter
Neuspeed (air intake, carbon fiber engine cover)
Revo Stage 2+ software

EXHAUST
MagnaFlow (exhaust system, exhaust tip)
EuroCustoms (up-pipe, down-pipe)

WHEELS / TIRES / BRAKES
SSR Professor SP3 wheels – 19 x 9-in. +36 (f), 19 x 10-in. +36 (r)
MayRun MR500 tires – 225/35 R19 (f), 235/35 R19 (r)
Rotora brakes (four-piston front calipers, braided lines, brake pads)
13-in. drilled & slotted brake rotors (f/r)

CHASSIS / SUSPENSION
D2 Racing coilovers
Eibach (sway bars, urethane bushings)
EuroSport custom front strut bar

EXTERIOR
Oettinger front bumper
Rieger (rear bumper, sideskirts)
Blacked out grill
Smoked headlights & taillights
Seibon carbon fiber hood
Audi (custom carbon fiber roof, custom carbon fiber trunk)
1-in. pulled fenders
Body work by A&A Autoworks, DTM Autobody
Paint work by Limerock Paint

INTERIOR
Sparco shift knob
Personal steering wheel
Glowshift gauges
New South Performance gauge pods
Bride carbon Kevlar Gias Lowmax seats
Schroth harnesses
ABT pedals
Suede (door inserts, pillars, headliner, shift boot)
Carbon fiber door inserts
Bride fabric (rear seat inserts, hatch cover)
Upholstery work by California Upholstery

MOBILE ELECTRONICS
Sony (XAV-A1 headunit with in-dash display, tweeters)
Alpine (MRP-M500 amplifier, MRP-F300 amplifier, 12-in. Type E subwoofers, Type S midrange speakers)
Stinger (front fuse holder, main power wire)
Rockford Fosgate LED capacitor
Audio Control bass epicenter
Custom box enclosure

SPONSORS
SSR Wheels

SPECIAL THANKS
My friends and family who have helped me, my team, R-RYDES, my friends from Limitless Society, my fam at Auto Concept Elite, High End Performance, Tanginamo Lifestyle, A&A Autoworks, DTM Autobody, SSR wheels, and A&A Autosound