Written by Dave Pankew // Photos by Josh Mackey and Mike Bowen | 01 February 2010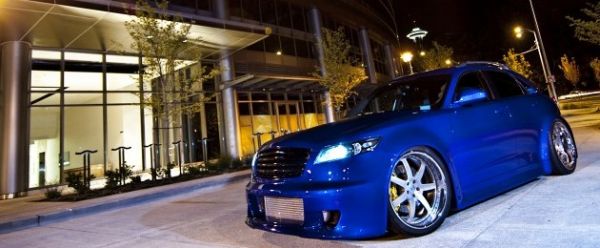 Some say it looks like a shoe, some say it looks like a bathtub. I doubt Infiniti designers were discussing the profile of a Ronald McDonald shoe or the merits of taking a bubble bath while this car was being conceived. I've always thought the FX series of crossovers something decidedly more hip. From my perspective it looks more like a bionic cheetah or evil robot about to transform and tear everything up. From its debut, I knew there was a serious platform to customize but no one dared do it. However, a few brave souls ventured out in to uncharted territory. When Vince Nguyen of Los Angeles, California started on this project, he basically couldn't stop himself. As a result we have been chasing this car down for over two years while it was in an out of the shop.
Beneath all of the visual upgrades beats the heart of a lion too, a twin turbo VQ that will easily embarrass most of what is on the road today.
We're still thrilled to finally get it as the day we started, mostly because the spec sheet was even more elaborate than we had anticipated. This isn't some baby-balls, low pressure supercharger with an unmolested engine bay. It is rebuilt from the ground up with all of the right moves.
When Nguyen sourced out parts for his VQ35 build, he didn't venture further than Cosworth. As one of the leading authorities in hard parts, Cosworth supplied the forged pistons and H-Beam connecting rods to the crankshaft supported by tri-metal bearings. Up top, the ported and polished head was filled with Cosworth 1 mm oversized valves, titanium retainers and 272 cams. The head is fed with air from a Cosworth twin-plenum manifold and fuel is delivered with a Cosworth high-volume fuel system and SARD 800cc injectors. The forced induction comes by way of a Jim Wolf Technology 700 twin turbo system. Featuring twin Garrett GT30 ball-bearing turbos, the system was complimented by a GReddy front mount intercooler. The spent gas heads through Technosquare 70mm test pipes and a GReddy Evo TT exhaust. The increase in boost meant a lot of heat would be generated and the PWR rad, Samco hoses and GTM electric fan and shroud now kept the temps in check. The system also required an oil cooler where a custom one was fabricated out of an Earl's core and stainless steel lines.
The whole ensemble was tuned by a Technosquare remapped ECU, which translated into over double the factory horsepower. Of course only a man's clutch would handle that and the task was given to an Exedy triple carbon clutch. A Cusco 1.5-way rear LSD was also added in addition to a 3.91 final drive from a 350Z.
As you might expect, all of that power has to be controlled. Nguyen sourced out a set of HKS S-Style coilovers for ride height and dampening adjustment. Since there are very few suspension parts for this car, Nguyen has some items customized from SPC and SPL. An SPC rear toe bolt kit and camber kit were modified to fit as were the SPL 350Z parts like the end links. The chassis was cinched up with every GT Spec polished brace that was found in the catalogue.


THE ESSENTIALS
Owner: Vince Nguyen
Location: Los Angeles, California
Vehicle: Infiniti FX35

ENGINE
Nissan VQ35DE 3.5L V6

ENGINE MANAGEMENT
Technosquare Inc. Remapped ECU Tuning
GReddy Profec B Spec II Boost Controller
HKS Camp2 On Board Diagnostics

DRIVETRAIN
Cusco RS 1.5 way LSD
EXEDY Triple Carbon Clutch
350EVO 3.9 Final Drive

ENGINE MODIFICATIONS
Cosworth H-Beam Connecting Rods
Cosworth 95.5mm Forged Pistons
ARP Mounting Hardware
Cosworth Tri-Metal Bearings
Cosworth 1mm Oversized Valves
Cosworth Titanium Retainers
Cosworth ZK2 270 Cams
Cosworth Twin Plenum Inlet Manifold
Cosworth high volume fuel system
Jim Wolf Technology 700 Twin Turbo Tystem
Garrett GT30 Turbochargers
SamcoSport Hoses and Silicone Coupler Upgrades For Turbo Piping
Technosquare Inc. 70mm Test Pipes
GReddy EVO TT Exhaust
GReddy 23R Intercooler
HKS VQ35DE DLI-II Twin Power Ignition Amplifier
HKS AFK N Type O2 Sensors
Blitz Drive By Wire Throttle Controller
PWR 56mm High Capacity Radiator
Fluidampr Harmonic Crank Pulley
Unorthodox Racing Aluminum Pulleys
Sard 800cc Fuel Injectors
Sard PCV Oil Catch Can
Sard Crankcase Oil Catch Can

WHEELS, TIRES, BRAKES
Brembo Monobloc Calipers
F: 6 Piston 15-inch with 380mm Cross-Drilled Rotors
R: 4 Piston 14-inch with 345mm Cross-Drilled Rotors
Steel Braided Brake Lines
HRE Performance Wheels
F: 22x10.5-inch -15 Offset
R: 22x12-inch with -20 Offset
Pirelli Scorpion Zero Asimmetrico
F: 295/30R22
R: 335/25R22

SUSPENSION
HKS S Style Front/Rear Adjustable Coilover System
Universal Air Suspensions Front/Rear Adjustable Air Ride System
GTSPEC High Polish Strut Tower Brace
GTSPEC Chrome Polish Rear Lateral Brace
GTSPEC Chrome Polish Rear Tie Brace
GTSPEC Chrome Polish Mid Chassis Brace
GTSPEC Chrome Front Cross Member Brace

EXTERIOR
2-inch Widened Metal Front Fenders
2.5-inch Widened Metal Rear Quarter Panels
Custom Flared KurumaZ Front Bumper
Custom Flared Molded APR Side Skirts
Custom Flared Molded APR Rear Bumper
Custom House Of Kolor Kandy Mix
Custom House Of Kolor Kandy Valve Covers
Custom Molded Side Mirrors
Custom Headlights
Painted Door Handles
Painted and Tinted Taillights
Shaved Rear Reflectors
Shaved Rear Hatch Trim and Badging
Shaved Rear Wiper
Shaved Roof Antenna

INTERIOR
Defi BF Series Boost/Fuel Pressure GaugesPainted Interior Plastics
Dynamat Sound Deadening
2 Tone Double Diamond Alcantara Seats
2 Tone Alcantara Dashboard
2 Tone Alcantara Door Panels
Custom Center Console Wrapped in Alcantara
Full Interior Blue LED Conversion

AUDIO / MULTIMEDIA
Alpine IVA-D310 7-inch Touch Screen Head Unit
Alpine IVA-W505 7-inch Touch Screen Head Unit
Alpine PXA-H701 Multimedia Manager
Alpine VPE-S431 Video Expansion Module
Alpine NVE-N872A DVD Navigation System
Alpine KCA-420I Ipod Interface
Vizualogic Dual 7-inch Headrest Video Monitors
Dynaudio Front Esotec 364 3-Way Components
Dynaudio Rear Esotec  262 2-Way Components
Zapco Audio DC1000.4 Digital Reference Amplifier
Zapco Audio DC1100.1 Digital Reference Amplifier
Image Dynamics IDMax 12-inch Subwoofers
Optima Yellow Top Battery

SHOUTOUTS
Car Nutz Customz
Auto Explosion Body Shop
Braking was now a huge factor that the factory gear couldn't handle. A Brembo GT kit was added with a 6-piston 380mm combo up front utilizing a 4-piston / 345mm rear. With enlarged brakes (and need for traction) and an enormous set of wheels and tires, HRE stepped in to supply a set of 648Rs, a 3-pice roller measuring 22 x 10.5-inch up front with a -15 offset and a shockingly oversized 22 x 12-inch rocking -20! Pirelli Scorpion Zero Asimmetricos wrap the HREs with 295/30R22s in front and 335/25R22 for a total package valued at $20,000 alone!
Requiring a custom metal widebody to accommodate the wheels, the car was shipped to Car Nutz Customz in Seattle, Washington. When the bodywork was complete, the shell was blasted in several coats of blue and clear coats. But the assault on the senses was just beginning as the multimedia install got underway.
The entire interior was gutted to make way for a load of Dynamat to keep out road noise. Then all of the Monster Cable power and ground wires were laid in addition to the interconnects for the sound. The headunit is Alpine's venerable IVA-D310 7-inch touchscreen with an additional IVA-W505 in the rear. Nguyen added a few Alpine expansions including a PXA-H701 Multimedia Manager, NVE-N872A DVD Navigation System and the KCA-420I Ipod Interface. Vizual Logic supplied the dial 7-inch headrest monitors fed by the secondary Alpine DVDs. The lows head to a Zapco Audio DC1100.1 Digital Reference Amplifier that drives a pair of Image Dynamics IDMax 12-inch subs. The highs are delegated to the Zapco Audio DC1000.4 amp feeding Dynaudio Front Esotec 364 3-ways and Dynaudio 262 2-ways.
With all of the right moves, this FX gets top honors from us. Sure it is an Infiniti but this unique approach to a popular but rarely modded platform was more than refreshing. Beneath all of the visual upgrades beats the heart of a lion too, a twin turbo VQ that will easily embarrass most of what is on the road today.