Written by Dave Pankew Photos By: Issac Mion | 05 July 2010
We talk a lot about the origins of the Sport Compact craze, and the discussion usually ends up with a reference or two to 1990s-era Honda Civics. Then when it comes to high tech JDM super cars, which were also debuting around the same time, it is almost unanimous that that was the starting point for the passion for compact high performance cars. However, at the same time, over in Europe potent Sport Compacts were basically the norm due to crowded streets and high gas prices. The need for a fun and sporty miniature compact car prompted automaker Austin to build the pint-sized Mini, which rewrote history.
The power of this car has been increased by more than 400% over the original 1975 rating.
Owner Lyle Engleson of San Diego is obsessed with these cars and has built one every bit as modified as the highly successful Ireson bi-moto Mini, but with more functionality in mind. Engleson has converted this mini to a rear engine, rear wheel drive car for the improvement in handling. With the use of a Zcars conversion, the engine mounts, integrated roll cage and suspension system are all custom in order to make this happen. The entire cage has been powder coated black and sus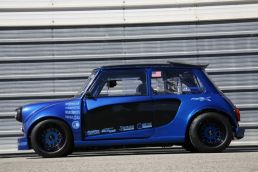 pension system anodized blue for theme consistency. The radiator and gas tank are located in the front of the car where the original engine was located. The kit was made specifically for Engleson and was shipped out from the UK. Engleson's MINI is one of only three in North America that uses this kit with a VTEC motor and the only turbo in the world using the Zcars kit.
We did the math afterward and the only things retained from the original Mini are the shell, front windshield, front bearing holders and the throttle pedal. Everything else on the car has been custom fabricated and/or replaced. For that to happen, he needed the right shop and turned to the San Diego division of High End Performance.
When it came to the power generated by the new powerplant, we had to do even more math. The power of this car has been increased by more than 400% over the original 1975 rating. The engine has been powder coated black, and the oil tank, timing cover, alternator, intake manifold and valve cover are fully polished. Yes, the AC and power steering has been removed but hey, it's a race car. Innovative billet aluminum mounts were used to mount the engine to the frame and roll cage for a positive connection. The remote oil cooler is cooled by fresh air coming from NACA ducts in the windows of the car. The Exhaust was hand-made in full titanium from the manifold all the way to the tip. A custom muffler was designed and then wrapped in a titanium sheet to complete the look. A polished radiator and shroud with the custom fuel cell are found up front because there is absolutely no room in this 2-seater.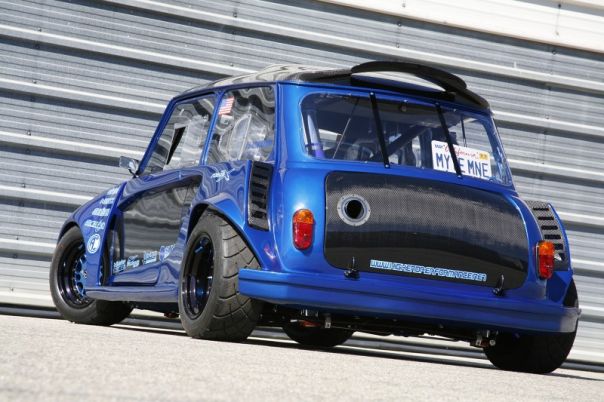 THE ESSENTIALS
OWNER: Lyle Engleson
LOCATION: San Diego, CA
VEHICLE: Austin Mini Cooper 1000
POWER: 425whp with 300lb-ft

ENGINE
Honda 2.0L K20 Inline-4 VTEC

ENGINE MODIFICATIONS
Heads: Stock Intake Manifold: Stock Polished
Fuel System: Aeromotive A1000 pump
Filters: Aeromotive 12301 & 12304 (one before pump, one after)
Fuel Regulator: A1000EFI
Lines: Russel Classic with return line Fittings: Earls
Injectors: Power Enterprises 750mm
Fuel Rail: BDL
Throttle Body: BDL
Vacuum Block: BDL Cooling System: Custom Zcars 
Mounts: Innovative Engine mounts
Exhaust: Custom fabricated by Fabworx in full titanium
Header: Custom fabricated titanium by Fabworx
Turbo: Borg Warner Model: S362 .70AR
BOV: TiAL 50mm
Wastegate: Dual Tial 44mm 
Intercooler: Custom Piping by Fabworx 
NOS: Custom direct port nitrous system designed by Joe McCarthey/Prototype Racing

ENGINE MANAGEMENT
2002 RSX ECU with Kpro Tuning: Shawn Church (Church Automotive)
Kpro 4BAR Hondata map sensor Boost Level: 20psi 

DRIVELINE
Gearbox: Stock Acura EP3 6 speed
Differential: Quaife LSD
Drive shafts: Custom by Zcars UK
Clutch: Competition Clutch Stage 5 Sprung
Shifter: Custom fabricated and made by Zcars UK 

SUSPENSION
Springs/Shocks: Fully adjustable rebound and height by Zcars UK 
Sway bars: Zcars UK
Bushings: Zcars UK
Race Jacks: KSport 

WHEELS, TIRES, BRAKES
13-inch custom 3 piece made by Image Wheels UK
Yokohama A032R 215/50R13 tires
KAD center lock 
Calipers: Custom blue Wilwood 4 pot Powerlites front and rear Brake Line: Exact UK
Disks: Wilwood drilled and slotted 260mm front and rear
Master Cylinders: Wilwood full race pedal set with cabin adjustable bias.
Brake Bias: Wilwood

EXTERIOR
Paint: D-BASF Candy Teal C22-410 over C22-310 Painted by: PJ Bonaficio
Body Work: Ben Abutin/High End Front Grill: Alec Mini Japan
Eyes: Alec Mini Japan then remade in exposed weave carbon by Rogue Sevens
Roof: Custom made exposed wave carbon by Rogue Sevens
Boot: Custom made exposed weave carbon fiber from Rogue Sevens
Hood: Custom made by Zcars then remade in exposed carbon fiber by Rogue Sevens
Lighting: HID high and Lo beams from a Hummer H3 
Tail lights: MKI round light conversion with LED bulbs Mirrors: SPA Technique Dry Carbon

INTERIOR:
Kirkey Deluxe Road Race Seats
Kirkey Aluminum Race mounts 
Harnesses: Cobra Pro-Series FIA road belt 6pt
Steering Wheel: SPA Technique with integrated shift lights
Hub: Works Bell Rapfix GTC flip quick release Mounting Hub: Custom
Gauges: SPA Technique Shifter: Zcars UK
Material: Black Alcantara Leather Door
ABS Motorsport exposed weave Carbon fiber
Dash: Custom Carbon fiber Gauge Pod: Carbon Trix

AUDIO & MULTIMEDIA
Eclipse AVN6610 touch screen
7-inch touch screen MRE-700
Audison LRx 4.1k Speakers: Hertz Mille MLK with ribbon mid
Hertz ML2500 10-inch subwoofer
Custom carbon fiber subwoofer enclosure
Stinger HPM Series wires
Battery Terminals: Braille Carbon Fiber B2015 x2
SHOUT-OUTS:
www.audioprofiles.com
High End Performance WBR Performance
SPA Technique Braille Battery
Rogue Se7ens
Bulls Eye Power Turbos
Hertz Audio Audison
The Polishing Shop
PJ Bonaficio
KSport
Wilwood
D-BASF
Ignited Performance
Sun Auto
The Glosser

The High End crew decided the engine had to be converted from a NA to forced induction to make a statement. Because of the car's uniqueness, the turbo setup had to be completely custom. The exhaust manifold was fabricated by Fabworx in full titanium, utilizing a dual wastegate setup. The turbo compressor housing has been polished to match the engine. The intercooler was custom fabricated and placed in the roof of the car to allow for short cooling pipes and instantaneous boost. A custom carbon fiber roof with integrated roof scoop and wing feeds air through the intercooler mounted on the engine. The Nitrous system was designed by Joe McCarthey, builder of the fastest RSX in the world recorded at the Bonneville Salt Flats in Utah. The stainless nitrous lines were bent by hand, and the distribution block was fabricated specifically for this application. As we mentioned earlier, it is the only known turbo VTEC Zcars Mini in existence anywhere in the world and thus a truly rare breed.

The entire suspension system was designed by Zcars and only full custom would work here. The front dampers are configured in a horizontal design similar to F1 race cars. The fully adjustable rose-jointed suspension enables quick adjustability to the race suspension at any time. The all-aluminum suspension has been anodized blue to match the theme of the car. Race jacks by KSport have been installed to raise the car on all fours with a remote switch that controls the onboard compressed air tank that powers them. The jacks mount via custom aluminum brackets (polished and anodized blue) that mount directly to the roll cage. The car features race jacks that are controlled in the cabin and can be raised and lowered within seconds. The air tank is located in the front of the car mounted to the firewall.

The Mini features a one-off custom fiberglass widebody kit. Specifically designed and fitted by Ben Abutin of High End Performance, there is nothing else like it in the world. The grille is from Alec Mini in Tokyo and was picked up in person in Japan because they do not ship overseas. The rear trunk lid was custom made by ABS motorsport in the UK. The hood is by Zcars and it was replicated in carbon fiber here in the States by Rogue. Rogue made the custom exposed weave roof with integrated roof scoop and wing as well. The lights were originally intended for a H2 Hummer, but they fit perfectly in the 7-inch headlight slots on the MINI. The trail lights have been converted to the round style lights on the MKI mini. The original lights were square with standard bulbs, but have been converted to LED. All the outer brightwork (tail lights) has been anodized black and ceramic cleared for consistency. Finally, the exterior side panels have been covered in real carbon fiber to blend with the carbon fiber theme.

When it came to the rollers, Engleson would not settle for anything less than unique, so custom alloy bells were made to fit inside the custom wheels and then anodized blue to match the suspension. He wrapped the custom rollers in a mini-worthy set of 13-inch Yokohama A038 tires to added grip at the race track. The Wilwood brakes have been powdercoated to match the car as well. The pedals are race pedals from Wilwood and include triple master cylinders for brakes and clutch. The brake bias control is done via a Wilwood knob that is mounted on the dash. All the stainless steel lines on the car were hand bent, so the hydraulic and air lines for the jacks took more than 50 hours to fabricate.

Inside, there is blend of functional race and high-end audio. The dash is comprised of a total of 10 doomsday switches, a push button starter and a master kill switch. The nitrous arming and purge buttons are located next to the brake bias adjustment knob, located front and center. The entire car was rewired using weather-pak connectors and new wires which took hundreds of hours to complete. The whole system is powered by twin Braille carbon fiber B2015C batteries mounted to the floor with aluminum Braille stays. One battery is isolated to power the engine and electrical system, the other isolated to power the stereo system.

When it came to the audio, Engleson decided to roll with one of the best in Hertz and Audison and began with a headunit by Eclipse. The AVN6610 touchscreen pumps out signals to the Audison LRx 4.1K amp where it basically powers everything in this small cabin. A car audio shop owner himself, Engleson did some masterful audio tuning with minimal components at his shop, Audio Profiles. The amplified nots head to Hertz Mille MLK ribbon speakers and to a single Hertz ML2500 10-inch sub in a removable carbon fiber enclosure. The system is connected by Stinger gear and lit up by a pair of Braille carbon fiber batteries, the 15-pound B2015s in Braille mounts.

With more than 400 horsepower at the wheels in a car we estimate to weight about 2000 pounds, this car is a real weapon. Engleson has the satisfaction of knowing that it will likely never be reproduced either considering everything in the build is so rare. For now he is just enjoying it and we are eager to fnd out how it performs at the racetrack this year.