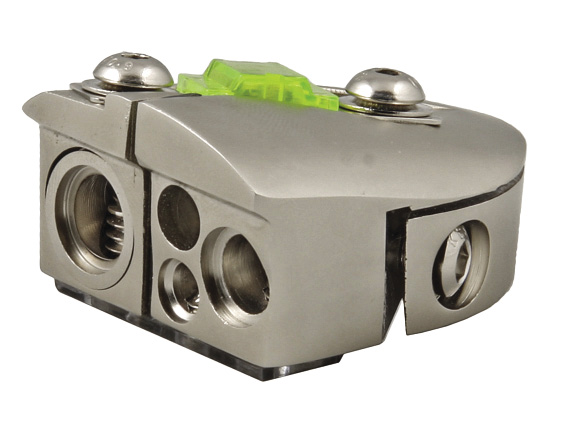 To ensure your speakers are getting the regular workouts they deserve, nothing's more important than getting good, clean and reliable power to your amplifier(s). Whether you have the most expensive amp, most powerful speakers or the best charging system in the world, skimping on power distribution blocks and fuses can have detrimental effects on your system.
This is exactly why Wirez prides itself on manufacturing extremely intelligent power distribution products that make multiple connections to a single power feed, safely house the fuses that protect your equipment (in some cases both) and make installing and expanding a system very easy. The Wirez design team has decades of experience in the car audio world and has used every conceivable distribution block in the industry at one time or another, so it was relatively easy to come up with some serious power blocks of its own.
All Wirez distribution blocks, including the proprietary power and ground blocks on top of the CAPDPD-2F two-farad capacitors, are designed in-house for maximum performance and system flexibility. Machined out of solid brass for its strength and high conductivity and then plated with a satin nickel finish, the Wirez Grip Tip set screws can be adequately and securely tightened without fear of stripping. The coarse-thread, hex-head set screws have knurled tips that dig into the wire and lock it in place – similar to how a star type lock washer works – to ensure reliable and efficient power delivery all the time.
Wirez fuse blocks make use of a Fuse Lock design. Each fuse is ANL style (for reasons we'll cover shortly) that are held in place by threaded fasteners that mate with crush washers. This combination ensures a very tight and secure connection, which promotes efficiency and reliability while providing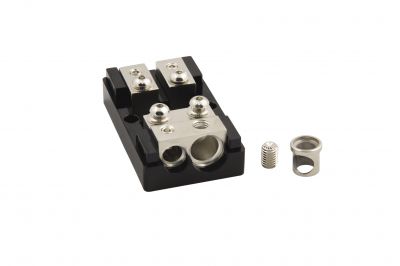 maximum current flow.
As mentioned, all Wirez fuses are ANL or Mini-ANL. This is not by accident. Other fuse types, such as AGU glass fuses or MAXI blade fuses are typically held in place by spring-loaded connections. These connections allow the fuse to be removed without tools, but are not as tight and secure as Fuse Lock. On top of an inferior connection design, AGU fuses are made up of four parts: two end caps, a fusible link and a glass tube. The link is soldered to the end caps, which is prone to failure and can add resistance to the system that could also potentially cause a failure. AGU fuses simply don't provide the reliability and safety that Wirez designers guarantee and demand of its products.
In addition to maximum system performance and flexibility, Wirez distribution and fuse blocks are designed for future expansion. For example, the PDFCS-44 "W-Block" boasts dozens of different wiring routing options with all four 0 AWG connections in each corner accessible from the ends or sides. This block will handle power distribution for up to four amplifiers and comes with provisions to add a power cell and/or stiffening capacitor later. Even the smaller PDFS-2 block has 0/2 and 4/8 AWG inputs that allow a cap or power cell to be added later.
The PDS-4 and PDS-8 distribution blocks step 0 down to four 4 AWG connections, or 4 down to four 8 AWG connections. But, unlike most on the market, they still have a secondary connection to add additional blocks at 0 or 4 AWG respectively.
Finally, the Wirez battery terminals all share the same construction and design features, including brass construction and Grip Tip. Of course, the BTFPS-4 fused battery terminal also features Fuse Lock; and, the BTPNS-4 even comes with an insert so it can be used on positive or negative terminals. Now, that's intelligent!