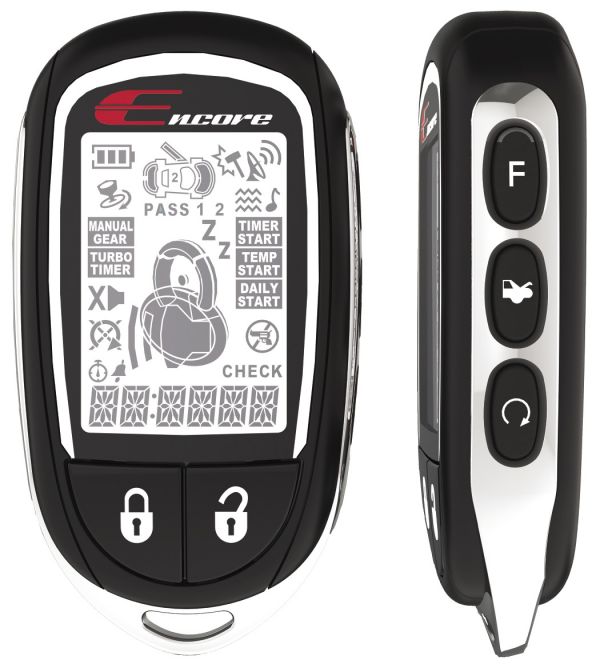 The folks at Encore Automotive Systems LLC have used their four decades of experience to create one of the most technologically advanced and consumer friendly vehicle security systems available. Known as the Encore E9, the product is a six-channel system complete with remote starting capabilities.
Unlike lesser systems, the Encore products use the latest 433 MHz radio frequency technology to provide better range. Additionally, through the implementation of amplitude-shift keying technology (ASK), the Encore remotes are much less susceptible to interference and can handle greater amounts of data than traditional transmission methods. The result is longer range – as much as 60% greater than conventional remotes – and significantly faster data transfer rates.
Another benefit to the ASK technology is reduced power consumption for longer transmitter battery life. The remote transmitter is a thin design key ring style device made of durable chrome plated metal and equipped with a new 50% larger LCD screen with new ultra bright white LED back lighting. Features of the LCD transmitter include two-way paging, 24 hour clock with meter minder, a temperature readout, voltage indicator and a countdown and run timer.
The second included transmitter is a 433 MHz ASK-enabled, thin design four-button one-way transmitter, also in a rugged metal housing.
For greater security, a miniature sized dual-stage shock sensor is also included in the system as well as on-board temperature and voltage sensors, which provide this information to the user via the LCD remote control. The system can be programmed for two-car operation and there are multiple audible confirmation tones as well as a vibrator mode for paging the user.
The main "brain" is equipped with no less than five on-board relays, which provide the output capability for the programmable outputs to drive parking lights, starter, accessories and/or pretty much whatever else your creative mind can dream up. The E9 system can be configured for use with most gasoline, diesel or hybrid vehicles, including turbocharged vehicles and either manual or automatic transmissions.
Because the Encore E9 system is fully compatible with most CAN bus-equipped vehicles, no additional interface modules are needed to integrate the E9 with the OEM security system.
If you are looking for a no-compromise, very long range security and remote start system, the Encore E9 should definitely be on your list. The system has a suggested retail price of $599.99.