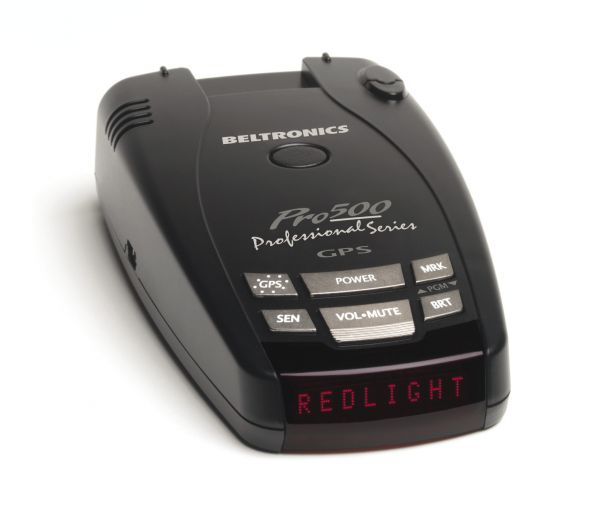 If you are like me, it's important to be alerted to speed traps and radar locations at all times. That's why I was excited to hear the folks at Beltronics, one of the world's leading manufacturers of stealth radar and laser detectors, have released a new PRO Series Radar and Laser Detector line.
Featuring improved range and performance, the new windshield mount PRO Series products use redesigned housings with a new soft touch black finish and an all-new look. And, while the new look is great, one of the key features of the PRO Series is the compatibility with Beltronics new "Escort Live™" real-time ticket protection network. The system uses Bluetooth connectivity in its SmartCord Live™ power cords and a special app for your iPhone or Android smartphone. When the detector registers an alert, the information is transmitted in real-time to the Live™ cloud and broadcast across the Live™ network, thereby alerting all Live™ connected devices to the location of the alert.
The new PRO Series includes four models ranging in price from $179 to $399. The top two models, the PRO500 and PRO300 have a 40% improvement in detection performance over the previous Professional Series products. The PRO500 even includes GPS location awareness, which allows the driver to identify mark and lock-out false alerts, as well as the pre-loaded Defender Database of existing red light and speed camera locations. By utilizing this type of leading-edge technology, drivers using PRO Series detectors are able to learn about threats sooner and have time to prepare for what lies ahead long before they are in range.
I've been a fan of the Beltronics products for 10 years and use several of them in my vehicles. In the last 40,000 miles of driving all over North America, I have yet to receive a speeding ticket (knock on wood). I don't think I'd be able to say that if I was out there driving blind to radar and laser threats. This "driving smarter" translates to driving safer.
For more information on all the Beltronics products, check them out online at www.beltronics.com.