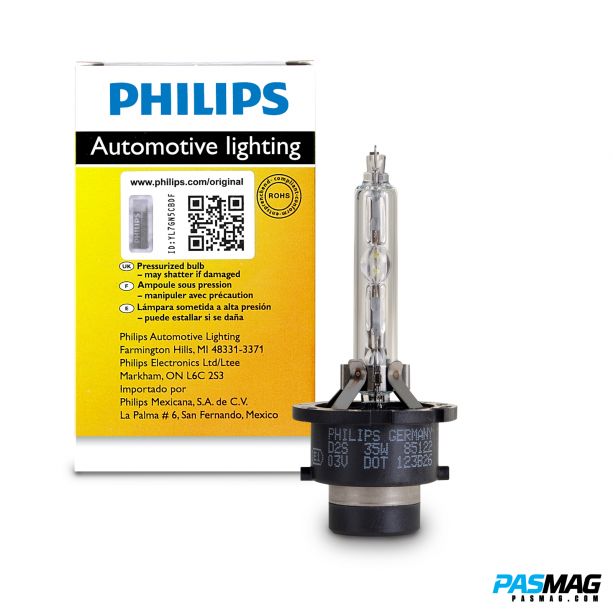 Certificate of Authenticity protects customers from counterfeit Philips Xenon lighting.
Philips Automotive North America, a division of Royal Philips (NYSE:PHG), has developed special packaging to prevent piracy and protect customers from buying counterfeit Philips Xenon HID lighting. The new packaging design was announced by Ann-Marie Hines, Senior Marketing Manager at Philips Automotive. Philips undertook the initiative because of the proliferation of counterfeit Philips Xenon HID lighting in the market.
The new Philips packaging design employs a unique, state-of-the-art anti-counterfeit technology to ensure that customers are getting a genuine Philips product. Every Philips Xenon HID lighting package incorporates the Philips 'Certificate of Authenticity,' which features a security code and other special security elements that can be used to verify authenticity. To make sure they have a legitimate Philips Xenon HID lighting product, retailers, service professionals, and consumers alike can either scan the QR code or go to www.philips.com/original and check the security code.
In making the announcement, Hines noted, "It is very important for us to protect our customers and our end-consumers, as well as our Xenon HID lighting brand. Philips is the inventor and world leader in Xenon HID lighting. We employ innovative technology, advanced materials, high-quality production and rigorous testing to ensure the performance and the quality of our Xenon HID products. These counterfeits are inferior to the true Philips design in both quality and performance. Furthermore, they are illegal to sell, purchase, or possess."
For more information about Philips Anti-Counterfeit Packaging, visit www.philips.com/original or call 1-800-257-6054.
About Philips Automotive
From high performance lighting that improves driver safety, to lighting designed to enhance the style of your ride, Philips offers automotive lighting that will help you make the most of your driving experience. All Philips Automotive products incorporate the leading edge lighting technology and original equipment quality that have made us the first choice of car manufacturers around the world.
About Royal Philips
Royal Philips (NYSE: PHG, AEX: PHIA) is a diversified health and well-being company, focused on improving people's lives through meaningful innovation in the areas of Healthcare, Consumer Lifestyle and Lighting. Headquartered in the Netherlands, Philips posted 2013 sales of EUR 23.3 billion and employs approximately 116,000 employees with sales and services in more than 100 countries. The company is a leader in cardiac care, acute care and home healthcare, energy efficient lighting solutions and new lighting applications, as well as male shaving and grooming, home and portable entertainment, and oral healthcare. News from Philips is located at www.philips.com/newscenter.