Written by Chris Nicholls | 25 September 2015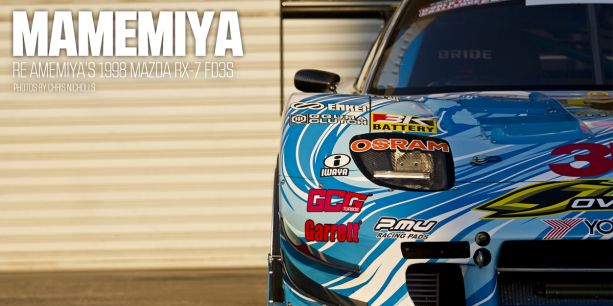 Ever heard the story of the drift car that became a show car that became a time attack car? Well, as unusual a series of steps as that may sound, that's exactly what happened to the RE Amemiya Hurricane. Back in 2010, RE Amemiya decided they wanted to build a new demo car; one that would show off their race heritage and expertise, by bolting a modified version of their championship-winning GT300 kit onto an FD3S base.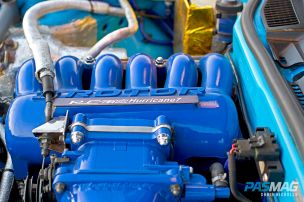 But not just any old base. Because why bother stripping a fresh donor car when you have a race-prepped shell in the form of an old D1 machine, ready and waiting? That's how, in the space of a few months, a drift car became a show car.
And what a show car! With a side-ported 20B, Trust GReddy T88-34D, V-mount three-row Trust core intercooler, 3.5-inch straight-pipe (stainless steel front and titanium rear) and Hewland six-speed sequential transmission, get up and go was never going to be an issue. Neither were stopping and turning, with AP Racing six-pot calipers up front, custom RE Amemiya fours out back and remote reservoir Quantum shocks. Such were the specs that, while modified today, the base mechanical package has remained relatively unchanged in four years.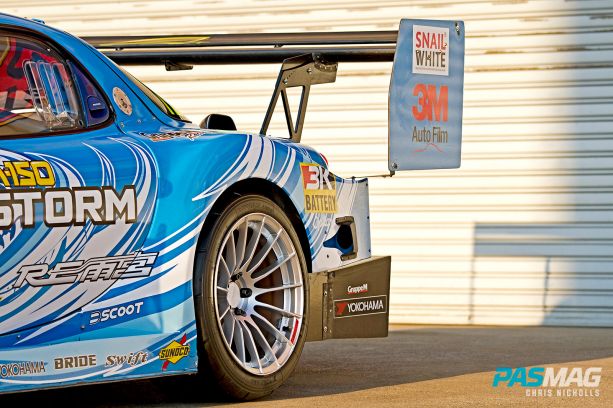 For various reasons, though, after its successful debut, the Hurricane 7 (as it was then called) didn't get to turn a wheel in anger (as was its purpose), and was only revived when the invite came to compete at the 2012 World Time Attack Challenge (WTAC) in Australia. There, it proved RE Amemiya's theory that even what was ostensibly a tuner car, so long as it had the right gear, could match reasonably well with dedicated time attack race cars, pulling out a 1:29.8 and placing sixth in the Pro class.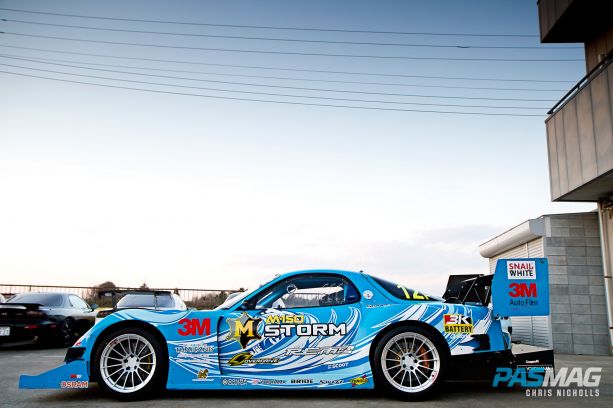 Of course, Ama-san, as founder Isami Amemiya is known in Japan, wasn't going to settle for sixth, so come 2013, he and his crew came back with a much improved version complete with flat floor and full GT300 aero kit, the maximum allowed 295/35 R18 tire size and more power. Sadly, engine troubles throughout the weekend meant they actually went a few tenths slower and, for a while, it looked like that was it. Ama-san sold the car to focus on a new lightweight time attack build and the future of the Hurricane seemed uncertain…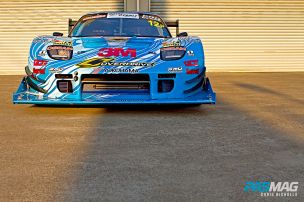 That was until it became known that FD Asia driver Nattawoot Krerpradab (better known as "Oat") was the new owner. Oat put RE Amemiya back in charge of the build and simply injected large amounts of money. Namely, he paid for a full dry carbon version of the GT300 kit (replacing the previous fiberglass one), as well as smaller changes like a newer T88-34D and accompanying Vi-Pec ECU.
Come WTAC 2014 the changes proved their worth, with a 1:27.341 and fifth in the Pro class. However, the time attack game moves quickly and with Under Suzuki employing Andrew Brilliant to build the most extreme version of his S15 prior to the 2014 event, I asked Ken Amemiya, who runs the company's Chiba HQ, whether any aero changes would be made for 2015 to help close the gap.
"Not really. This (pointing to the car) is our full GT300 kit, identical to the one we ran on our championship-winning car, barring a few upgrades allowable under WTAC rules. So we have no plans to change it, as we don't think we're losing out to Under, aero-wise."
So if there aren't any major exterior changes, what's happening for 2015?
"At 2,557 pounds (1,160 kilos), we're still currently between 110 to 220 pounds (50 to 100 kg) over where we'd like to be," says Amemiya-san. "The trouble is, with the whole body now dry carbon, additional weight savings will be hard, so we're going to have to strip it down to the bare shell and essentially start from scratch."
In case you think stripping a race chassis is futile, remember that the Hurricane actually started out as a D1 shell, with large amounts of strengthening built-in that is typically unnecessary in a pure grip car.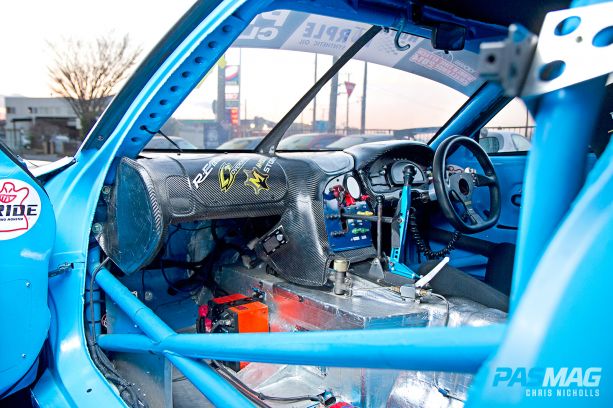 Given many top pro builds are running in excess of 800 horsepower, though, is power an area where major changes will be made as well?
"Again, not really," Amemiyasan says. "You have to understand that most high-power builds are generally unreliable, with some teams making long international journeys only to not even put down a single timed lap. We don't mind being 50 to 100 horsepower down as long as we can be sure of getting bankers in."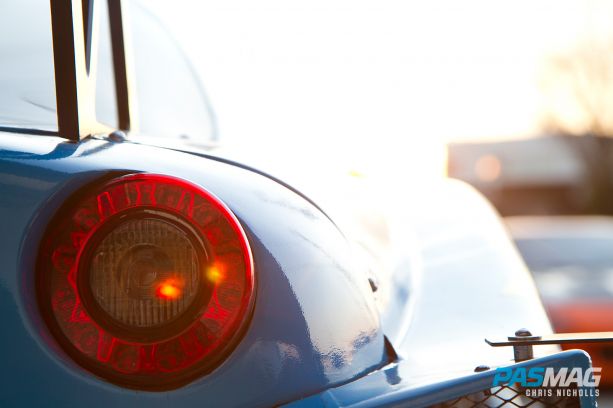 That said, with 730 horsepower right now, it's not like the Hurricane is slow. And losing weight will make sure every horsepower has an easier time of it.
Let's hope that come WTAC 2015, those efforts pay off.
ESSENTIALS
DRIVER: Nattawoot Krerpradab
VEHICLE: 1998 Mazda RX-7 FD3S
TEAM: RE Amemiya
BUILT BY: RE Amemiya
ENGINE: Mazda 20B 2.0L Custom Rotary
HORSEPOWER: 730 HP
TORQUE: 542 LB-FT
ENGINE
Extended side port
Trust (T88-34D turbocharger, 130 upper injectors)
HKS GT wastegates (2)
K&N filter
RE Amemiya (Big Throttle, SPL intake pipe, Kinokuni SPL fuel pressure regulator, Super Plug Cord 20B)
Bosch Motorsport fuel pump (4), R34 GT-R coil packs
Vi-Pec ECU
EXHAUST
RE Amemiya EX manifold SPL 3.5-in. (90 mm) stainless front-pipe 3.5-in. (90 mm) titanium muffler
DRIVETRAIN
Hewland 6-speed sequential gearbox
Ogura Clutch triple plate clutch and flywheel
OS Giken Superlock differential
CHASSIS / SUSPENSION
Fully stripped and spot-welded chassis
RE Amemiya (built-in roll cage, SPL welded strut tower bars)
Quantum remote reservoir dampers
Swift springs
Scoot Ride Height Control system
WHEELS / TIRES / BRAKES
Enkei RS05-RR wheels – 18x11 +16 (f/r)
Yokohama Advan AO50 tires – 295/35 R18 (f/r)
AP Racing monobloc six-piston brake calipers, 2-pc. slotted rotors (f)
RE Amemiya custom four-piston
monoblock brake calipers, 2-pc. slotted rotors (r)
RE Amemiya (brake lines, variable rate brake stabilizer)
EXTERIOR
RE Amemiya (GT Bodykit special (full dry carbon), blue carbon-look door handles)
Custom rear wing
OSRAM LED lights (f/r)
ARTFACTORY All Graphics sticker wrap
INTERIOR
Dry carbon (door skins, dash)
MOTEC dash logger
Bride 1-pc. bucket seat
Sparco steering wheel
RE Amemiya boost gauge
SPONSORS
M-150 Storm, 3M, OSRAM, Thailand Tourism Board, Ogura Clutch, Scoot, Yokohama Tyre, Bride, Swift, Sunoco, 3K Battery, Snail White, K&N, GruppeM, Iwaya