Written by Chris Nicholls | 29 September 2015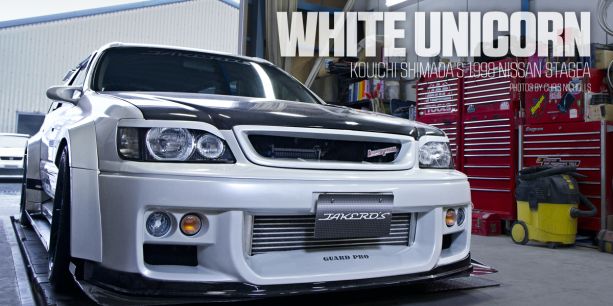 It takes guts to cut into a unicorn, but Kouichi Shimada is not a man lacking in determination. He worked two jobs while still at university to afford his dream car, a Nissan Stagea Autech 260RS, and since purchasing it new in 1998, has overcome numerous blown engines and transmissions, plus a serious road accident, to get it to the point where it is now – a circuit monster with 600 horsepower that he can also drive to and from the track, whilst carrying all his tools and a spare set of rubber.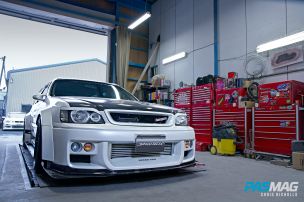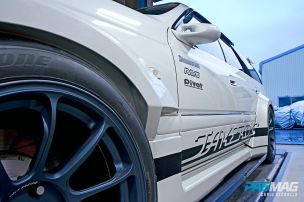 So, the prospect of cutting into the Stagea's rare sheet metal after this shoot to complete the fitment of a set of prototype Takero's 1J overfenders (likely the only overfenders for a 260RS in existence) was hardly going to phase Shimada-san. Especially as it was the only way to fit rubber wide enough (295/35 R18 Potenza RE-11Ss on 18x11 +15 ZE40s front and rear) to keep up with all the lighter Legacy Touring Wagons he competes with at Tsukuba.
But why take a station wagon, and a rare one at that, onto the track in the first place?
"I just love having a wolf in sheep's clothing!" says Shimada- san. "Of course, being a fast wagon, it ends up standing out more than any sports car at a circuit, but it's also great to be able to take all my gear to the track in the back."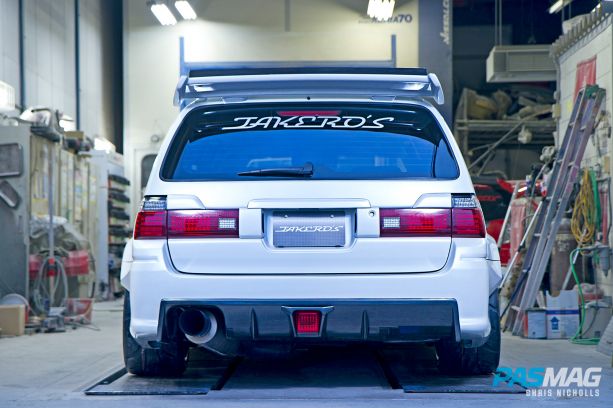 Shimada-san's love for speed began back in his childhood, when his parents used to take him for high-speed weekend night runs along Tokyo's famous tollways, which were only five minutes from his house. While some may question this parenting approach, it's left nothing but a positive impression on Shimada-san himself.
It's also meant that he was never going to be satisfied with just a stock GT-R engine. However, getting an RB26 to the point where it can haul nearly 3,800 lbs of car around a circuit quickly was always going to mean leaning hard on it, and all that tuning eventually took its toll on both the engine and transmission. Numerous times, in fact.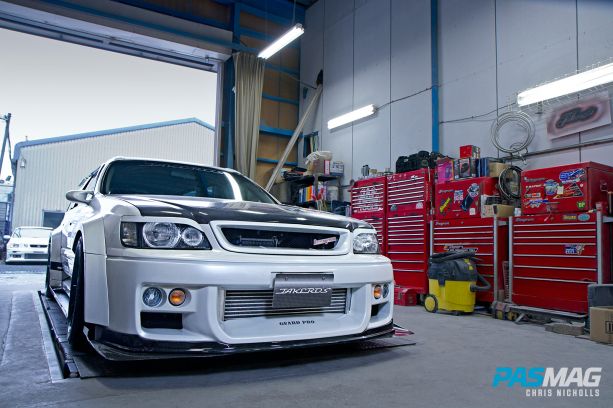 These painful experiences finally led Shimada-san to go allin and build this monster before your eyes. To counter any potential block failures, he went with a strengthened N1 block as the base, to which the famed Garage Zaurus fitted a full HKS Step-1 2.8-liter stroker kit. They then CNC machined the heads and bolted HKS GT2530kai turbos to the HKS manifolds, which blow through a Trust intercooler into a Trust intake manifold. The exhaust gasses pass through a custom, de catted, four-inch Takero's titanium exhaust on their way into the atmosphere. It is, as you might imagine, noisy.
Having blown transmissions, as well as engines, Shimada-san also strengthened up the driveline with a Route6 close-ratio, five-speed gear set and ORC 659 twin plate clutch, pushing all that power out through an OS Giken Superlock diff. It seems to work, as he hasn't had any issues yet. Slowing down this heavy cruise missile are Takero's CNCmachined six-pot front and fourpot rear calipers, complete with titanium pistons and 14-inch (f) and 13.5-inch (r) slotted, twopiece rotors. Turning, meanwhile, is handled by Aragosta coilovers with Dutch-made Merewede springs and a mix of Cusco and Nismo bushings. A Nissan front tower bar and Cusco rear help stiffen things up, as does Takero's full spot-welding of the engine bay.
Inside, as you can see, apart from a quartet of Pivot Cyber gauges in a carbon enclosure, Personal wheel, Nismo shift knob and Recaro SPGN and SP6 seats (complete with Willans three-inch harnesses), there isn't too much to suggest this machine sees track action. Admittedly, the five-liter collector tank in the back is a bit of a giveaway, but all the interior trim and sound deadening, right down to the carpet, is still there. This is because, at the end of the day, it's still a road car and has to be liveable.
Outside, though, with the recent addition of the prototype overfenders, the whole 'wolf in sheep's clothing' thing does take a bit of a hit. However, thanks to a carbon bonnet, Takero's Type-Zero front bumper, under spoiler and side skirts, plus Type-4 rear bumper and Type-1 grille, this was never as subtle as a stock 260RS anyway. The extra width just adds a perfect amount of girth and solidity to an already iconic shape. Subtle details like the LED front and rear light conversions and Z34 fog light help complete the mix.
Should any issues occur even after this latest round of tuning, though, Shimadasan at least has a back-up plan.
"My date car is a circuit-capable NM35 Stagea with a VG25DET, GT3037 turbo, 6-pot brakes all-round with 14-inch rotors, Takero's full aero kit, dual-exit titanium exhaust and nitrous, among other mods," he says.
Some date car. Those sports cars won't know what hit them.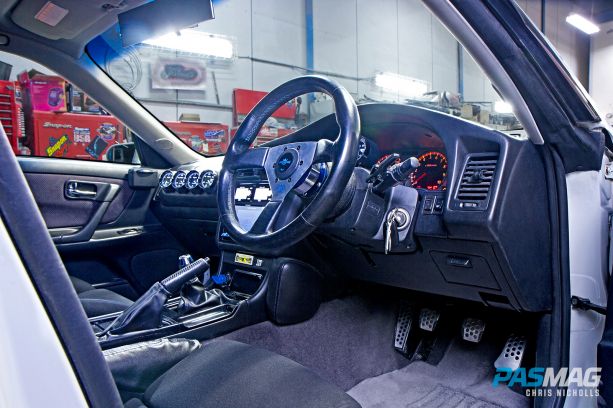 ESSENTIALS
1998 E-WGNC34 NISSAN STAGEA AUTECH VERSION 260RS
DRIVER: Kouichi Shimada
BUILT BY: Garage Zaurus, Takero's
ENGINE: Nissan RB26DETT 2.8L Twin-turbocharged V6
HORSEPOWER: 600 hp (road tuned)
ENGINE
Nissan N1 block
HKS (Step-1 2.8-liter stroker kit (crankshaft, pistons, connecting rods), GT2530kai turbochargers (2), cam gears, F-Con V Pro engine management system)
CNC-machined head
Tomei (260-degree Poncams, metal head gasket)
Trust (intercooler, intake manifold, air filter)
Sard (fuel rail, fuel pressure regulator, 235l fuel pumps (2), 5-liter collector tank, 650cc injectors)
Nismo engine mounts
EXHAUST
HKS exhaust manifold
Takero's 4-inch full titanium de-catted exhaust
DRIVETRAIN
Route6 close-ratio 5-speed gear set
ORC 659 twinplate clutch
OS Giken Superlock diff
CHASSIS / SUSPENSION
Fully spot-welded engine bay
Nissan strut tower bar (f)
Cusco (strut tower bar (r), bushings)
Nismo bushings
Aragosta coilovers
Merewede springs
WHEELS / TIRES / BRAKES
Rays Volk Racing ZE40 wheels - 18x11 +15 (f/r)
Bridgestone Potenza RE-11S tires - 295/35 R18 (f/r)
Takero's CNC-machined calipers w/ titanium pistons – 6-piston (f), 4-piston (r), 2-piece slotted rotors – 14-inch (f), 13.5-inch (r)
EXTERIOR
Takero's (Wide Kit, Type-Zero front bumper, Type-Zero under spoiler, Type-Zero side skirts, Type-4 rear bumper, Type-1 grille, 11j overfenders, gurney flap)
LED headlights & taillights
Nissan Z34 rear fog light
Original WK1 white respray by Takero's
INTERIOR
Nismo shift knob
Personal wheel
Recaro (SPGN driver seat, SR6 passenger seat)
Willans 3-inch harnesses
Pivot Cyber Gauges w/ carbon pods (oil temperature, water temperature, oil pressure, fuel pressure, boost pressure)
AUDIO / MOBILE ELECTRONICS
Carrozzeria AVIC-ZH99CS head unit
SPONSORS
Takero's