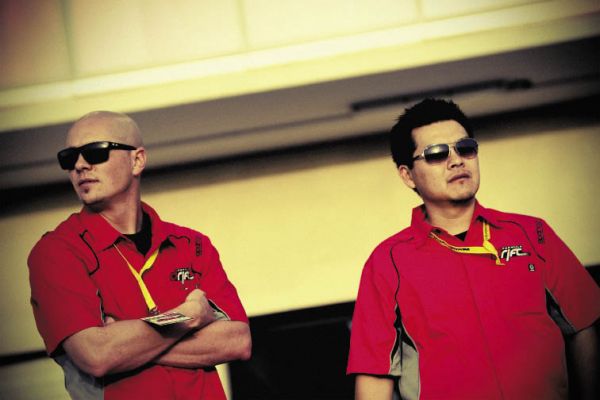 Yes you know the drivers, the crew and even the voice behind Formula D, J-Rod but how much do you know about the creators of your favorite drift series? We caught up with Ryan Sage (left) and Jim Liaw (right) to see what they do after smoke clears and what the future is for Formula D.
You were fans before you were businessmen, tell us how you got hooked by drifting?
[Ryan] I've always been a fan of the underground in general. Underground music, underground places and almost anything you might call nitty gritty. Drifting is that for me in the car culture. There's something about doing an action in a car that it is not meant to do. That is sexy and somewhat dark to me an appeals to my personality.
[Jim] I truly started falling in love with cars when I was about 14 or 15 years old.  I was starting to think about getting my license and what car I would beg my parents to get me.  My first car love was with the BMW E30 M3.  The lines on car were captivating.  And it all started from there, both in my career (from McMullen Argus Publishing's international magazines to the IDRC/Import Drag Racing Circuit to starting my own company) and my passion for motorsports (from being able to attend races like Formula 1 to being able to walk onto famous tracks like Yas Marina, Laguna Seca, Indy, and Long Beach just to name a few).  But drifting… well that was everything I already liked and then some.  The sheer adrenaline and the artfulness of a car sideways, scraping a wall was just a natural hook.  So I apply the perspective of me being a fan to the operation this Series.
Judging has always been a sore-spot from the early beginnings and from amateur to pro, how have you tried to perfect it?
We haven't. It won't ever be perfect. Arguably the most important aspect of drifting, style, by definition is meant to be subjective. Even if we had all the resources in the world, it  will always be subjective and it's meant to be that way. That said, there are aspects of drifting that really not subjective at all. Line, speed and to some degree angle are really not subjective. It's a matter of developing and using technologies to make drifting more understood and less subjective for the viewing audience.
It will never be perfect.  This is not saying that we are not working on ways improve judging but it is the nature of a judged sport.  If you are okay with three individual persons calling fouls in an basketball game or one individual, standing behind another guy calling strikes in a baseball game or a panel of individuals scoring more/less points toward a backside 720 versus a frontside 1080, then you should be okay with three judges making calls in a drifting competition.  So often times, it is really just about perspective thus I say, just sit back relax and watch the drivers put on an awesome showcase of driving skills.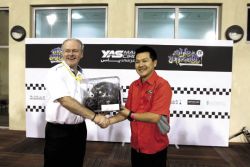 Can you tell us about any high-tech additions you have in the works for Formula D like Telemetry, CGI or video games?
Well, the biggest thing technology-wise we have done so far is put the sport in 3D. With DirectTV, we were able and are continuing to put Formula DRIFT in 3D. I think from a purely aesthetics stand point, watching drifting in 3D might be the best way to do it. The action caters to the technology very well.
I mean we are not rocket scientists, at least I'm not but Formula D is reflective of the tech savvy fans it has.  Over the last few years, we went to HD, live online broadcasting, engaging social media and now 3D before most sports did.
Can you tell us a bit about what partners and media outlets have contributed to the success of Formula D?
I think part of the success, possibly one of the primary reasons, is the combination sponsor support, media support, driver passion and our staff's ability to harness all of these aspects at the same time and make people pay attention to why this is really a dynamic sport and excellent form of entertainment. That creates fans and fans are the end all-tell all
It is kind of a cliché and maybe even cheesy but we all help each other.   The sponsors that support the series, all the teams and the media that cover the Series.  The drivers, team owners and crew members that put in time and money to run programs.  And of course the fans that come out to the events, that watch us online or on TV.  Everyone contributes to making this Series and sport successful.
Walk us though a regular day at the Long Beach headquarters.
A regular day consists of arriving in the morning, everyone cracking a few jokes about something that happened to them the night before, talking about some messages that came through or emails that came through on our morning stroll to Starbucks and then Bryan and myself depart from the group and go to the anti-Starbucks place because they have more premier bagels and assorted cream cheese. From there it's diving face first into whatever event or events are happening. I manage the TV, media, marketing of the domestic series and some parts of our international events. Jim manages all of us, controls the higher points of the international events and works with the top tier clients. Bryan makes sure our paddock is filled and manages our supportive brands. Andy deals with all things operational and tracks as well as oversees the our technical manager. Myles runs all things production and is a liaison to IMG production in LA. Casidi is our motherly figure and pretty much keeps all of us in line as well as the enormous job of team relations, travel, registration, etc. Steve is our administrative manager and makes sure we pay our bills, and also helps me on the marketing side as well and he also has been instrumental in the art of international logistics for both Middle East events and Panama. Ceso, is our man on the ground from a marketing perspective and manages all of our social media as well as our relations with our promotional teams in each market. So that's it, each day is sort of like that and the 8 of us just try to manage our roll(s) as best we can.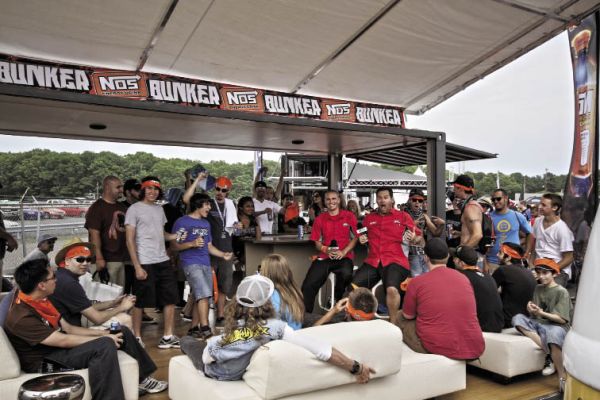 So the sponsor list has exploded, TV deals and franchising is on point you guys making some decent money now?
Decent is a relative term, so I'll just say that we have not hit our goals yet. Most people don't know this, but Jim and I have never taken any money out of Formula DRIFT, ever. Any money that has ever been made has stayed in the company and been reinvested. I'd like to reap benefits of our hard work someday, but it's not necessary now or prudent until we get the sport where we would like it to be.
I'd like to propose an article called "the myths of Jim and Ryan".  Two examples: Myth #1 – I own a Ferrari; Truth #1 – I own a '03 Infiniti G35 and a '08 Audi Q7, Myth #2 – I fly first/business class, especially the long trips to Abu Dhabi or Singapore, Truth #2 – I have flown business class one time in my entire life.  Don't get me wrong, I make a living to support my family and I love my job, I love what I do, I think that is the biggest perk to be able to be doing something that you not just like but love.
We know Ryan and Jim as the masterminds behind drifting but how would you rate your drifting ability or driving skills?
I'd say poor to sub-par. I don't pretend to be a drifter. My sports/hobbies were/are snowboarding and DJing, both of which I still do as much as I can. I love to drive and I consider myself a dangerous driver and have drifted a few times. It's, I think, something I would take to well, but comparatively speaking to pro-drifting, I'd be safe in saying that I would be like a tee-baller trying to play in the big leagues.
If you follow the NBA, I am kind of like Stan Van Gundy, head coach of the Orlando Magic.  He knows how to play basketball, he knows the game, he is a good coach but was he ever pro potential, no.
Say you sold Formula D for $100million tomorrow, what top three cars would be in your garage next week?
For me, it would be a Range Rover Sport, Maserati Gran Turismo S and a Mastercraft X-Star. I had to depart from a third car because I feel I have my need's are well covered… I have the daily driver, the proverbial p-dropper and the boat for the weekend.
First, $100million, now you are being ridiculous!  Second, to play along, and this list constantly changes… 1 classic = 1961 Ferrari 250GT California OR 1954-57 Mercedes 350SL Gullwing, 1 modern = Alfa Romeo 8C, 1 family/grocery getter = Aston Martin Rapide.  Ok, that was fun!
What markets are you looking at stepping into beyond what you already have in place?
I think we can expand to two or three more markets domestically in the next few years. Perhaps Texas, the mid-west and another east coast event. Outside that, the international market is really getting primed. We have Abu Dhabi, Qatar, Thailand, Malaysia, Singapore and Panama that are well developed and growing. We are looking to South America and possibly in the future looking at how to work in Europe, which seems to be the most compartmentalized area in the world right now for drifting.
How important are celebrity drivers to you series and who can we expect to see next?
Celebrity drivers are not something we chase after. We'd rather make celebrities, but if a well known celebrity driver wants to get his or her license, more power to them.
We are holding on to the integrity of the Sport.  If a celebrity is capable of drifting at a professional level and wanted to, we would welcome it.  But we are not going to grant a FD Pro License to anybody on TMZ just for publicity.   I would take it up a notch, I welcome all those cross-over drivers or athletes that are going into rally, stock racing, off road trucks, etc. to come see if they can take on the challenge drifting.