Written by Garry Springgay | 25 November 2010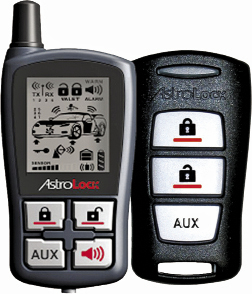 It's that time of year again, when the cold winter season can really make us appreciate the little conveniences technology can bring… remote vehicle starter systems! If you don't have one yet, or you're looking to upgrade to a fully modern one, now's the time. Being the helpful guys we are, let's take a look at the latest from remote start and security pioneers at AstroStart, with their new RSS-2524.
The AstroStart RSS-2524 features two-way communications with up to 2000 feet (0.6km!) of range, and can start your vehicle and send you both visual and audible confirmations via a four button LED transmitter. Also included in the system are built in door-lock relays, anti starter grind and anti theft relays, four auxiliary outputs, and 2 car operation capability. Having features like this built into the main module greatly reduce installation time and the need to have to purchase extra parts, both of which save you money. Further reducing installation time and complexity is a new intelligent door monitoring circuit that eliminates the need to isolate doors on vehicles including Ford, Chrysler and Toyota products equipped with factory anti-battery drain systems.
FREE Trial Issue
A built-in timer mode or a special low temperature mode can even be used to automatically start the vehicle at preset intervals, or low temperatures. The system has a tachless mode, a turbo mode, and is compatible with gas, diesel or hybrid vehicles. Convenience features include programmable engine runtime which can even be reset via the transmitter, a second one-way companion transmitter, a transmitter battery level indicator, and even a car finder/panic mode make the RSS-2524 easy to use and live with on a daily basis. For maximum security, you can enable a reduced range mode for the lock and unlock functions, and with the optional Alarm Kit you can have a complete security system with siren. Addition plug-in modules are also available to reduce installation time and provide enhanced flexibility and reliability.
The AstroStart RSS-2524 is available from Directed Electronics Canada dealers. This system and all the other AstroStart systems have undergone rigorous testing and are designed to provide years of dependable, safe and trouble free service, and come with limited lifetime warranties on the starter modules, and a 2 year warranty on the transmitters. Don't suffer through another winter of going out to a freezing cold car, when all you need to do is find your local AstroStart dealer and get one of these babies installed!
For more www.astrostart.com
Want to Read More?
Click Below for Full Digital Issue!