06 April 2011
FEATURES
2011 Scion tC Turbo
It's amazing what you see when walking the floor of the Consumer Electronics Show in Las Vegas. Hot models, cool products, huge TVs and some of the most creative vehicles in North America. This tC, owned by Team Hybrid founder James Lin sports a God Speed turbo, a massive Sony entertainment system and is covered in enough custom mixed Transtar Gold paint to keep Mr. T happy!

The features don't end with Lin's tC, in fact, there are a total of 9 awesome features in this issue. From the domestic muscle of a 2010 Camaro to the euro-flavor V10-swapped BMW350i of GSR Autosport, this issue is packed with awesome builds!
---


THE BIG EVENTS
Challenged only by SEMA, the Consumer Electronics Show in Las Vegas is one of the largest events to roll into town all year. We check out new product action and the cool builds.

Gear-heads of modern times wait with baited breath for the Tokyo Auto Salon event. Turbo's, electronics, gauges, hot (skinny) women and some of the craziest cars on the planet come together in this festival of all things automotive – it's their SEMA show, and we have the coverage!

The Ken Block juggernaut rolls on and his inaugural invitational event: Gymkhana Grid proved to be an awesome event with endless sideways action!
---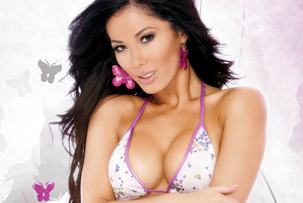 MODEL FEATURE
We'd Like to Introduce you to Maya Michelle Rew

The lovely and curvaceous Maya Michelle Rew keeps us on the Japanese theme for the April/May 2011 issue. Born in Tokyo, Japan, but currently residing in Hollywood, this beauty started as a hair stylist, but quickly moved to Gogo dancing and on to event work as her popularity grew. Her career has taken her all over the US and Canada to pose for all the girls and boys that adore her.


Testing, Testing, 1,2,3!
The car audio season is upon us, and new products have made their way across the unforgiving Cogent Audio Labs test bench. We check out the Sony XNV-770BT all-in-one navigation multimedia receiver, a set of high-end components from Diamond Audio, an Energy subwoofer system and a very cool amplifier installation kit from Wirez.
Tech
There's nothing like taking a car on a test drive to see what it's all about! In this issue, we take some Toyo tires for a spin (excuse the pun!), see how a K&N Typhoon intake maes some serious power on a Mazdaspeed3, look at a new front-mount intercooler from the power-hungy minds of Horsepower Freaks and get you started on the show car season with some clay-bar tips thanks to the gang at Shining Monkey.