06 June 2012
JUNE 2012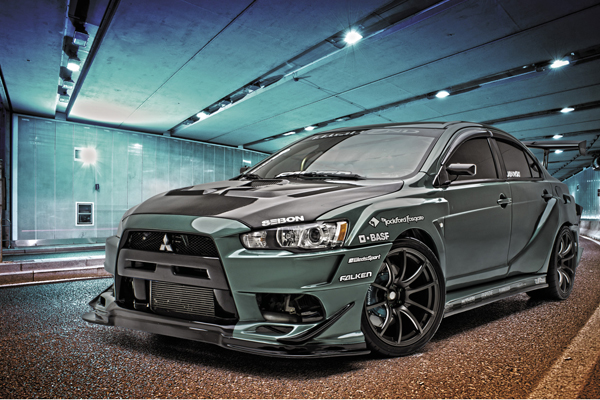 It's June and summer's just beginning. With the temperatures getting hotter we ramped up our coverage on some of the sickest rides, the greatest gear, the best events and one of the sexiest young ladies you'll ever set your eyes on.
This month's featured cover car is a beastly 2008 Mitsubishi Lancer EVO-X, with an intimidating appearance that matches what it has going on under the hood. Some other notable vehicles that we're featuring a gorgeous 2010 Skyline GT-R and a swagged out 2010 Toyota Prius.
Some of the events you'll see featured in this month's issue includes Import Face Off, Formula Drift Round 1 and Hot Import Nights Phoenix!
Going alongside all of this great coverage are our reviews on some of the latest and greatest gear that you're going to want including an exclusive subwoofer guide.
Finally, our cover model of the month is the sexy Amanda Cerny. This former Playboy Playmate manages is every guy's fantasy-made-reality, with an insatiable appetite for sports and a rocking body that suggests she isn't just a spectator.
---

THE EVENT
Formula D kicked off their 9th season of drifting on the Streets of Long Beach, the first and still the lone drifting competition to take place on actual city streets. Several drivers were debuting new cars, sponsorships, and liveries, but once the track went hot, all that mattered was how well you drove your car. Crowds at the first event were the largest in history, selling-out before the event was even open on race day.
---
COVER MODEL: THE SEXY AMANDA CERNY
Self-proclaimed adrenaline junkie, Miss Amanda Cerny is every guy's fantasy waiting to happen. Her dazzling beauty and spectacular curves have landed her the title of Playboy Playmate Miss October 2011. Cerny was born in Pittsburgh, Penn., but spent time growing up in Stuart, Florida. She currently resides in Miami Beach where her adventurous, spontaneous side is hard to keep up with. Besides jet-setting all over the world, she loves running and rollerblading. If you manage to score a date, you better lace up tight and grab some energy drinks because her large appetite for extreme sports is insatiable. She does it all – scuba diving, zip lining and skydiving – and it should come as no surprise to hear she is also a huge football fan.
ON THE BENCH
Gary Springgay and the boys at Cogent Audio Labs have put the latest and greatest products to the test, no BS! This time 'round we get the low-down on the Kicker IX500.4 amp, the Pioneer DEH-P8400BH head unit and the Sony MED-BT4000P head unit.

TECH
Our friends at Moto IQ have contributed a couple great pieces on the Nitto Motivo Tire Test and a little something they've coined, "Project Land Speed Racer 240SX," with KW Suspension.

See you again in July!