06 July 2013

July 2013: Euro Special Edition / Buyer's Guide


Summer is here and this month we pay homage to the Euro crowd. While the Euro scene has traditionally gone uncovered while we previewed the hottest in JDM, we'd like to take this opportunity to make a big statement and set the bar high in terms of the hottest Euro rides.
This month we kick off with very low '02 VW Golf GTI, a '02 Audii TT 1.8 Turbo, a '93 BMW 325i plus Formula Drift driver, Mike Essa's, 2004 BMW M3 E46, plus much more.
This month is also our annual buyer's guide and we take a closer look at the amplifier.
We round out our event coverage with some IFO coverage in Vegas, Tuner Galleria, Spring Bash and Wekfest in sunny Los Angeles.
July will feature the stunning Anna Madalyn, some very exciting Test Reports, and a 240SX project car from Moto IQ.
The Cover Car
Transformed: 2002 Volkswagem Golf GTI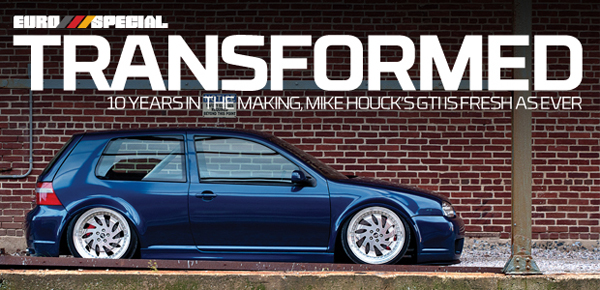 There's a common notion that all VIP Cars are owned by gangsters. This started with cars in Japan that were used to drive high-ranking Yakuza members around the city. When VIP Cars first started to hit the North American scene, all we saw were Japanese sedans dropped all the way to the ground sitting on large wheels. The first thing that came to many people's minds was, 'Are these gangsters dressed in suits stepping out of the slammed sedans?'

The Event

Weksos Presents: Wekfest Los Angeles

Returning for a third year, Wekfest took over the Queen Mary Events Park in Long Beach, California, for what has been touted as the "Premiere Automotive Gathering". Enthusiasts lined the outside gate, down along the shoreline to the historic Queen Mary ship, to enter the event while admiring the final few show cars rolling in.
Your Feature Model

The Gorgeous Anna Madalyn
It's not often that you find a girl with the complete package, but Anna Madalyn is one of those rarities. Not only does she have the looks, this classically-trained violinist can get down and dirty outdoors, and she's got the battle scars to prove it. A dual-citizen of Canada and the U.S., Anna's just-do-it attitude brought her to LA to pursue her dreams in one of the most beautiful places on earth.
On The Bench
Garry Springgay and his crew over at Cogent Audio Labs took some of the best car audio gear to trial. For this month's issue he tested out the Digital Designs M4 amp, the T12 800.1 amp from Phoenix Gold, the Rockford P600X4 amp and much, much more.
Tech
This month we feature an insane 240SX build from Moto IQ.
Thanks again for reading; we'll see you again in August.