06 August 2013

August 2013: Old School Special Edition


I hate to say it, but after August we'll be heading into fall. It's hard to think the summer can go by so fast. Nonetheless, we've jam packed our August pages so you won't think about going to school and getting up early. In light of this harsh reality, we look back at not only summer, but some classic rides.

The Old School theme gets off to a quick start with our 'Aged to Perfection,' Fatlace Hakosuka Skyline GT2000 and it doesn't stop. We've got 1970 Nissan Datsun, a 1973 Toyota Corolla Levin, not one, but three 1986 Toyota Corollas plus Formula Drift driver, Joon Maeng's, Nissan 240SX (S13).

We round out our event coverage with some IFO coverage from Kent Washington, Fitted Car Show presented by Stretch & Poke! and we interview DMCC's ex-president, Eric Belec.

August will also feature the beautiful Michelle Yee, some very exciting Test Reports; look at some Hawk Performance Talon Brake Calipers and a great article from Paul Pirro.
The August Buyer's Guide's include component speakers, exhausts and intakes – lots to drool over.

The Cover Car
Expertly Cultivated: 1972 Nissan Skyline GT2000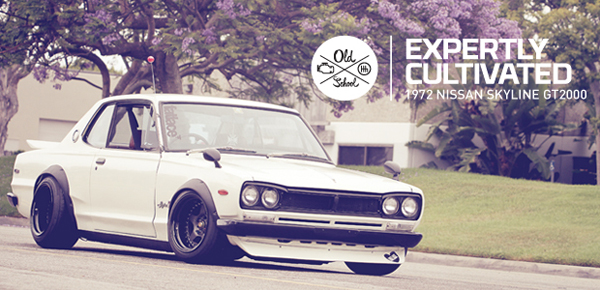 Nissan Skylines are considered to be unicorns of the car world, particularly in the U.S. Never officially sold in North America before the R35 reprise in 2009, the brand was idolized by teens across the country through exposure in video games like Gran Turismo and Option videos throughout the 90s. They were dominant compared to any similar car of the generation. Dating back to the 1970s, the Skyline brand has long been one of the winningest brands of any manufacturer in racing. With U.S. import laws being very strict and limiting the ability for cars newer than 25 years to get imported into the country, it's rare to see a Nissan Skyline on the streets. While the 25-year rule allows cars to be imported without any major updates for crash testing or emissions laws, it's rare to find an enthusiast who is interested in spending the big money to bring an old car over that is loud, slow, likely rough around the edges, with presumably more headaches than heroics.

The Event

Fitted Car Show by Stretch & Poke!

We travelled up to Caledon for one of Canada's greatest car shows. Stretch & Poke! has spent the past few years gaining a great reputation for trend setting and bringing some great rides to the forefront. This is a show that did not disappoint.
Your Feature Model

The Beautiful Michelle Yee
Michelle Yee knows exactly what she wants and how to get it. The girl from Cali is a speed freak who knows how to ride, and there's not much that can keep her down! She loves her cars, her bikes and a guy that knows what's going on under the hood, so without further delay, here's her interview!
On The Bench
Garry Springgay and his crew over at Cogent Audio Labs took some of the best car audio gear to trial. For this month's issue he tested out the MB Quart OKC169 coaxial speaker, the 10TW3 10" subwoofer from JL Audio, Phoenix Gold's RX112 12" sub and the XTR3700.1D amplifier from Orion.
Thanks again for reading; we'll see you again in September.