Written by PAS Staff | 02 November 2015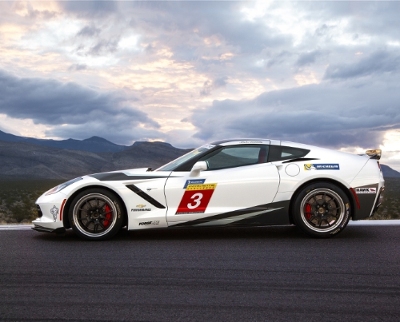 The Michelin Corvette Challenge race series, based off the seventh-generation Corvette, was announced today at SEMA.
It will be held February 20, 2016, at the Spring Mountain facility, near Las Vegas.
Driving identical, track-ready Corvette Stingray models, the series will feature 15 races over 8 weekends. All of the cars will run on Michelin racing slick tires in dry conditions or Michelin Pilot Super Sport tires in wet conditions.
"Corvette owners have been competing in showroom-stock-type racing for six decades and the new Michelin Corvette Challenge extends that legacy," says Harlan Charles, Corvette marketing manager. "With Michelin's support and the direction from Ron Fellows and his team, the series offers Corvette racers a unique competition experience all their own."
Many of the performance components are from the new Corvette Z06-based parts from Chevrolet. They're designed to enhance the handling, braking, cooling and downforce performance of the Stingray.
Chevrolet is showcasing a Corvette Stingray Z51-based concept race car, featuring the new Z06-based parts, this week at SEMA.
The Ron Fellows Performance Driving School, which has collaborated with Chevrolet and Michelin to develop the series, is serving as the technical race partner for the series.
"The Corvette Stingray is one of the most track-capable production cars available and our enhancements simply augment the production specs to help ensure durability for a dedicated racing life," says Ron Fellows. "With the cars mechanically on equal footing, driver skill will be the determining factor in the rankings, which should make it a very exciting series."