Written by PAS Staff | 30 July 2010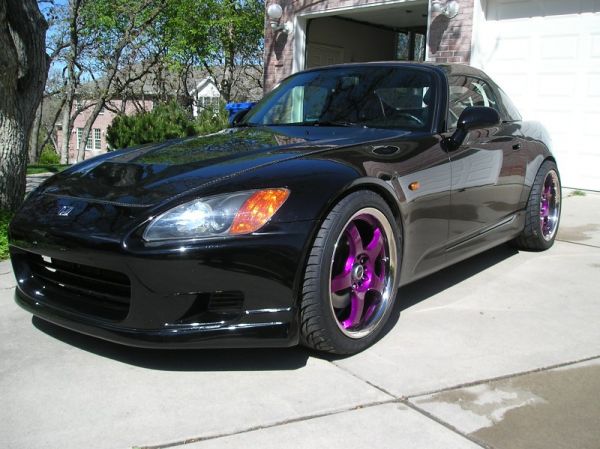 Name: Orlando Echeverria
Location: Tampa, FL
Vehicle: 2003 Honda S2000
Motor:
Allen Built 2.0L
AEBS Sleeves
O-Ringed
CP Pistons and rings
Inline Pro Rods
ARP Head Studs
Supertech Springs and Ti retainers
Power Numbers:
742.60whp
513.60 TQ
Running on VP Q16

Fuel setup:
InlinePro Fuel Rail
Aeromotive A1000 Fuel Pump
Aeromotive Fuel Filter
Aeromotive Fuel Pressure Regulator
Stainless Braided Line
1000cc Bosch Injectors
15 gallon fuel cell

Turbo Setup:
Love Fabrication Manifold GT1 Sidewinder Manifold
4" Downpipe
Precision Billet 67/65 turbo
Tial 46mm Wastegate
LoveFab Intercooler Core Custom Tanks, V-mount IC, custom from LOVEFAB
Tial 50mm Blow Off Valve
Stainless 4" Exhaust
Aluminum Radiator

Drivetrain:
Carbonetics Carbon Twin Disc Clutch
Autometer Gauges
Inline Pro R200 Diff kit
R200 LSD Diff
Drive Shaft Shop Prototype axles
Drive shaft shop drive shaft
ARP extended wheel studs

Exterior/Interior:
18x10 Rear Gram Light 57pro
18x9 Front Gram Light 57pro
Comptech Coilovers
Seibon Carbon Fiber J's style hood
Seibon Carbon Hard Top
Custom Removable Roll Bar
5-Point Harness
Soft top delete
Boost, Oil Pressure, Water temp gauges
Engine bay Vanity Washers
Custom Powder Coating
Tuning:
AEM EMS Standalone Management
AEM UEGO
---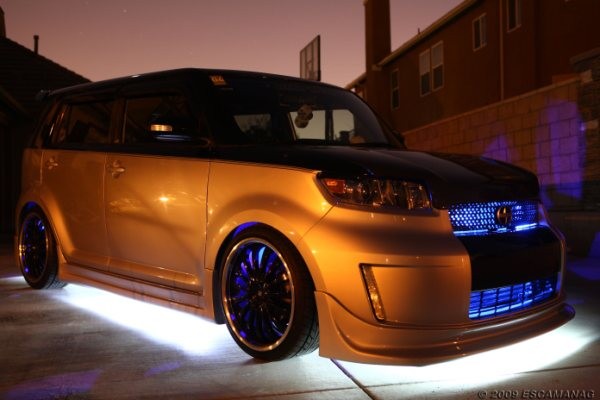 Owner: Nicholas Villegas
Location:  South Gate, CA
Vehicle: 2008 Scion xB
PASNATION Username (http://pasnation.pasmag.com): NVS1
Car Club Affiliation: Scion Evolution
PAS: What was the first vehicle you have ever owned? Did you modify it? If so, what modifications were performed?
Owner: 1996 Ford Escort.  Magnaflow exhast, Tornado KI60 Stainless Steel Air Insert, B&M precision sports shifter, MSD Ignition Blaster, EBG Front sport rotors, Catco 4604 Direct Fit Converter, JET V-Force Plus Performance Module, SVT rims. Sparco seats, Baby blue paint
PAS: What events have you competed in? Where?
Owner: Image Nights Carshow Norwalk 3rd place xB2, Sciontific Car show Van Neys 2nd place xB2, Best of the West Car Show Cathedral City 3rd place Wild xB2, Show and Glow in the Desert 2 Victorville  2nd place Mild xB2 L.A Rendezvous Car Show 3rd place Wild xB2 Hot Import Nights Los anngeles and Anahiem.  Extreme Auto Feast Anahiem, Long Beach, Las Vegas
PAS: Any Shout-outs?
Owner: Bob the Builder Customs for all the help, Ross at Midnight Garage for all the last minute installs, Nilo from SST for hooking me up with my first Mod, Poiet at AIT Racing for the awesome kit,  Santana's Auto upholstery for the amazing interior
---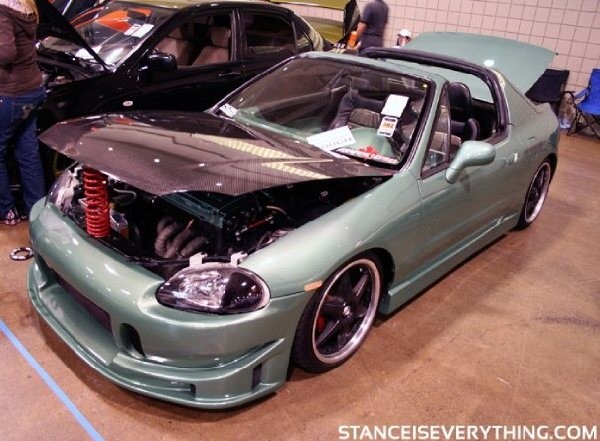 Owner: Eric Hachey
Location: Hamilton, ON 
Vehicle: 1993 Honda Del sol
PASNATION Username (http://pasnation.pasmag.com): HASH_ADDICTIVEDESIRES
Engine Modifications:
Its starts off with a transplant from a 99 Acura Integra GSR along with numerous add ons, such as: VAFII Vtec controller, AEM air intake, fuel rail with regulator, DC header, 10.2 mm Taylor wires, MSD plugs, dist cap, vennom intake with throttle body, ingalls engine damper, ractive strut bar, custom 2.5" exhaust back to the SIR muffler.. and a clutch master clutch to mate with the GSR tranny.
Exterior Modifications:
Custom green 50's ford paint with flake. (AUTO 53 COLLISION AND PAINT) with custom cut front bumper, shaved fog lights, shaved antenna, shaved 3rd break light, shaved rear plate, shaved Honda symbols and shaved wing....
Shout-Outs:
ADDICTIVE DESIRES, FOCUS RIMS AND PERFORMANCE, DREAMSPORT PERFORMACE and CAR AUDIO, and AUTO 53 COLISSION AND PAINT.