Written by PAS Staff | 27 October 2010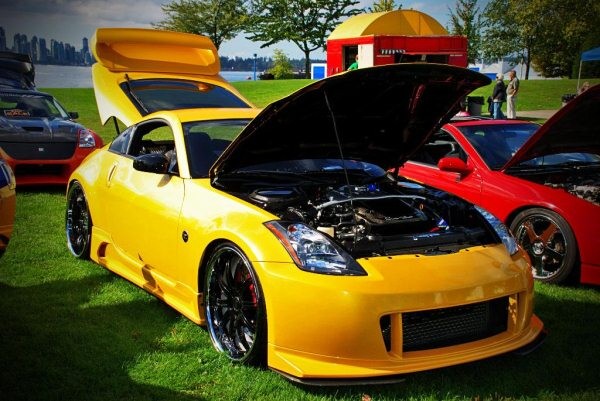 Owner:  Jordan Risi
Location:  Surrey BC, Canada
Website: http://www.cardomain.com/ride/3342147
Vehicle (Year Make Model):  2004 Nissan 350ZTT 6Speed, 3.5L V6 VQ35DETT
Car Club Affiliation:  None
Power:  600WHP
Engine/Performance Info/Modifications:
- Greddy Twin Turbo TD05H-18G Kit,
- Ceramic Coated Turbos,
- Greddy Manifold & Downpipes,
- Greddy Dual Intake w/ Greddy Filters + Hard Pipes & Cuplers,
- Greddy FMIC + Pipes & Cuplers,
- Dual wastegates + HKS BOV,
- Powder Coated Turbo Piping (BLK),
- Full Bottom End build,
- Wiesco Pistons,
- Eagle Rods,
- New Bearings,
- Cometic Head Gasket ,
- ARP bolts,
- DeatschWerks 650cc Injectors,
- Clutchmaster Stage 4 Clutch & Flywheel,
- Full Top end Redecked w/ pleninum ,
- AAM Fuel Return system,
- Upgraded LSD,
- 3" Custom exhaust + X pipe true dual,
- AEM Water Methanol Injection,
- CF engine bay pieces,
- B&M short shifter,
- Haltech platinum E 11 ECU (RPM, REV, etc.),
- True Boost Controller,
- Haltech full standalone system,
Wheels & Tires Info/Modifications:
- Modular Society 22"  Rims.
- 22"/8.5" Fronts, : Pirelli Nero 245/30/22
- 22"/10.5" Rears; Pirelli Nero 295/25/22
- Wilwood brake set: 6 piston 14" fronts, 4 piston 12" rear,
- Red Wilwood Calipers & SS Lines,
Suspension Info/Modifications:
- Tein type flex w/ EDFC built in to the dash.
Exterior Info/Modifications:
- Full 3 Stage Lamborghini Pearl Yellow Custom Paint Job,
- Nismo front fascia w/ meshing,
- JP side skirts,
- JP rear valiance,
- Wald rear spoiler,
- Front clear bra,
- Tinted Windows (sides & back),
- HID headlights w/ blk backing,
- CF front splitters (dual L&R),
Interior Info/Modifications:
- Custom made AEM dash & gauge cluster,
- AEM gauges, true boost, AFR, oil pressure,
- Fiber glass dash,
- Custom Suede headliner,
- Custom Suede / Leather seats w/ yellow stitching,
- Custom Suede Door panels, & trunk w/ yellow stitching,
- CF Ball Shift knob,
Audio/Multimedia Info/Modifications:
- Poineer 7" LCD touch DVD NAV system w/ rear view camera screen.
- Custom amp racks,
- JL audio 6.5 fronts and rears,
- 3 - 8" JL W7 subs in custom box,
- JL 450watt interior amp,
- JL 1000watt sub amp,
- Stinger batteries,
- Stinger Power cap distribution box,
- Stinger Power converter,
- Interior led lighting (yellow),
---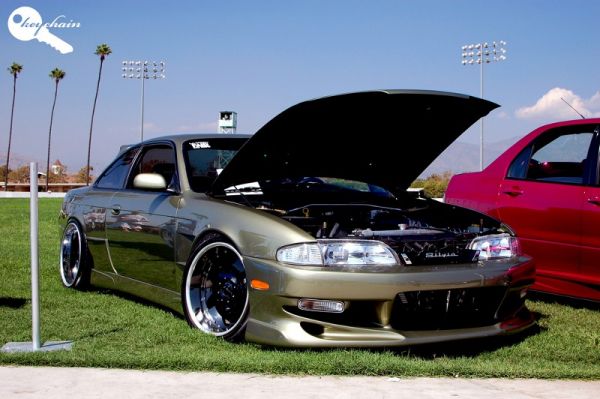 The Essentials
Owner: Theresa Nguyen
Location: Santa Ana, CA
Website: http://www.hardparkin.com
Facebook: http://www.facebook.com/home.php?/tess723
Twitter: http://twitter.com/tessvong
PASNATION Username (http://pasnation.pasmag.com): theresa723
Vehicle: 1995 Nissan 240sx
Car Club Affiliation: R-Technique
Power: 380rwhp
Engine/Performance Info/Modifications:
2001 WS6 LS1 w/T56 Transmission
Color Change: Flat Mica Black
Mahle Pistons
Eagle H-Beams Connecting Rods
Comp Cam shaft
Comp Adjustable Timing Chain
Comp Cam Camshaft Gear Sprocket GM
Comp Valve Spring
Comp Cams Steel Spring Retainers
Pro Magnum Rocker
ARP Bolts
GTO Oil pan
Hinson Headers
Spectra Filter
Koyo Radiator
Pro 5.0 Shifter
RSR Exhaust
PXRacing Exhaust Piping
PXRacing Modified Sub frame
PXRacing Steel Driveshaft
PXRacing Ported TB
PXRacing Engine Mount
PXRacing Transmission Mount
PXRacing Power steering Line
PXRacing Remote Clutch Bleeder Line
PXRacing Intake
Corvette Engine Cover
Suspension Info/Modifications:
D-2 Air Ride Suspension
Muteki Lug Nuts
Ichiba 15mm Spacers F&R
R33 GTR Front Brakes
R33 GTR Rear Brakes
R33 e-Brake Lines
Energy Suspension Transmission Bushing
SPL Tension Rods
SPL Tie Rod Ends
SPL RUCA
SPL Adj Rear Toe
Z32 Tie Rods
Z32 MC
Tein Strut Bar
Exterior Info/Modifications:
Color Change: Desert Sage Metallic
Supermade Zenki Headlights
D-Max Zenki Corners
D-Max Front Clear Turn Signal
D-Max Side Markers
D-Max Roof Spoiler
6000k HID Conversion
Seibon Carbon Fiber Hood
AeroCatch Hood Lock
C-West Front Bumper
C-West Side Skirts
C-West Rear Bumper
Origin Front Fenders +30mm
Origin Rear Fenders +30mm
JDM Zenki Grill
JDM Window Visor
Interior Info/Modifications:
Recaro Seats (x2)
Takata 5 Point Harness (x2)
Leather Rear Seats
Mazzoria 330m Steering Wheel
Works Bell Quick Release & Hub
Dakota Digital Convertor
Corvette Z06 Shift knob
Broadway Mirror
D-Max Carpet
Shout-Outs
My fiancé Peter, without him none of this would be possible. My daughter Emalynn, only three years old; but understands that the car is part of our family. My mom's and sister's. Zilvia.net, everyone from R-Technique,Double D Garage (Eric & Jason), and Jeff DeGuzman because if I didn't mention you, you would be EMO about it.
---
---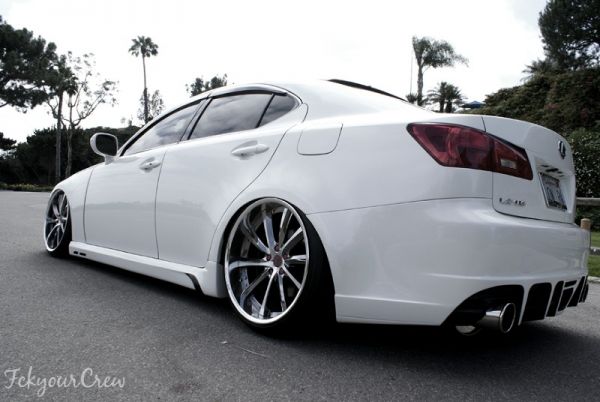 The Essentials
Owner: Jon Jon Usaha
Location: West Covina, CA
Website: ItsJDMyo.com
Facebook: www.facebook.com/jdusaha
Myspace: myspace.com/parkinglotconversation
PASNATION Username (http://pasnation.pasmag.com): jonjon83
Vehicle: 2008 Lexus IS350
Car Club Affiliation: ItsJDMyo!
Power:  316whp
Engine/Performance Info/Modifications:
Lexus 3.5L VVTi V6 (2GR-FSE)
Greddy Street Performance Dual Exhaust
JDM OEM Lexus F-Sport Intake
Sun Automobile Hyper Voltage System GT
Custom Painted Valve Cover
Sun Automobile Throttle Control System
Megan Racing Mid-Pipe 
Front Endless Racing 6 Piston Big Brake Kit (Red Anodized)
Endless Cross Rotors 13.5" (Front)
Endless Performance Brake Pads
R1 Concepts Slotted Rotor (Rear)
Wheels & Tires Info/Modifications:
Weds Kranze Vishnu 20x9.5 (Front) SBC/Polish
Nitto INVO 235/30/20 (Front) Ultra High Performance Tires
Weds Kranze Vishunu 20x10.5 (Rear) SBC/Polish
Nitto INVO 255/30/20 (Rear) Ultra High Performance Tires  
Work RS Lug Nuts (Red Anodized)
Suspension Info/Modifications:
Air Runner Air Suspension System
3 Gallon Firestone Air Tank
ViAir  380C Chrome Compressor x2
Dakota Digital Air Pressure Gauge
JDM OEM 6 Piece Diffuser (Undercarriage)
Megan Racing Rear Camber Kit
Exterior Info/Modifications:
Show Up Paint by Maziora : Chameleon White (it pearls pink and green depending on how the light hits the paint)
Job Design Aero Series Hybrid Front Bumper
Job Design Aero Series Hybrid Side Steps
Job Design Aero Series Hybrid Rear Bumper
JDM OEM Rain Side Visors
JDM LED Side Mirrors
Red-Out Tail Lights
Kazz Sports JP Carbon Fiber Emblem Inserts
Kazz Sports JP Performance Front Grille (1st)
Megan Racing Carbon Fiber Roof Spoiler
5000K J.D. Lighting HID Headlights & Fog Lights
Interior Info/Modifications:
Junction Produce White Kiku Fusa
Junction Produce White Sirotune
Junction Produce Black Leather Tissue Box
Junction Produce Black Missions Neck Pads
Junction Produce White Satin Pillows
Junction Produce Black VIP Curtains
Junction Produce Black Leather Seatbelt Covers
Galahad Universal Table Black/Chrome
Illuminated LED Door Sills
Perforated Suede Headliner w/ Molded TVx2
Clear door lenses
Interior LED Lights
Aluminum Sport Pedals
Custom 4 Manual ACC Switches for Air Suspension
Audio/Multimedia Info/Modifications:
Kinetik Power HC-1800 Power Cell Battery
Mark Levinson 5.1 Dolby Digital Surround Sound 14 Speakers 
Mark Levinson Amps 
Soundstream Tarantula Amp TRX 4.640 x2 
Soundstream Tarantula Amp TRX 2000D 
Soundstream RBW 12-inch Subwoofers x2 
Soundstream Reference Components x4 
14-inch AVS Trunk Monitor
7-inch AVS Headliner Monitors x2
AudioControl LC7 Signal Processor
Custom Fiberglass Trunk Lid
Custom Fiberglass Sub Box
Custom Fiberglass/Plexiglass Amp Rack
Custom Speaker Kick Pod x2
Eclipse OEM AVN In-Dash Nav/DVD/MP3/Bluetooth/Rear Parking Camera
OEM I-Pod Integration
Soundstream SCELL-400; 400 Amp CAPCELL
Sponsors: Air Runner, Nitto, 3T Motorsports, K&W Autobody, R1 Concepts, Kazz Sports Japan, Sun Auto
Shout-outs:
Owner: My mom and dad for telling me im wasting my money and should save up for a house. Tracy for doing the same. Tony and the guys at itsJDMyo! Air Runners, 3TMotorsports, Paul G, Tim, Parking Lot Conversations, 5 Footer Crew, Fckyourcrew, Auto Gear Racing, Jun Jun, K&W Autobody