21 July 2011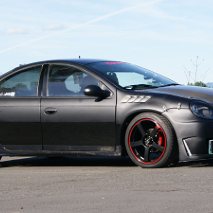 Owner Name: Charlie Lewis
Location: 503 Oregon
Vehicle: 2003 Dodge Neon Srt-4
Car Club Affiliation: Chasillac
What Events have you competed in?
Hot Import Nights, Tuner Bash After Dark, Import Motion, Extreme Auto Fest, Battle Of The Imports, Import Face off, Street Beats, Car toys Car show, Mopar Days, Rod and Customs shows, and tons of Local Cruise ins
What will be your next performance modification/upgrade?
A BIGGER turbo, Possible thinking about doing a custom twin turbo setup. And upgrading stereo from Cd Player to amps and Subs.
"All Show", "All Go" or Both, Why?
The car is built for both show and go. So to answer the Question Both. It can roll into a show any weekend and compete, or it can go to the track any given day and race. It has the performance upgrades to back itself.  But it leans heavier on the show side got to look good when you go out.
Any Shout Outs?
Yes of course, First off Thanks to all my family, Wife and 2 boys for helping me on the build, My main Buddy's Rodney Willis, And Jacob Johnson for not being afraid to tare apart the car and turning a few wrenches and ratchets on the build. All the sponsors that have helped me through out the years. Performance Auto & Sound Magazine for having one of the top Magazines around.