27 July 2011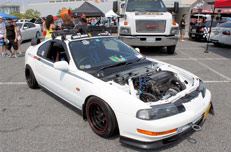 Owner: JOSHUA DeSHONG
Location: NEW OXFORD PA
Vehicle: 1992 PRELUDE Si-R RHD
Car Club Affiliation: www.wrteam.com
What Events have you competed in?
Carlisle Performance and Style, OC Car Show, DUB Show, Honda Day Events, different varies east coast shows.
"All Show', "All Go" or Both, Why?
Have to say both since the car make 320WHP and gets tons of trophies. Currently have 26 in my collection with a couple of  Best Of Show JDM.
Any Shout Outs?
Shout out to my family, my son Ayden and my fiancé Ashley. Also to my car team WR TEAM, Shawn Baker, Donnie, Hanna, Jay Martinez, Manny Olivio, Bob Dructer, Pete Coello, Brad Mauher, Dave Mauer, Riaz, Jenna, Matt Lenart, Jason Richardson, Jamie Zapata, Red Beard Adam Tar, Joey Talarico and everybody else that has ever helped me with this build. Especially my family since I've owned this car for 12yrs, spent every dollar on it. THANKS AGAIN PASMAG !!!