27 July 2011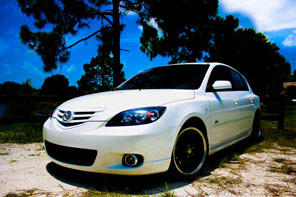 Owner: Aaron Ostrander
Location: Largo, Florida
Vehicle: 2006 Mazda 3
Car Club Affiliation: Deviant Conceptz
What Events have you competed in?
Jassics Car Show, Ultra Evolution Car Show Series, HIN/NOPI Miami 2010, Dreamz for Donation, Blick Law Firm Car Show, AEG car show at the Florida fairgrounds, The Shops at Wiregrass Car Show, Tampa Jax Wax Car show,
What will be your next performance modification/upgrade?
My next performance modifications are Headers, Piggyback system, Bulletproof transmission, Turbo Kit, and Zex Nitrous Kit.
"All Show', "All Go" or Both, Why?
My car is a Complete All Show, because my car is an automatic, so to really get the type of performance I would like, would involve a rebuild tranny and motor to support a turbo kit.
Any Shout Outs?
Want to shout out to my new Baby Girl Aubrey and my Beautiful wife. I also, to all of the other members of Deviant Conceptz, Thanks.