Written by Randi Bentia | Hair & Makeup by Valerie JC (www.iconimage.net)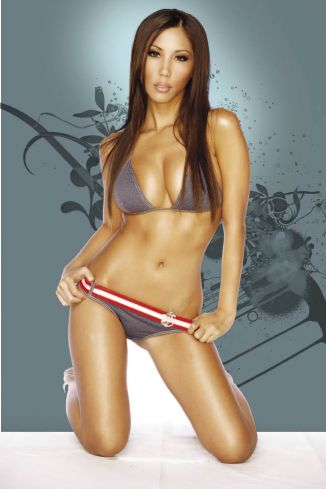 Each and every year PAS brings the new "it girl" to SEMA, as we parade this hottie around in front of her adoring fans. Our very own staff have fallen hopelessly in love the super sexy cutie you see here, but trust us if you want a smokin' hot girlie like Nicolette Lacson you better bring your A-game and she's warned us that typical machismo tactics are useless on her. This 20-something Filipina can spot a player a mile away and prefers a man with intelligence, honesty and respect who knows how to speak to a lady... just the right way. But then again it isn't like she needs a sugar Daddy either, she is totally booked up with a booming modeling career and new swim suit line called LolliMe. Scoring all kinds of covers and various modeling gigs, we regret to inform all you fellas out there that this lovely treat will always remain wrapped up. Nicolette revealed to us that her brother Vinnie would shoot both her and the photographer if she lost her clothes in front of the lens.
---
THE ESSENTIALS:
Birth date: April 2
Sign of the Zodiac: Aries
Measurements: 34C / 24 / 34
Nationality: Filipino/American
Hometown: Los Angeles, CA
Turn-ons: Intelligence, a sense of humor, confidence, good hygiene, goals, imagination, manners, and compassion.
Turn-offs: No ambition, lack of understanding, laziness, arrogance, and bad hygiene.
Pet Peeves: When people chew with their mouth open and little white lies...still lies folks!
PAS: How long have you been modeling?
Nicolette Lacson: I've been modeling since I was 15. One of my first gigs was in a bikini shoot, which I got in tons of trouble for at school because... I guess I can be a little disctracting in a bikini (laughs)
PAS: Well you are welcome to distract us anytime. What's the best part of being a model? Any highlights so far?
Nicolette Lacson: The best thing would have to be all of the traveling and experiencing new places and cultures. As for highlights, it'd have to be starting the race at the Red Bull MotoGP!
PAS: Describe yourself in three words.
Nicolette Lacson: Caring , loyal, imaginative.
PAS: Tell us your likes or dislikes about modeling?
Nicolette Lacson: I like all the free time I have to be with family, friends and my dogs. But I do not like how people try to take advantage of you especially when you are nice!
PAS: Have you done any strange or wierd photo shoots?
Nicolette Lacson: I once did an ad for Pay-Per-View / Blind Date and the show was called "Lesbian Vampire Car Wash". ummm...enough said right? (laughs)
PAS: What trait do you like most about yourself?
Nicolette Lacson: My thirst for knowledge, how I am very understanding, my honesty, and I'm respectful.
PAS: What traits do you dislike most about yourself?
Nicolette Lacson: I can be naive sometimes...in this business its hard to tell who is your friend and who isn't. People can be shady sometimes.
PAS: What is your best physical feature?
Nicolette Lacson: It would probably have to be my eyes and my skin. My skin is really soft…wanna touch? (smiles)
PAS: Wow... that's as smooth as a fresh jar of Skippy. How do you keep in such great shape?
Nicolette Lacson: I eat really healthy. No meat and no sweets...ok that's a lie. I honestly love sweets! But I am a piscetarian or as some say a "vege-quarian" (laughs)... I also go to the gym around 3-4 times a week.
PAS: Do you have any pets? What kind?
Nicolette Lacson: I have 3 little Yorkshire "Yorkie" Terriers. They are the best! So loyal and caring.
PAS: Our reader's need to know... what's your dream car?
Nicolette Lacson: I'd have to say a yellow Lamborghini Gallardo Spyder ahhhh... maybe one day!
PAS: Hmm, I don't know which would get more attention an exotic car like that or a total hottie like you driving it. On what occasion do you think it's ok to lie?
Nicolette Lacson: Never...sometimes to hear the truth may turn out to be for the best.
PAS: What is your idea of perfect happiness?
Nicolette Lacson: Lots and lots of love, perfect health and being with the people I love.
PAS: What three items would you take with you to a deserted island?
Nicolette Lacson: Food, water, and matches would be the obvious I guess...but, I really probably would bring some books, my iPod and some sunscreen.
PAS: If you had one wish, what would it be?
Nicolette Lacson: To end animal abuse! And for all the dogs and cats in animal shelters to be adopted to good loving people.
PAS: What was your worst childhood experience?
Nicolette Lacson: When I was in daycare they used to lock me up in a dark room or closet. That probably explains why I am afraid of the dark. Just kidding. (laughs)
PAS: What do you like to do for fun?
Nicolette Lacson: I love to go swimming and hiking with my dogs. I also love watching movies.
PAS: What is the sexiest thing about a man?
Nicolette Lacson: Intelligence and his soft touch.
PAS: What can a guy say to make you melt?
Nicolette Lacson: Tell me how beautiful I am...but I guess it has to come from that special person who makes you melt anyway.
PAS: What is your motto?
Nicolette Lacson: "Live as if you will die tomorrow but learn as if you will live forever." -Ghandi
PAS: What quality do you like most in a man?
Nicolette Lacson: Respect, ambition, confidence, and most importantly he has to have family values and a very good sense of humor.
PAS: Tell us about any upcoming projects of yours?
Nicolette Lacson: Well I just started my own bikini line called LolliMe and that's been keeping me really busy. Starting your own business is honestly as hard as everybody says it is! Check it out at www.lollime.com for more.
PAS: Do you have any shout outs or last words?
Nicolette Lacson: Much love to all of you fellas at PAS Magazine... you are certainly a fun group and just as crazy as I had been warned about. (laughs)


{yoogallery src=[/images/phocagallery/1008NicoletteLacson] width=[150]}