Written by Randi Bentia | Photos by Mike Brochu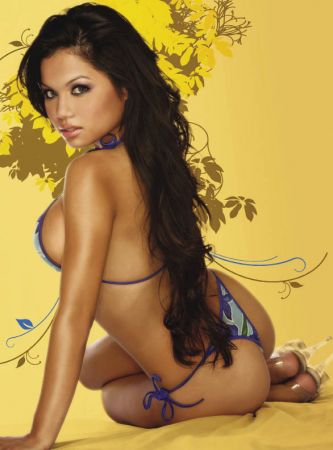 We've had a crush on this
sexy señorita for quite some time. The moment Nina Mascunana's photos landed on my desk, I instantly became the most popular guy in the office. Everyone wanted to take a good, long look at her curvaceous portfolio, as this exotic babe quickly made a name for herself in the enthusiast scene. It's a good thing she's a recent nursing school graduate and plans on becoming a registered nurse, as Nina's heart-stopping curves and deadly smile left us breathless in need of some mouth-to-mouth. We can't wait to see her bangin' body in a tight nurse outfit, even if it means a trip to the emergency room. Read on as we get the inside scoop on this hottie.
---
THE ESSENTIALS:

Birth date: November 11
Sign of the Zodiac: Scorpio
Measurements: 34 / 24 / 36
Nationality: Spanish / Chinese / Filipino
Hometown: Los Angeles, CA
Turn-ons: Intelligent, spontaneous and humorous men
Turn-offs: Hairy bodies, bad breath and fake individuals
pet peeves: Liars, players, cheaters, selfish and inconsiderate people
Hair & Makeup by Valerie JC & Gaby Ramos

---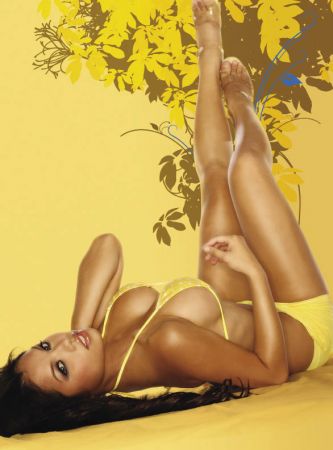 PAS: How long have you been modeling and what do you enjoy most about it?
Nina Mascunana: I've been modeling for just over a year now. I love being in front of the camera and expressing myself. Having the chance to travel for work and living a different lifestyle as a model is a lot of fun.

PAS: How did you get your start in modeling?
Nina Mascunana: It all started when I did a few photo shoots just for fun… turns out I can model!
PAS: Describe yourself in three words.
Nina Mascunana: Intelligent, Spontaneous, Unique.
PAS: Tell us your likes or dislikes about modeling?
Nina Mascunana: It's amazing to have my hair, make-up and clothing taken care of at events and photoshoots, plus I love meeting new people and traveling. But the part I dislike the most is meeting fake and obnoxious individuals.
PAS: What do you do for fun?
Nina Mascunana: Spend quality time with family, boyfriend (if I had one) and close friends. I love to go out dancing, watch movies and work out. I'm also very spontaneous so I'm always ready to do anything.
PAS: If you could drive any car, what would it be?
Nina Mascunana: A Lamborghini Diablo, in either red or yellow…I can't be too picky. (laughs)
PAS: If we were to take you out for dinner, what would be your favorite meal?
Nina Mascunana: I love going to the Outback Steak House restaurant. I always order the Prime Rib with potato soup, a baked potato and raspberry ice tea. If any guy could guess that right, I would fall in love (laughs).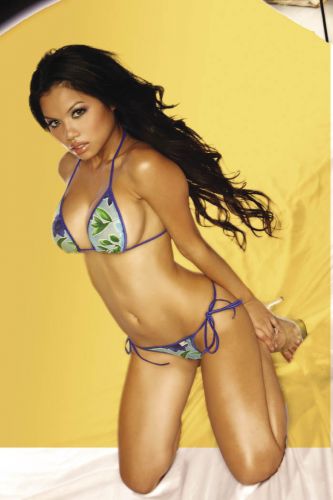 PAS: Damn, you sure hide that Prime Rib well….. how do you keep in such great shape?
Nina Mascunana: Trust me… I work hard to stay in shape. I'm always doing sit-ups on the AB Lounge. (laughs)
PAS: What can a guy say to make you melt?
Nina Mascunana: I can't give you my ingredients. Surprise me!
PAS: What do you find irresistible about a man?
Nina Mascunana: Things like intelligence, beautiful eyes, great smile, muscular, hairless and oily body (laughs)
PAS: What is your greatest fantasy?
Nina Mascunana: I'd have to say a ménage a trois with Angelina Jolie and Jason Momoa.
PAS: Have any of your fantasies become reality?
Nina Mascunana: Yes! Many of them have become reality and we'll leave it at that.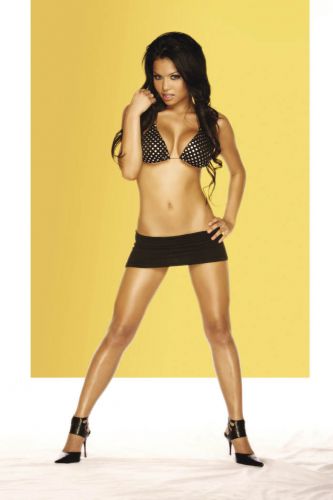 PAS: Tell us about your first kiss?
Nina Mascunana: It all happened when I was in 8th grade when an adorable Cuban guy kissed me just outside the classroom. I didn't know what to do the moment it all happened, but it was still very memorable though. Not the most romantic, but it's okay.
PAS: What is your best physical feature?
Nina Mascunana: Either my eyes or my lips, but I think I'm going with my eyes.
PAS: How would others describe you?
Nina Mascunana: They'd say I have a good heart, but I can be very picky at times since I'm very much a perfectionist.
PAS: What do you most value in your friends?
Nina Mascunana: Loyalty.
PAS: What's your most prized possession?
Nina Mascunana: The diamond necklace my beautiful mother gave me on my 21st birthday!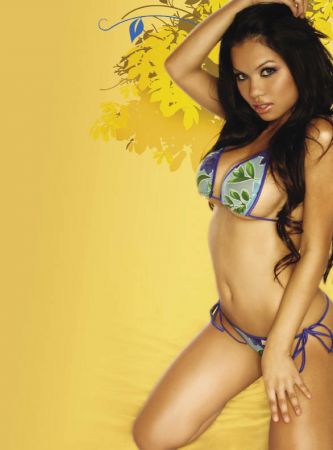 PAS: What three items would you take with you to a deserted island?
Nina Mascunana: A knife (for survival purposes), a huge basket full of food and a phone to call for help.
PAS: What is your greatest regret?
Nina Mascunana: Not giving certain opportunities everything I've got but things have changed now.
PAS: Who are your heroes in real-life?
Nina Mascunana: Mother (Anna), Sister (Bianca), Brother (Dionne) & baby sister (Chayanne). They make me happy.
PAS: What is your motto?
Nina Mascunana: Opportunities are limitless. Get up, get out, and grab a piece for yourself.
PAS: Do you have any shout-outs or last words?
Nina Mascunana: Thank you for giving me the opportunity to be featured in PAS Magazine! I had an amazing time at the photoshoot with you guys and met some wonderful people. Remember to visit me on my personal site www.myspace.com/m1ssnina

{yoogallery src=[/images/phocagallery/1002_-_Nina_Mascunana] width=[150]}