Written by Neal Jones | Photos by Fireball Models (Anthony Felix)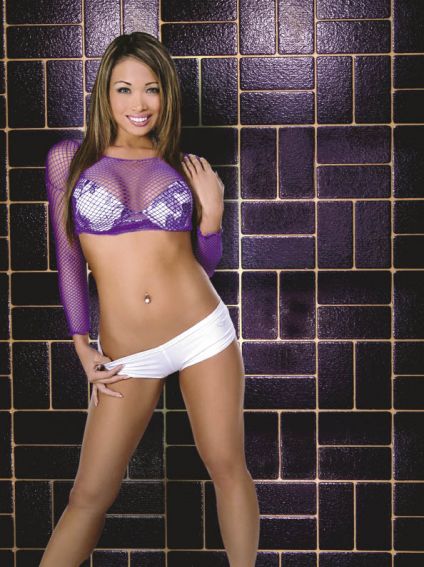 Selecting a model for one of PASmag's
eight covers can be a grueling process. It involves hours of scouting at various shows, filtering through tons of emails, dozens of portfolios, and finally deciding whether you should resist an indecent proposal from those very aggressive and creative models that can come along at any time. We're not saying that we hate our job; in fact, we feel it's one of the best in the world. But it's not as easy as it seems - usually.
In some rare cases though, it's a no-brainer. Once in a while, you are so completely caught off guard by someone's beauty that it feels like committing a crime to not approach them. Abigail Macalino is one of those girls as she simply blew us away the first time we saw her.
When we first spotted Abby at Hot Import Nights Miami, her alluring smile and warm personality captured our hearts immediately. Right off the introduction, her hypnotizing voice forced us to fall in love and book the photo shoot. Her alluring style just made the temptation even greater and we knew we had the right girl to grace the cover of this issue.
---
THE ESSENTIALS:
Birthdate : December 4
Sign of the Zodiac : Sagittarius
Measurements : 34D-24-36
Nationality : Filipina
Hometown : Tampa, FL
Turn-ons : Honesty, thoughtfulness
Turn-offs : Arrogance, laziness

Makeup by Jessica Barton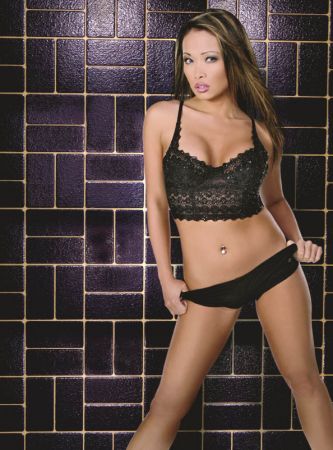 Born and raised in Manila, Philippines, this island beauty made stops in Virginia and California before finally settling in Tampa, FL. Belonging to a military family attributed to her travel-oriented persona. Moving around the globe while she was younger (she never attended a school for more than three years) is one of the main reasons why Abby embraces traveling now. Being a model in demand has her roaming all over the country, and she loves every single minute; much like everyone lucky enough to spend a few minutes in the presence of this seductive and vivacious woman.
Abby is now one of the top models in the sport compact industry. Her fans adore her for her sweet smile, luscious lips and hard rock body. Joining Kim Loan's awesome Prestigious Models lineup proved she definitely has what it takes to turn heads. Other work includes photo shoots for Truckin', Super Street, Teeze Magazine, Stare Magazine and the Prestigious Models 2005 calendar. You can also look for her in Makes and Models Magazine and a sexy shoot on Xposed.com.
Perhaps her biggest exposure to date came in 2006 when she was selected as a finalist for Stuff Magazine's "Photo Booth Girl" contest. Her beauty was more than enough to take home the top honour from the online voting and she was featured in a following issue as the contest winner.
Abby definitely provides a total package as this smart girl has a contagious personality to match her stunning beauty. God knows there's more than one of us who wouldn't mind hitting a photo booth with this exciting lady.
---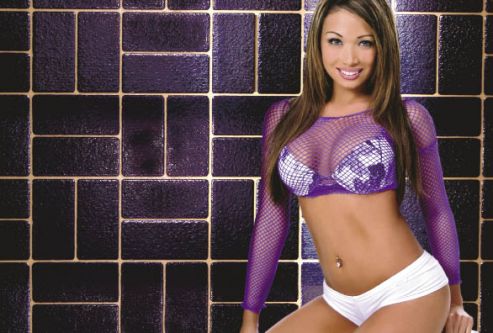 PAS: How long have you been modeling?
Abby Macalino: I've been in the business for over a year. I started because I lost 40lbs in six months and I just felt like showing off my hard work.
PAS: Describe yourself in three words.
Abby Macalino: Sweet, honest and caring.
PAS: What are some of your modeling highlights so far?
Abby Macalino: Well some of my favourite shoots have been for Truckin' magazine, Super Street, and a Miller Lite Calendar.
PAS: What is the most exotic location you have traveled to while on the job?
Abby Macalino: Bahamas, Peter Nygard's house... I mean mansion! It was like Disney World in his house. Words can't even describe it.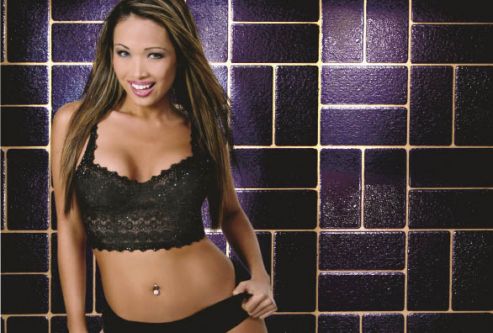 PAS: What is your dream car?
Abby Macalino: A Lamborghini.
PAS: How was your first kiss?
Abby Macalino: It was in the 5th Grade, and it was scary. It was my next-door neighbour. His breath stunk too. Laughs
PAS: Have you posed in the nude before?
Abby Macalino: No.
PAS: What would your parents say if you ever did?
Abby Macalino: They would 'kill' me!
PAS: Which part of your body is your favourite?
Abby Macalino: I have very luscious lips.
PAS: How long do you recommend warming up the engine before putting the car in drive?
Abby Macalino: As long as needed.
PAS: What is your favorite type of food? Sexiest dessert you can think of?
Abby Macalino: I love sushi. Chocolate-covered strawberries.
PAS: What would you say your personality is like?
Abby Macalino: I am the most giving person.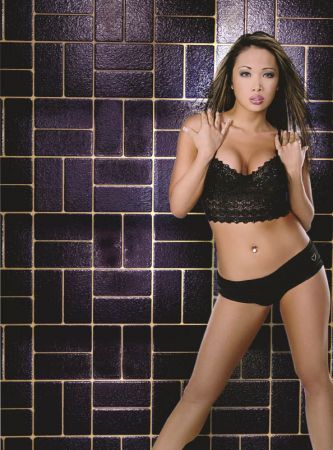 PAS: What kind of music are you into?
Abby Macalino: R & B and Hip Hop.
PAS: What type of guys do you go for?
Abby Macalino: I don't really have a 'mould' that I go for, it's all about chemistry.
PAS: How many languages can you speak?
Abby Macalino: English and Tagalog.
PAS: What does a guy have to do to get attention?
Abby Macalino: Be themselves.
PAS: What is the sexiest thing about a man?
Abby Macalino: Their eyes.
PAS: What is the sexiest thing about a woman?
Abby Macalino: How she carries herself with class.
PAS: Would you rather drive fast or cruise?
Abby Macalino: Cruise nice and slow!
PAS: If a guy cheated on you what would you do?
Abby Macalino: Leave him and move on.
PAS: What are some of your favourite stores to shop in?
Abby Macalino: A place in Hollywood called Ultra Vixen, Papaya, Forever 21 and Asphalt.
PAS: Any shout outs and last words?
Abby Macalino: Check me out at www.Abbym.com and see you in a city near you!
{yoogallery src=[/images/phocagallery/901Abby_Macalino] width=[150]}