Written by Neal Jones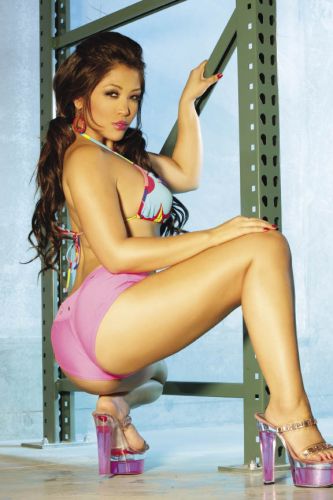 The West Coast is filled with lovely ladies and every year men cruise through California to see the sights. So imagine their joy when the sexy Joyce Lex decided to come to American shores and make San Diego, CA her new home.
While Lex has only been a part of the sport compact scene for a few years, she has been modeling since a young age and the turn to our scene was just a logical step for this Chinese dream girl. After modeling for several years doing print work for teens, she turned 18 and the doors opened. She started as a spokesmodel for clothing company Autocannon and from there her resume just kept growing.
One look into Lex' come-hither eyes and you're hooked. Add a breathtaking smile and legs that are made for walking over men and you have one of the hottest models on the scene today.
But this little heartbreaker is no pushover – you best be on your best behaviour or Lex will surely put you in your place. Manners mean a lot to her and if you cross the boundaries, look out! While easy-going at heart, this little vixen enjoys spending time outdoors and is no stranger to hitting the bull's eye as she enjoys the thrill of hitting the shooting range. Nothing exudes power quite like a beautiful woman who knows how to handle a gun!
Lex loves to laugh and a quick-witted guy has the best chance of getting her to notice him. But it isn't all about laughs, as the bombshell from Hong Kong wants a man who has something upstairs as well – and no, we don't mean the bedroom above your parents' garage!
Besides Chinese, she continues to improve her English, and she knows a little Spanish and Japanese as well. But her favourite language is sex talk, and you'll need to be a very good boy if you ever hope to get a linguistics lesson from this temptress from the East.
Lex has spent much of 2005 and 2006 touring with Falken Tire and spends most of her time as a petite runway, bikini and calendar model – including a recent D Sport magazine cover. As part of her duties with Falken Tire, she has become a drifting fan after attending most Formula D events over the past couple of years.
You can rest assured that her legion of fans will continue to grow with every event she graces with an appearance: it's been hard enough keeping track of the photos you see here as every guy in the office keeps trying to sneak away with them. This is one girl who can fill the prescription on more than one man's heart.
---
THE ESSENTIALS:
Birthdate : July 18
Sign of the Zodiac : Cancer
Measurements : 34C-24-36
Nationality : Chinese
Hometown : San Diego, CA
Turn-ons : I like when guys know their manners, can take care of themselves (such as health) and I usually look at their butt and teeth. Also, someone who can dance, not tries to dance or routine dance, but feels the beat
Turn-offs : I can't stand when a guy calls "eh" to you… "Eh" is for a**holes. I also can't stand when someone talks too much

PAS: Describe yourself in three words.
Joyce Lex: Witty, loyal and considerate.
PAS: What are some of your modeling highlights thus far?
Joyce Lex: Seeing the world, learning about other cultures and even the history of the US.
PAS: What is your dream car?
Joyce Lex: Forget the car; I would love to buy a yacht and some water toys.
PAS: What is your favourite body part?
Joyce Lex: I like my butt, it can bounce…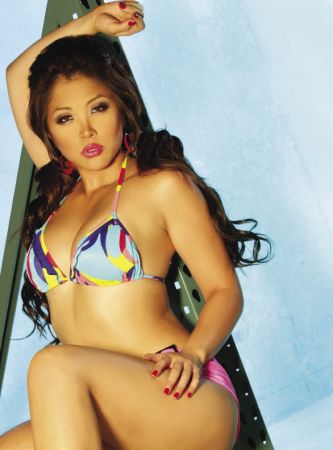 PAS: What is your favourite food and the sexiest dessert?
Joyce Lex: I love Brazilian BBQ; the food just keeps coming. I don't know about the sexiest dessert, but I will do anything for some sweet mango and sticky rice (Thai).
PAS: What is your personality like?
Joyce Lex: I am super easy-going. I'm a little witty, but never hurt other people's feelings. I love to love and mostly be loved. Bottom-line: I just love peace.
PAS: What type of man do you go for?
Joyce Lex: What type do they come in? Can I get an extra value meal with it? Seems like what I go for never seems to come. I'd like a nerd because they like to discover a lot of odd things that most people don't. But I need a nerd who can dance too; I guess he would have to be an undercover nerd. He has to be social with people and not too overconfident.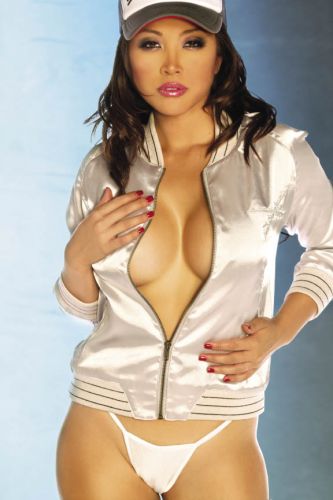 PAS: How can a guy get your attention?
Joyce Lex: Tell me something I don't know, say something dumb but witty or fall down in front of me.
PAS: What is the sexiest thing about a man?
Joyce Lex: You mean what can a man do that makes them sexy. Because most men are not sexy, we call them HOT! I love a tanned body with a nice back that curves down to their butt, a guy with a toned body who isn't too big or too small.
PAS: What is the sexiest thing about a woman?
Joyce Lex: Women can be really sexy just in their regular clothes. Confidence makes women really beautiful. But the men don't want to hear that, so… I think a woman with long sexy hair that you can pull on when having sex is pretty sexy. I also think a woman with long, toned legs that can wrap around your neck are super sexy. You'll have to visit my website for more hot details about what I think is sexy…
PAS: Any shout-outs or last words?
Joyce Lex: Thank you so much for reading my interview. Thank you PAS magazine for this opportunity, I had a fantastic time working with the whole crew for this photo shoot and a big thanks to Nelson and Queue for the take-home test! Be sure to check out my website, www.joycelexplayhouse.com, for some more fun in my playhouse. Laughs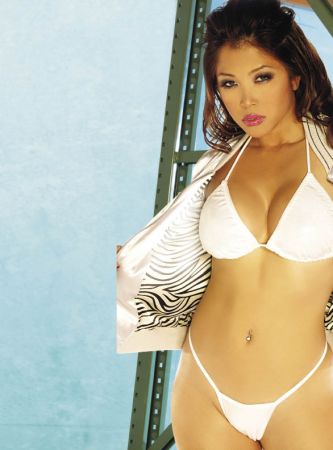 {yoogallery src=[/images/phocagallery/906Joyce_Lex] width=[150]}