Written by Neal Jones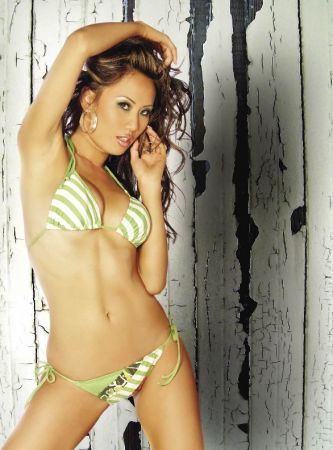 The term "Made in Taiwan" can be found on any number of imports in North America, but perhaps the best example came when Kaila Yu moved to our shores as a young girl. Raised in California, Yu has become one of the most sought-after import models with her seductive eyes and breathtaking style.
A shy girl at heart, Yu fell into the modeling business while hoping to pursue a career in music or film. Her career was jumpstarted when Playboy featured her in the July 2000 Girlfriend issue and was followed by a spread in the August 2000 issue of Playboy Magazine. The awe-inspiring pictorials quickly grabbed the attention of men and photographers nationwide and Yu has been criss-crossing the continent for work ever since. She even caused the small screen to heat up with appearances in several PlayboyTV programs
Once Yu started getting attention, her career went into overdrive. Movies and TV offers became the norm for the curvaceous vixen and led to several appearances on The Man Show, MTV's House of Style and Dismissed shows and even met with Canadian TV legend Ed the Sock. Her quick rise caught the eye of the music industry as the Brian Setzer Band used her in a video, which was followed by a special appearance in the Blacked Eyed Peas' "Bebot" video.
---
THE ESSENTIALS:
Birthdate : May 16
Sign of the Zodiac : Taurus
Measurements : 34B-24-33
Nationality : Taiwanese
Hometown : Taipei, Taiwan
Turn-ons : Ambition, power, ability to cook, passion, creativity
Turn-offs : Self-absorption, no sense of humour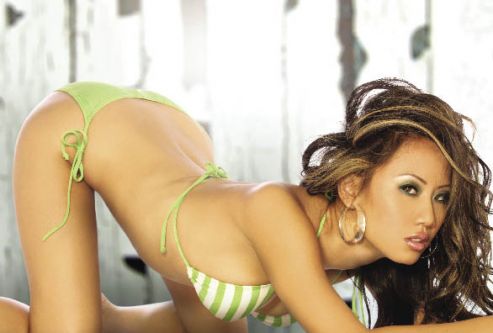 ---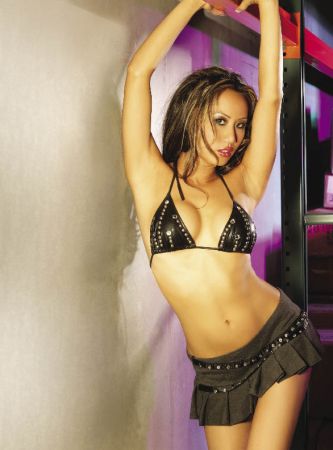 PAS: Describe yourself in three words.
Kayla Yu: Passionate, ambitious, dreamer.
PAS: How did you get started in modeling?
Kayla Yu: I started off modelling for Playboy – they were one of my first photo shoots ever!
PAS: Are you into cars yourself?
Kayla Yu: Definitely! I got to drift with Tanner Foust, which was the biggest adrenaline rush ever! Almost better than sex… ALMOST! Nothing is better than sex.
PAS: What kind of car do you drive?
Kayla Yu: A Lexus RX300. I'm an SUV girl and I like a lot of space… a lot of space in the back seat is especially good… if you know what I mean.
PAS: If you could travel anywhere for a photo shoot, where would it be and why?
Kayla Yu: Japan, I'm dying to go there! I love their style. Second choice would be anywhere tropical because I'm a warm weather girl.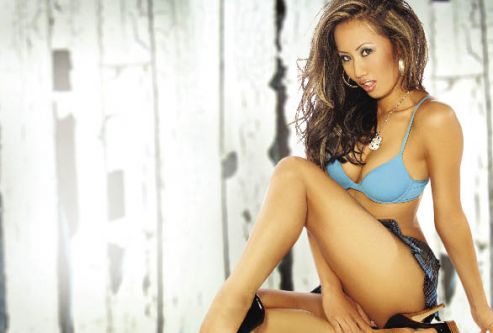 PAS: Where's the craziest place you've ever got it on?
Kayla Yu: The elevator, but I love getting it on in moving vehicles.
PAS: Tell us about your first kiss.
Kayla Yu: My first kiss was awful. The guy didn't know what he was doing,
he just kind of opened his mouth and drooled all over me. It is
SUCH a turn on if a guy knows how to kiss, so this is a
deal-breaker for me… If a guy can't kiss, I can't be with him!
PAS: Body part you're most proud of?
Kayla Yu: I like my lips… guys like what I can do with them.
PAS: Describe your sexiest outfit.
Kayla Yu: That would be nothing at all… that's when I'm
most comfortable.
PAS: Any shout-outs or last words?
Kayla Yu: Thanks so much to PASMAG, I loved the photos and am so excited to be a part of the magazine! Thanks to myspace, my producer Embryo, Dashiek, Dan O Callaghan, Kris Leung, Cheryl, Eric Tu, all of my street team and every one of my fans who have supported me along the way, I couldn't do it without you, thx!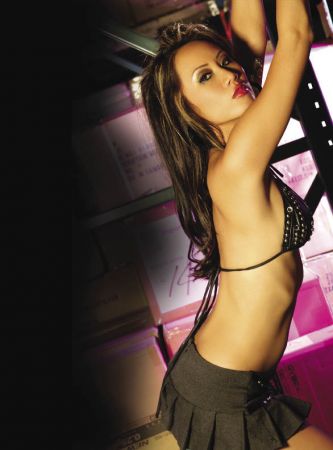 {yoogallery src=[/images/phocagallery/907Kayla_Yu] width=[150]}