Written by Randi Bentia | Photos by Stanley Lopez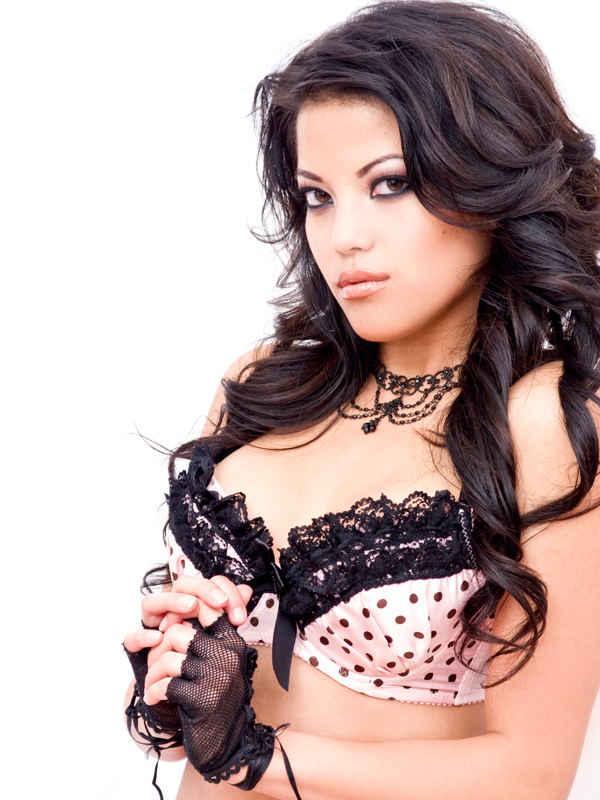 If you've been reading PAS for a while now, you've noticed we get to meet some of the hottest import models in the world. Our endless quest to bring you the new 'it girl' every issue involves much more than meets the eye, sure they have to possess a sexy smile, killer curves and look super good in a bikini, but capturing our cover shot can literally take hours and in this case we wished it would've taken a few days just to spend time with the adorable Miss Tracy Nova. This Sin City bad girl certainly tops our list, as she's one model we simply couldn't get enough of. Her love for fast cars, tattoos, videogames and getting down on the dance floor make her every guy's dream come true… oh yeah did we mention she's also a total cutie and confessed she actually enjoys cleaning up? Let's see if this clean freak gets down and dirty during our interview.
---
THE ESSENTIALS:
Birth date: November 9th
Sign of the Zodiac: Scorpio
Measurements: 34C/23/32
Nationality: Filipino / English
Hometown: Las Vegas, NV
Turn-ons: Good dancers, sense of humor, fast cars, tattoos
Turn-offs: Negative people
Pet Peeves: Snoring
---
PAS: Where are you originally from?
Tracy Nova: I am from Las Vegas, Nevada and yes I currently live there now.
PAS: How long have you been modeling for?
Tracy Nova: I'd say between 4 and 5 years.
PAS: How did you get your start in modeling?
Tracy Nova: Well, I took some modeling and acting classes when I was 18 and it sort of took off from there.
PAS: What's the best part of being a model?
Tracy Nova: Meeting and working with a lot of creative and talented people. I also love the traveling!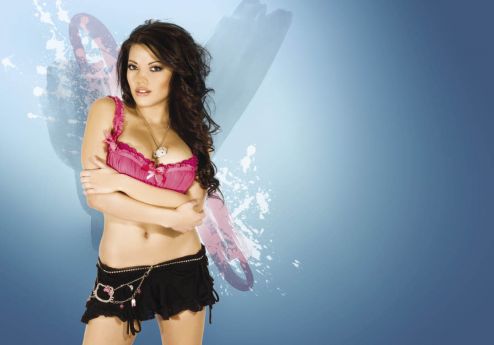 PAS: When it comes to your look, what would you say are your strengths?
Tracy Nova: My strengths as a model would have to be my eyes. Everyone I've worked with mentions my eyes and tells me I'm very photogenic (smiles).
PAS: Describe yourself in three words.
Tracy Nova: Lovable, clumsy, one-of-a-kind.
PAS: Any modeling highlights so far?
Tracy Nova: I've been featured in Playboy, FHM Magazine, The Source and of course on this issue's cover of PAS Magazine! I've also been a UWC Ring Card Girl, Hollywood Poker Model and featured in the Juiced 2 video game and hopefully more to come!
PAS: Wow, you've been very busy. Any dislikes about modeling?
Tracy Nova: It can be very hectic at times, but I really like being able to meet such great people and travel around the world for work! If I had to pick a dislike, it'd have to be not getting enough sleep! (laughs).
PAS: Do you have any secret beauty tips?
Tracy Nova: Eating healthy! I eat lots of seafood and mainly Asian cuisine. I also drink lots of green tea everyday.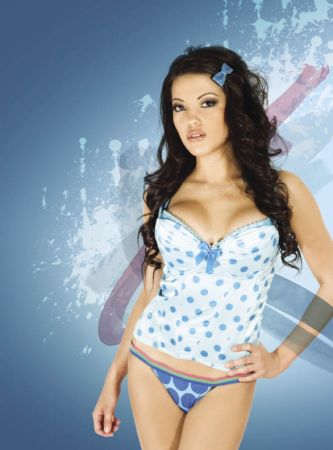 PAS: How do you keep in shape?
Tracy Nova: When I go out, I always dance until I sweat!
PAS: Do you remember your first kiss?
Tracy Nova: Umm…I don't really remember my first kiss… guess it wasn't that great (laughs).
PAS: What is your top unfulfilled desire?
Tracy Nova: I've always wanted to travel all around Asia. Mainly Japan!
PAS: Do you have any pets?
Tracy Nova: Yes, I have a Chihuahua. But she doesn't act like one at all! Her name is Keiko which means happiness in Japanese. She brings me happiness!
PAS: What do you do for fun?
Tracy Nova: When I'm not traveling and working, I just kickback with some friends, play video games, catch up on my favorite tv shows and anime, go to the Asian Karaoke bars, bowling, shoot pool, cooking, and believe it or not, I like to clean! Room service anyone?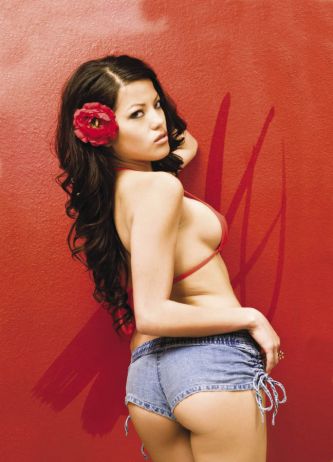 PAS: What frightens you the most?
Tracy Nova: Bugs! Ewwwww.
PAS: Do you have a prized possession?
Tracy Nova: My phone! I'd be lost without it!
PAS: What is your favorite type of food?
Tracy Nova: Sushi, Japanese, Korean, Vietnamese, Filipino, authentic Chinese and seafood.
PAS: What is your dream car?
Tracy Nova: I have a few dream cars including the Nissan 350Z, 240SX (Silvia), and Skyline GT-R. I know, I know, I'm obsessed with Nissan… what can I say (smiles).
PAS: Do you have a favorite quote or saying?
Tracy Nova: "Perfectionism is the highest order of self-abuse."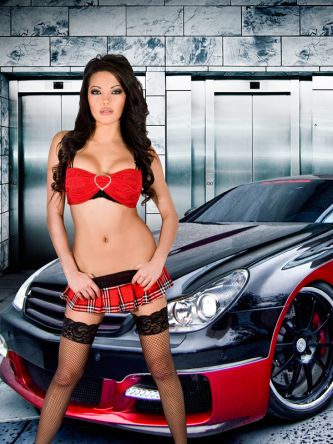 PAS: What's the best prank you've ever played on someone?
Tracy Nova: Putting clear plastic wrap over the toilet seat... so when someone goes, it splashes all over!
PAS: Have you ever posed nude?
Tracy Nova: Yes I have, for Playboy. They make you feel comfortable and all the models are so nice!
PAS: What can a guy say to make you melt?
Tracy Nova: Anything sweet…whispering nice things in my ear is double sweet!
PAS: How do you seduce someone?
Tracy Nova: With my sexy stare!
PAS: Any upcoming projects?
Tracy Nova: I working for HollywoodPoker.com. You can go to the website and play poker against me! But you better have your game face on, because I'm actually really good!
PAS: Any advice to aspiring models out there?
Tracy Nova: Just keep your head up high, always be positive and be yourself!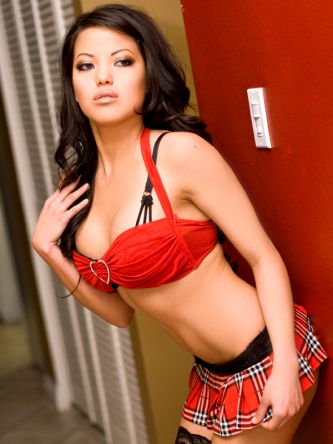 PAS: Any shout outs or last words?
Tracy Nova: Thank you everyone at Performance Auto and Sound Magazine, especially Randi Bentia, Stanley Lopez and all my fans, friends, and family for all the love and support. I love you guys! Muah!
{yoogallery src=[/images/phocagallery/1110Tracy_Nova] title=[Tracy Nova] width=[150]}