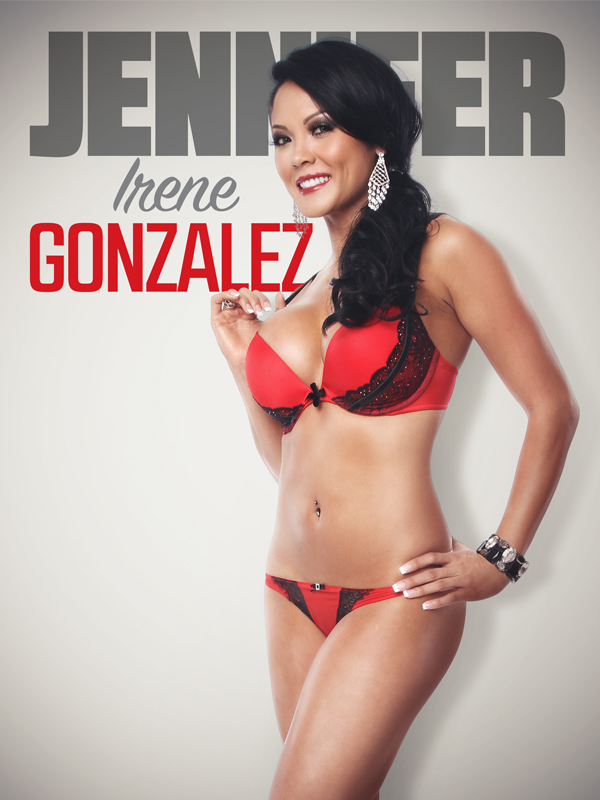 Birthday: October, 29th
Location: Los Angeles, CA
Zodiac Sign: Scorpio
Height: 5'8"
Measurements: 34D-24-34
Ethnicity: Taiwanese and Mexican
---
Voluptuous curves and seductive eyes are what drew us to this half Taiwanese, half Mexican beauty. Born and raised in Redondo, CA and living in Orange County, Jennifer Irene Gonzalez got her big break when she was scouted at cheerleading practice at the age of 17. Not long after, she landed a record distribution deal with SONY BMG records. Jennifer has appeared in several international editions of FHM, the cover of BEER Magazine and many others. She has also been featured on Good Day LA and Telemundo Tu Estillo. With her good looks, talent and get-it attitude, it won't be long before you see her zipping by in her new hot pink Lamborghi.
Connect with her online:
www.JGmodeltalent.com
www.facebook.com/JenniferIreneGonzalez
www.myspace.com/JGmodeltalent
www.twitter.com/JGmodeltalent
www.JenniferIreneGonzalez.tumblr.com
---
The Interview
Where are you from, and where are you living now?
I am from Redondo Beach, CA. I've traveled the world, spent a third of my life in Taiwan, and now I live in Orange County, CA.
How did you get your start in modeling?
I was scouted in LA during cheerleading practice as a teenager and things have soared ever since. Within two years I was signed by four agencies and got a record distribution deal with SONY BMG Records. I couldn't ask for a more amazing job! I feel completely blessed.
Describe yourself in three words or statements.
Fried rice and frijoles (hahahaha I'm Taiwanese and Mexican!)
What are some of your modeling highlights so far?
Shooting the cover of Performance Auto & Sound is definitely one of my major highlights. These past couple years have been really good to me. I was featured on Good Day LA and the Telemundo Tu Estillo show and dozens of magazines, including a five-page spread in FHM Slovania. I've also shot with FHM Turkey with celebrity Jenna Bentley, FHM England, XRC Cars with Darryl McDaniels of RUN DMC, and 12 issues of Niteguide Magazine, among others. I was even on the cover of FHM Thailand with Tera Patrick!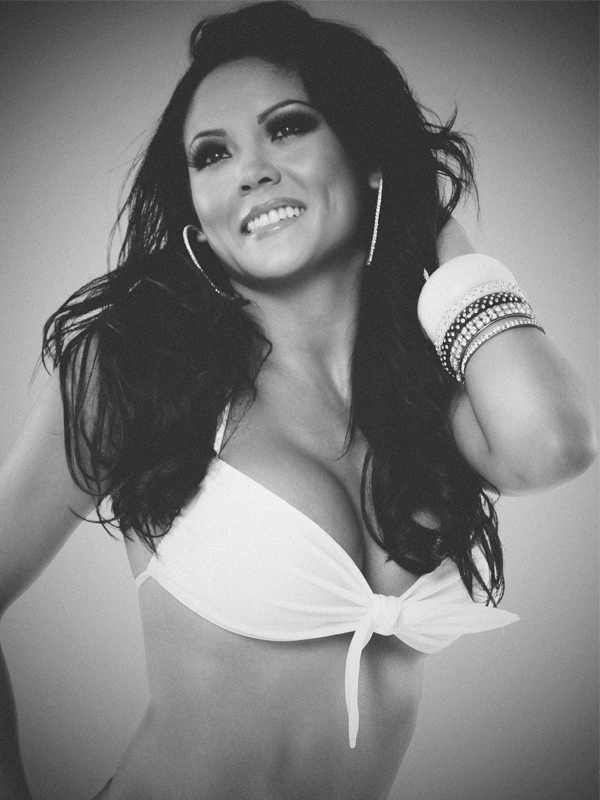 Does your personality match your Zodiac sign?
It totally matches my personality. Scorpios are loyal and great lovers and friends. But if you do us wrong we have a sting that really hurts! LOL
Tell us your likes or dislikes about modeling?
I am so passionately in love with my job. I get to pick my own schedule, I meet great people and I can work wherever I travel. The most rewarding part is being a role model to others and your culture.
The only dislike is all the packing and unpacking when going to shoots. I have a separate room in my house that's specifically for loading and unloading my bags!
What is your best beauty secret?
Take care of your skin and body! Drink lots of water, watch what you eat but don't deprive yourself of YUMMY food. Work out regularly and RELAX. Worrying gives your wrinkles!
What traits do you like most about yourself?
I'm a free spirited go-getter with a good and humble heart. If I envision a dream or goal, I strive for it without stomping on anyone's toes. I do everything with good intentions. I love to utilize my blessings of success and exposure to help others in need.
What is your biggest fantasy?
Driving a hot pink Lamborghini with the pedal to the metal on a long road in France. I know, totally off the wall… but hey, it's a fantasy.
What is your favorite food?
Candy!!! Most people wouldn't count that as food but I do. LOL
Do you have any weird habits no one knows about?
I have a phobia of running out of things. So I have a bad habit of shopping to restock my cabinets. I have backups of literally everything!
What do you look for in a guy?
I like a tall man with a great smile, nice teeth, intelligence, motivation, and respect. Looks are a plus, but it doesn't matter to me if he's ugly on the inside. I also like a little bit of a challenge.
How do you feel about pick-up lines?
Cheesy! I don't like it when guys beat around the bush with cheesy pick up lines. If you want it, come and get it. That's what I would do.
What is the weirdest thing that has ever happened to you on a date? How did the rest of the night go?
The weirdest thing that's ever happened to me on a date was discovering that he hooked up with my roommate the night before while I was in the next bedroom. I had no idea what happened until I offered for him to come over and he already knew where I lived. LOL Awkward.
On a scale of 1 to 10, how wild are you in the bedroom?
Wild enough to make you throw your back out!
Have you posed in the nude?
I have posed in body paint if you consider that nude. I would never go completely nude, you have to leave something for your man only!
Who are your real-life heroes?
My immediate family and loved ones are the backbones to my soul and life. They are the first ones to tell me when I'm wrong, and the first ones to love me when I need someone to lean on.
With any 'spotlight' job, you are looked upon as a role model. What advice would you give to aspiring models?
The biggest advice I can give is to believe in yourself and work towards your goal. Your confidence shows on camera, on stage and during your interviews. You have to get to know people, put your name out there and hustle. Always be kind and leave a good lasting impression with the people you meet. The closer you get to natural beauty both inside and out, the more successful you will be. :D
Any shout outs or last words?
I want to give a shout-out to PASMAG for this amazing opportunity. Much love to Randhi, Steve, and Val for making this production a fabulous one. And to all you car lovers… as Mario Andretti says, "If everything seems to be in control, you're not going fast enough!"