Written by Randi Bentia | Photos by Steve Bitanga (www.babeblvd.com, www.stevebitanga.com)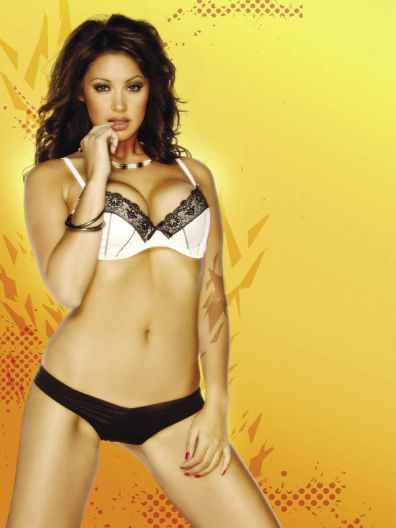 Miss Melyssa Grace has toured with Hot Import Nights (HIN) and made the cover of Maxim Philippines. She was Miss Global Maxim Philippines 2008 and was Miss May in the Maxim Global Calendar, which was shot in Thailand. In 2008 she was featured on the covers of 5 magazines. In 2009 and beyond she hopes to break that record.
---
THE ESSENTIALS:

Birth date: June 5
Sign of the Zodiac: Gemini
Measurements: 34 / 26 / 36
Nationality: Filipina / German
Hometown: San Diego, CA
Turn-ons: Sweethearts, surfer boys and intelligence
Turn-offs: Cigarettes, drug addicts and yellow teeth
Pet Peeves: Bad breath
Clothing by Rocawear (www.rocawear.ca)
Bikini wear by Capristan Intimates (www.capristan.com)
Lingerie by Coquette International (www.coquette.com)
Hair & Makeup by Valerie JC (www.iconimage.net)
---
PAS: Describe yourself in three words.
Melyssa Grace: Tall, exotic, kryptonite.
PAS: How long have you been modeling?
Melyssa Grace: I have been modeling for ten years now. I started as a runway model at the age of 14, since I was already awkwardly 5'9 inches tall.
PAS: Wow, that's really tall, especially for an import model. So what's the best part of being a model?
Melyssa Grace: The attention! (laughs) I also love all the traveling too. You really learn to appreciate who you are and where you come from when you visit other countries.
PAS: How did you get your start?
Melyssa Grace: I started with beauty pageants. After I won a few, I then begged my mom to put me in acting / modeling school. During that time, I was approached for a fashion show. From then on, the jobs kept falling into place for me.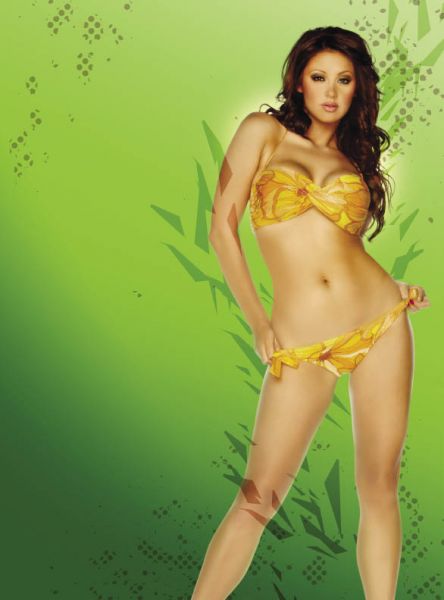 PAS: Well, we promise to behave during this interview... for now. Have you had any strange or awkward photo shoots?
Melyssa Grace: Hmmm, one time I had to smile with five suckers in my mouth, while wearing these ridiculously large sunglasses. It was very fun, but I felt very silly. (smiles)
PAS: Can you tell us about your first kiss?
Melyssa Grace: I was 6, my Grandma was babysitting the twin boys next door. I liked one of them and told him to come with me to the kitchen because I had a surprise for him, then I cornered him and gave him a big, wet one!
PAS: Lucky guy, I'd bet that smooth move still works today. Any unfulfilled fantasies?
Melyssa Grace:
I can't elaborate too much because my parents might read this, but let's say no clothes, some suntan oil and Mai Tai's on a private rooftop.
PAS: What would you say is your best physical feature? Anything you'd change if you could?
Melyssa Grace: I love my legs! I think they are a very rare find. It's not often that you can find a Filipina with legs for days (laughs). Sometimes I wish I could be blonde on Saturday nights. I hear they have more fun or something. (winks)
PAS: What frightens you the most?
Melyssa Grace: Spiders! Ewwww. Just the thought of one gives me chills. The whole "8 leg" thing is gross.
PAS: What three things would you take to a deserted island?
Melyssa Grace:
I'd take my dog, extra underwear and some snorkel gear.
PAS: What is your favourite type of food?
Melyssa Grace: The fattening kind (laughs). It always tastes better. My most favorite candy bars are Snickers and Paydays, so take note boys (laughs).
PAS: What is your dream car?
Melyssa Grace:
A white Bentley Continental.
PAS: Were you ever picked on growing up?
Melyssa Grace:
In school, I was picked on a lot for being so tall. Girls would be mean to me and also spread rumors. Now that I'm older and wiser, I can forgive those mean girls because I feel it made me stronger and allowed me to think about who I am and what really matters. Thanks girls!
PAS: Have you posed in the nude?
Melyssa Grace:
Yes, I have, but the photos we're only implied nudity, so none of my "yummies" where really showing. I think a woman's body is very sexy if displayed in a classy way. In a photograph, a body is art.
PAS: What do you like to do for fun?
Melyssa Grace:
Well, I do consider myself a myspace addict. I keep in touch with friends and fans through myspace mail. I also take my dog, Junior to the park to meet bitches (I mean other female dogs).
PAS: What is the sexiest thing about a man?
Melyssa Grace: Okay, I can't settle on one. First is humor, I love to laugh. It feels good. Second is brains, I like a guy who can teach me a few things. Third is a great smile, I like to know I make him happy.
Melyssa Grace:
I can't tell you that. It's like my secret weapon or more like kryptonite.
PAS: Have any fantasies become reality?
Melyssa Grace:
You mean like being featured in PAS Magazine? Yes, when I found out, it was a dream come true.
PAS: What is your motto?
Melyssa Grace:
"Live today like it is your last."
PAS: Any upcoming projects?
Melyssa Grace:
Soon, I'll be in the Philippines to host/co-host a few different TV shows.
PAS: Any shout outs or last words?
Melyssa Grace:
I'd like to thank the team at PAS Magazine for this feature, you fellas are trouble! Also thank you to everyone that has been so sweet to cross paths with mine. Every single interaction, like a smile, a comment or even a wink has made me who I am today. Proud. Thank you all.
{yoogallery src=[/images/phocagallery/1107_-_Melyssa_Grace] title=[Melissa Grace] width=[150]}