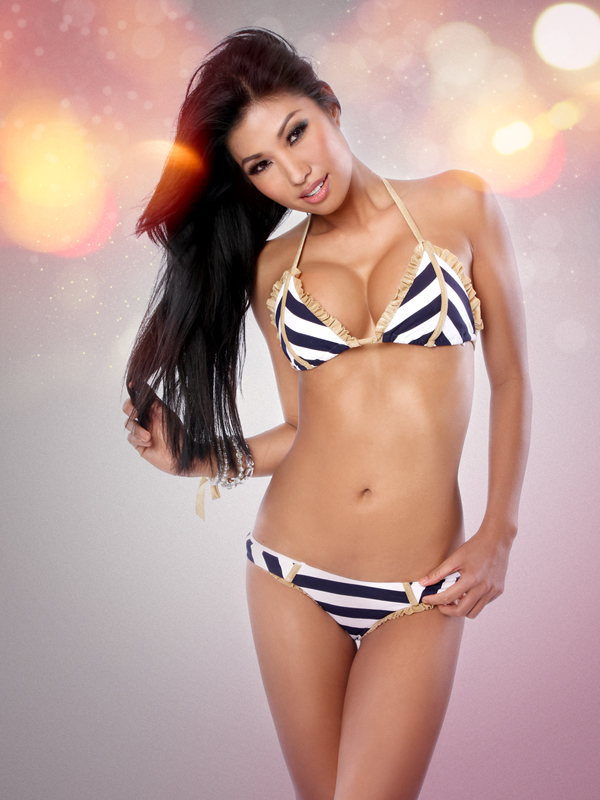 Ivy Teves knows exactly what's up. This tall, dark beauty has a very impressive modeling resume, including Monster Energy and the Coca Cola billboard in Times Square. Most recently, she was asked to be the Royal Flush Girl for the World Poker Tour on Fox Sports Net. She's an avid traveler with a bikini body that could kill, which is even scarier because she has the brains to match!
The Essentials
Birthday: June 5th
Zodiac Sign: Gemini
Location: Austin, TX & Simi Valley, CA
Height: 5'7"
Weight: 105 lbs
Measurements: 33C-23-33
Ethnicity: Spanish, Filipino and Chinese
Turn-ons: Intelligence, crème brulee, ice cream, guys in hello kitty tighty whities, hard muscles, a six-pack, beach and bikinis, pearly whites and a sexy smile.
Turn-offs: Lack of passion, being dumb, conceitedness and anything smelly.
Pet Peeves: Magazine inserts drive me nuts! They keep falling out the magazines and I literally have to chase after them so I don't get dirty looks for littering.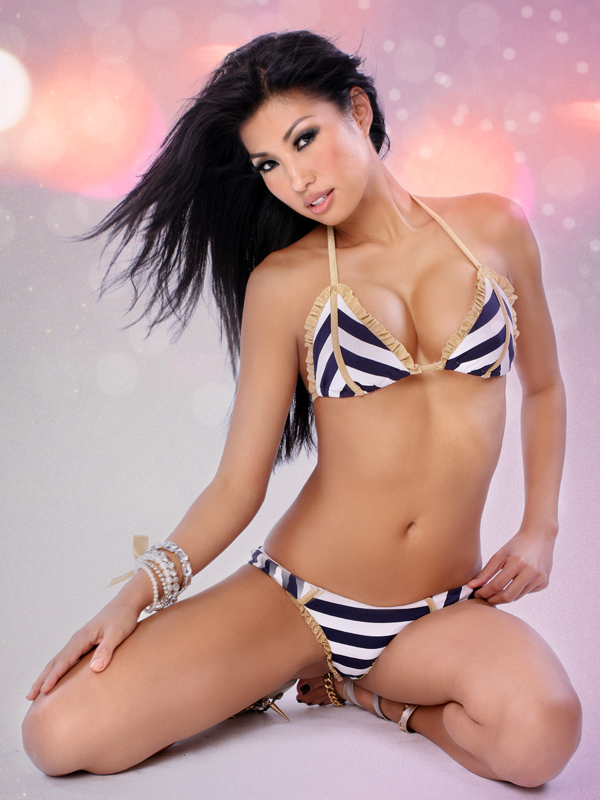 The Interview
Where are you from? And, are you currently living there?
I was born in the tropical island of the Philippines. I'm currently living in sunny California and Texas.
How long have you been modeling?
Since I was in high school, but it was on and off. My parents made sure that school came first and it did.
How did you get your start in modeling?
I was shopping at the mall with my mom when a modeling scout discovered me.
What would you say are your strengths as a model?
Positive attitude all the way, my smile and my passion for fashion.
Describe yourself in three words or statements.
Intelligent, vivacious and youthful (I.V.Y.) ?
What are some of you modeling highlights so far?
Working as an ambassador for the World Poker Tour as a Royal Flush Girl is my most recent career highlight. I travel around the world, do charity work for the WPT foundation and meet interesting people. I've also modeled for VIP Poker Magazine in Paris, a Monster Energy Drink Commercial in Japan, Super Street Magazine, Import Tuner Magazine, DSport Magazine Cover, the Coca Cola Billboard in Times Square in New York and last, but not least, being the feature model for Performance Auto and Sound Magazine.
Does your personality match your Zodiac sign?
Yes, I am charming and witty like a true Gemini and a jack-of-all-trades, but master of none. I'm never wrong and I never lie! ?
What is your best beauty secret?
Sleep (and lots of it), green tea (keeps you young and healthy) and chocolate (it keeps me happy).
How do you keep in such great shape?
Healthy living and a stringent exercise program.
What is the strangest photo-shoot that you've done?
It was a K Swiss shoe photo shoot. I literally shot for five minutes – it was 20 minutes total, including hair and makeup and the shoot itself. I've never been in and out of an actual shoot so fast.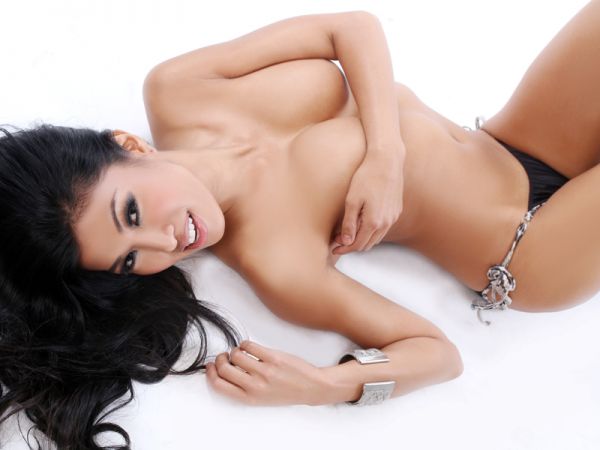 Who is your favorite model or celebrity of all time?
Audrey Hepburn. I love that she is not only stunning, but sophisticated and a total classic beauty.
What traits do you like most about yourself?
Great people skills and ability to laugh things out when sh@# hits the fan.
What is your top unfulfilled fantasy?
Travel every country in the world.
Do you have any birthmarks, scars or tattoos?
I have a little flower and butterfly tattoo. Location is TBD (to be discovered).
Do you have any pets?
I love my two babies, Laylu (Yorkipoo) and Yoshi (Shitpoo). They are the sweetest and best ever!
What is your favorite food?
Japanese Food (Sushi) and Milka chocolate.
Who is your favorite recording artist and genre of music?
I love Adele, Jay-Z, Ellie Goulding, Trace Adkins and Bruno Mars. As far as genres, I listen to everything.
Do you have any weird habits that no one else knows about?
I can't stand dirty dishes so I have to wash them if I see any.
What do you look for in a guy? What would he have to do to get your attention and keep you interested?
Someone who can literally take my breath away and sweep me off my feet with just a smile. A gentleman who treats me like his queen. Mental and physical stimulation will definitely keep my attention and interest.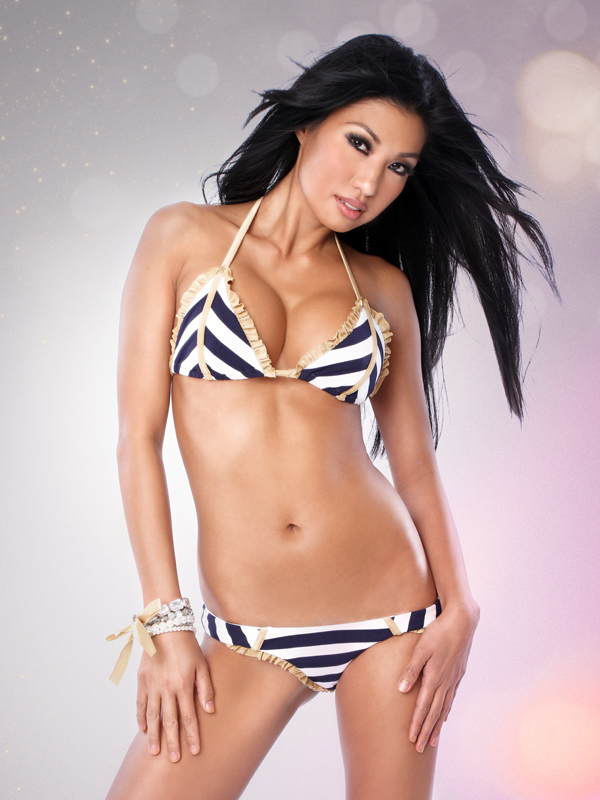 What gets you in the mood?
Soft kisses and sexy cologne turns me on.
What is your dream car?
Black on black McLaren F1, it's absolutely orgasmic.
How do you feel about pick-up lines? Do they work?
I hate cheesy pick up lines and I can't say I've heard a good one yet, but a sincere "Hello" always works on me.
So what is the weirdest thing that has ever happened to you on a date? How did the rest of the night go?
I went on a blind date with no expectations and ended up being a week long adventure. It was exciting and it's still going.
On a scale of 1 to 10, how wild are you in the bedroom?
110! Need I say more? (wink)
What do you wear to bed?
Depending what mood I'm in. I love babydoll lingerie, tank tops and cute panties or just being nude.
What item of clothing or accessory makes you feel the sexiest?
Lace underwear, high heels and light, fresh smelling perfume.
Have you posed in the nude?
No, I have never done it since I want to be a role model for my children someday. I would probably do it for a high fashion shoot if it was done in a sophisticated and artistic way.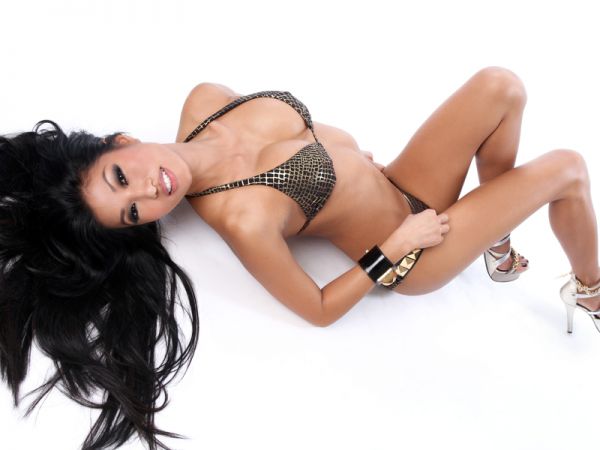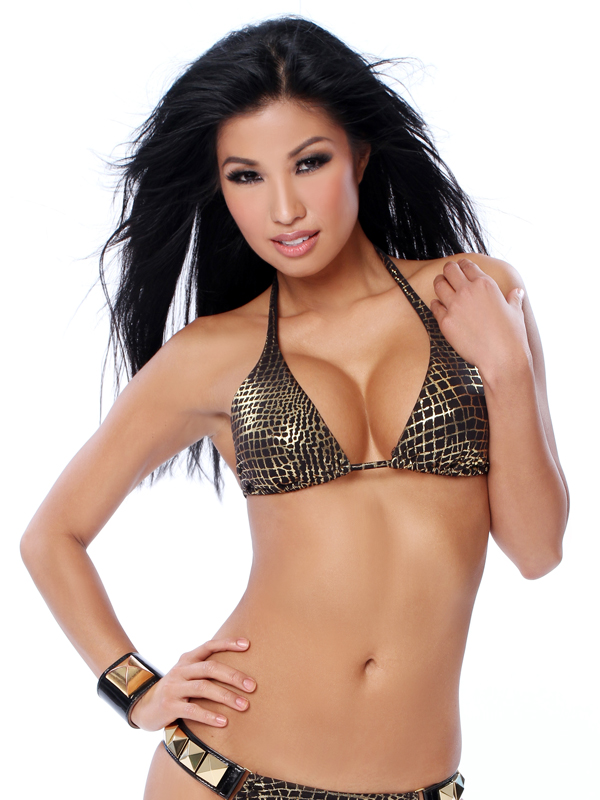 What do you most value in your friends?
I value traits like loyalty, dependability and sincerity. I don't need tons of friends to validate who I am but I would love to keep the handful I have. They are truly my loyal and genuine friends whom I can depend on when I need them the most.
Who are your heroes in real life?
My mother has all the super powers I need. She has unconditional love and support. A real hero can save me and get me out of any trouble.
If you could have one superpower, what would it be and why?
If I could have a superpower, I would love to be able to fly and take a guest with me. I love to travel and that would save me lots of money for flights anywhere in the world.
Tell us about any upcoming projects of yours?
Watch Fox Sports Net every Sunday for World Poker Tour episodes, which I will be appearing on all season long. I'm also planning to get more involved with local charities and help out as many as possible. I believe that greatness is not what you have but it's what you give. I would like to raise money and do fun events for charities to help families - especially kids in need. Keep checking my website for all the updates at www.ivyteves.com.
Do you have any shout outs?
I love my mom and my friends, even when I'm being a brat! I love you SC and thanks for being my biggest fan. Also, thank you to my fans that continuously support me. I appreciate all the love and the sweetest compliments you give which always make me smile. Much love to Performance Auto and Sound for the opportunity to be featured in this wonderful magazine. XOXO