Written by Randi Bentia | Photos by Mike Brochu Hair & Makeup by Valerie JC (www.iconimage.net)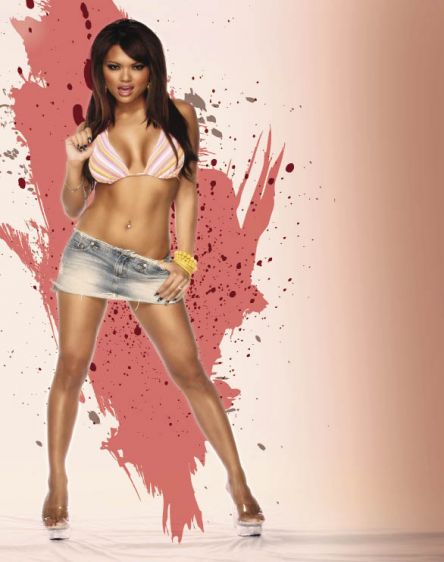 This issue, we had a chance to sit down with the down-to-earth but out-of-this-world-gorgeous Melissa Reign. What surprised us most is how easy this hottie was to talk to and hang out with during our photoshoot. No wonder she's got legions of adoring fans, I guess all we can do is take a number and get in line. The wait should be worth it, as this cutie is also a self-confessed video game addict and loves kicking-butt in late night gaming sessions. Anyhow, back to the task at hand, let's get to know Ms. Melissa Reign.
---
THE ESSENTIALS:
Birth date: December 22
Sign of the Zodiac: Sagittarius / Capricorn
Measurements: 34D / 24 / 36
Nationality: Filipino
Hometown: San Francisco, CA
Turn-ons: Confidence
Turn-offs: Cockiness
Pet Peeves: TyPiNg LiKe ThIs, pen clicking, ear flicking, borrowing my stuff but telling me LATER that it was borrowed, wiping down a pasta bowl with your bread then eating it, unwrapping a candy bar-slowly-in a movie theatre, saying "it is what it is," the list can go on forever!
---
PAS: Melissa, you've quickly become one of our favourite import models…how long have you been in the scene and how did you get your start?

Melissa Reign:
I've been modeling a little nearly 2 years now… I remember calling my friends silly for being obsessed with import car models, and one guy told me, "Well, they're in the magazines and you're not." And look where I am now! Right here in PAS magazine! What now!
PAS: Looks like you sure showed them! What's the best part of being a model?

Melissa Reign:
Free drinks and VIP passes to all the clubs! (laughs) Just kidding… sort of (winks). I love going to parties, meeting new people and seeing new places! The best part has to be traveling across the country and checking out the hotspots and local attractions wherever I go. Unfortunately, I don't get a lot of time to do these things, but at least I am given the chance.
PAS: If traveling is the best part, what is the worst part of modeling?
Melissa Reign: Not much…The only thing I dislike is the sleazy guys messaging me online or at events sometimes. I've already punched and shoved guys who are jerks, so if anyone gets any ideas, think again!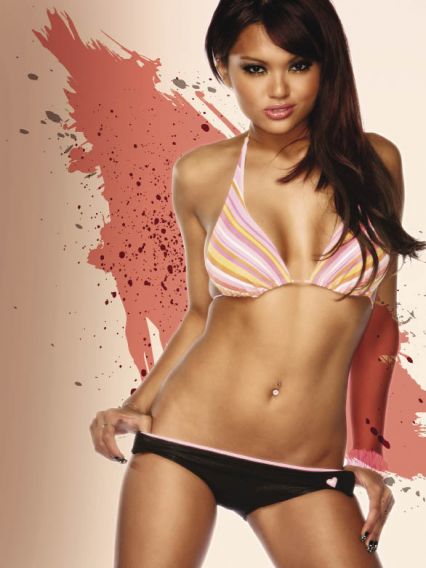 PAS: Tell us a few things most people don't know about you?
Melissa Reign:
Well, I'll try anything once! I'll go sky-diving, bungee-jumping, snow-boarding (if someone can teach me… I'm kind of scared), parasailing. I'm also a bargain shopper. I'd rather boast on how much I didn't spend.
PAS: Do you have any pets?
Melissa Reign:
Two dogs, a Siberian Husky and a Pomeranian shaved to look like a lion. I also have a Zebra tarantula named Bloo and a Rose-Haired tarantula named Rosey!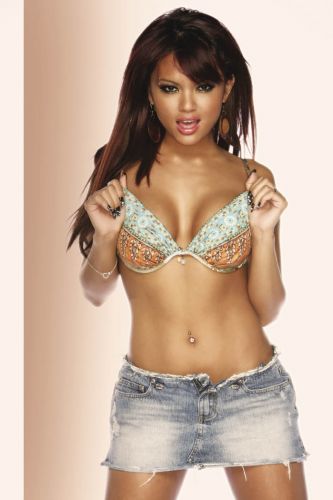 PAS: What frightens you the most?

Melissa Reign:
Ants. I hate ants! They give me the shudders.
PAS: Describe yourself in three words.

Melissa Reign:
Xbox360, PS3, Wii. Those count as words, right?
PAS:Tell us about your first kiss?

Melissa Reign:
It was silly. I was in the fourth grade on a dare in front of a bunch of friends. This was still during my "cooties" stage, so I immediately ran away screaming afterwards.
PAS: Guess you have to start somewhere. Have any of your fantasies become reality?

Melissa Reign:
All of them. I've made it a point to do everything once.
PAS; What is your best physical feature?

Melissa Reign:
My smile. It's all natural! No braces, no veneers!
PAS: On what occasion do you think it's ok to lie?

Melissa Reign:
When a girl asks a boy "Do you think my friend is hot?" If you say yes, you'll have a psycho-jealous girlfriend. If you say no, she'll hate you for insulting her friend. Just tell her that she's the only person that matters to you (smiles).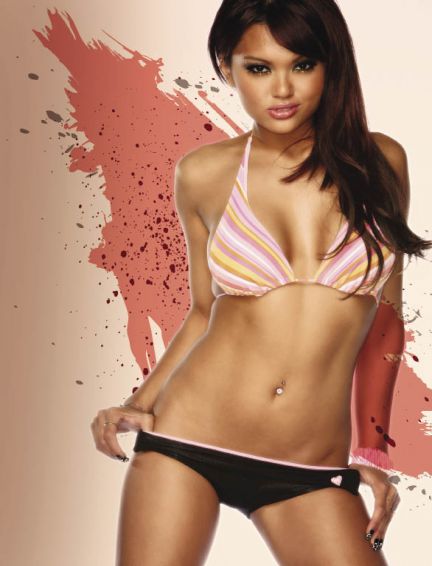 PAS; Great, that information could have come in handy last week. Do you have a dream car?

Melissa Reign:
A pink Yaris or pink Mini Cooper. I wouldn't say no to a pink Rolls Royce Phantom either (winks).
PAS: Hmmm, not sure I'd paint my 350Z pink. What else can a guy do to make you melt?

Melissa Reign:
I'm not sharing that! Then all these guys would try pulling it on me and it won't be special anymore!
PAS: Okay, well then how would you seduce a guy?

Melissa Reign:
That's my secret! I don't want anyone knowing my moves and tactics.
PAS: Any upcoming projects?

Melissa Reign:
You'll have to visit my website, www.msmelissareign.com
PAS: I've made it my homepage already… Any last shout-outs?

Melissa Reign: Big thanks to you guys at PAS Magazine for having me, it was an honour and a blast! Much love to Steve B. for always being there for me, you rock! Thanks to everyone out there for supporting me wherever I travel and www.BabeBlvd.com for getting my name out there.
{yoogallery src=[/images/phocagallery/1103Melissa_Reign] width=[150]}