Written by PAS Staff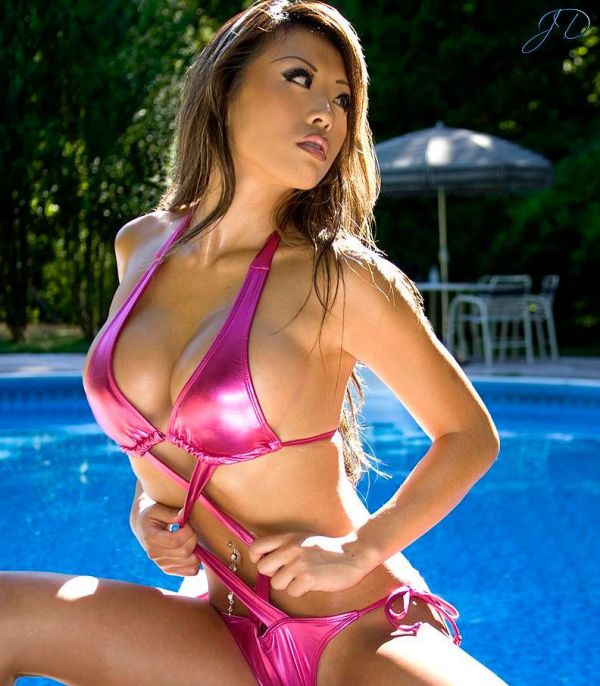 The Essentials
Birth date: August 7
Location : Port Jefferson, New York
Zodiac Sign: Leo
Height: 5'-5"
Weight: 110 lbs
Measurements: 34-24-34
Ethnicity (Mother/Father): Korean
Location: Long Island, NY
Turn-ons: sense of humor, confidence, intelligence, random acts of kindness, and biceps
Turn-offs: arrogance, lack of passion for anything, stupidity
Pet Peeves: waiting in line, traffic, looking for stuff, basically anything inefficient or unproductive
Facebook: www.facebook.com/HannahLynne
Twitter: www.twitter.com/swtxxcaramel
The Interview
Q: Is "Hannah Lynne Leigh" your real name or model name?
Hannah Lynne Leigh: It's my model name. It's derived from my real name
Q: Where are you from?
Hannah Lynne Leigh: Born and raised in Las Vegas, baby! I currently live in Long Island, New York
Q: Does your personality match your Zodiac sign?
Hannah Lynne Leigh: Yes! I am a lioness. I would try anything once, and I love to be in the middle of the action of everything!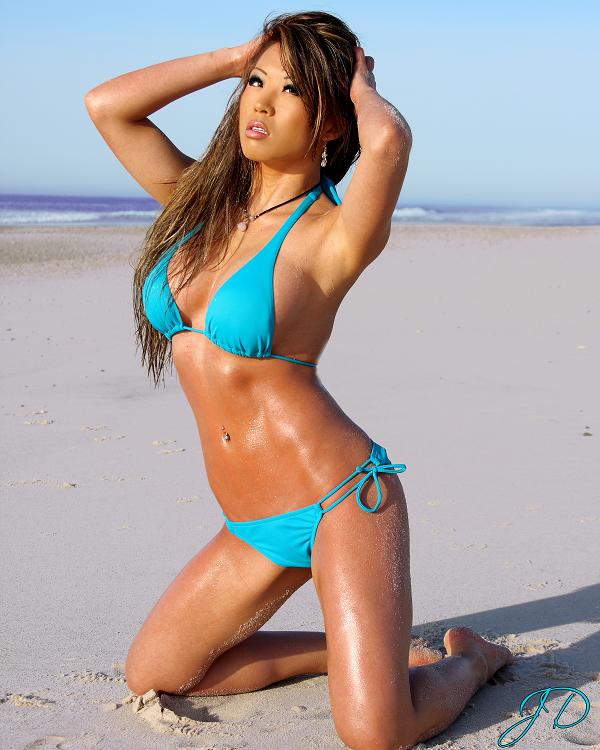 Q: How long have you been modeling?
Hannah Lynne Leigh: A little over five years.
Q: What would you say are your strengths as a model?
Hannah Lynne Leigh: People tend to say I have an exotic, unique look. I realize that my proportions are a gift, but I think it's my enthusiasm and bubbly personality that are my true strengths. I don't ever get ahead of myself, and treat myself and others as a real person. Also, I love smiling!
Q: Do you have any birthmarks, scars or tattoos?
Hannah Lynne Leigh: I have an unnoticeable scar on my left knee from falling off my bike when I was eleven. I had also broken my arm in the process, but there's no scar from that.
Q: Describe yourself in 3 words or statements.
Hannah Lynne Leigh: Impatient. Strong. Real.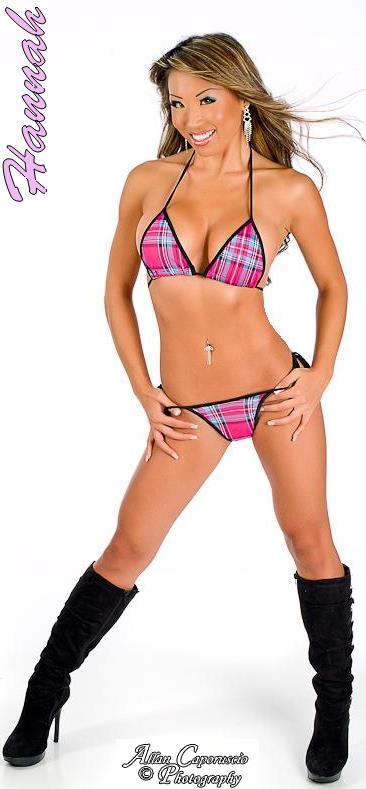 Q: What is your best beauty secret?
Hannah Lynne Leigh: Break open a Vitamin E pill and dot the contents lightly underneath the eyes. It wakes up your whole face!
Q: What do you look for in a guy? What would he have to do to get your attention and to keep you interested?
Hannah Lynne Leigh: I like a guy that makes me laugh. Not just on a first date, but all the time. I like go-getters, the ones that always want to get up and do things. That makes cuddling together at night and watching a movie all the more fun and relaxing. I like guys that love sports, cars, and who are never opposed to trying new things.
Q: What gets you in the mood? What are some of your turn-ons?
Hannah Lynne Leigh: An entire day of foreplay always ends up well. I like naughty voicemails, and I love dressing in sexy outfits.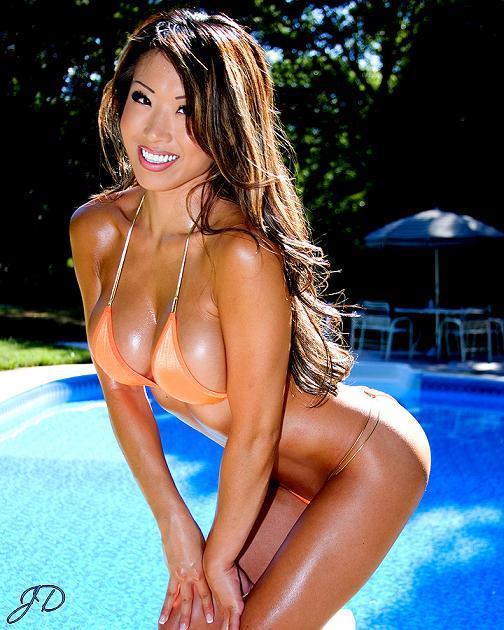 Q: How do you feel about pick-up lines? What was the best line that was used on you? Did it work?
Hannah Lynne Leigh: They range from incredibly dumb to hilarious to "nice touch." Once a guy looked at me all seriously and looked behind me, and with a genuine expression of perplexity said, "I thought angels all had wings!" It was cute, but it didn't work.
Q: So what is the weirdest thing that has ever happened to you on a date? How did the rest of the night go?
Hannah Lynne Leigh: I was on a first date. Dinner and a movie. Everything was going well, he seemed perfectly fine, but then he asked me if I liked reptiles. He then informed me that he had about forty of them at home, and proceeded to explain the background story of each one. He didn't get through all of them, though, because I pocket texted a friend our little code, and she called ten minutes later telling me I had to go see my nonexistent brother about an imaginary problem.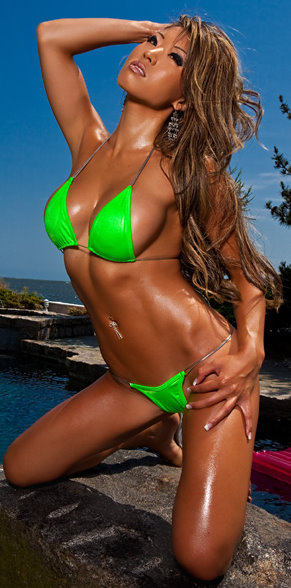 Q: Where can we see you? (ex. shows, tv, magazines, etc)
Hannah Lynne Leigh: As a JoJo Energy girl, on the cover of Rix Magazine with a feature, Dub Magazine, Luxury Magazine, CollegeMansion 2011 Calendar sponsored by Bud Light, promotions for the Darryl Strawberry Foundation, the Echo Agency, RemeDesigns, as a Long Island Fight Night ring girl, Maxim.com (booth babe at ComicCon), Newsday, feature model on Dfined Magazine(dfined.com), and KnockoutAthletics.com. I also do a lot of car shows, and I work at Body English and Sugar Nightclub on Long Island, two of the most prestigious, most awesome spots on Long Island!
Q: What is your dream car?
Hannah Lynne Leigh: A black Lamborghini Murcielago, because it's a Lamborghini Murcielago!
Q: Do you have many traffic violations?
Hannah Lynne Leigh: I've never gotten a ticket. That's not to say I don't get pulled over all the time (haha). I get plenty of parking tickets, though. I tend to be in a hurry and just park wherever and hope for the best.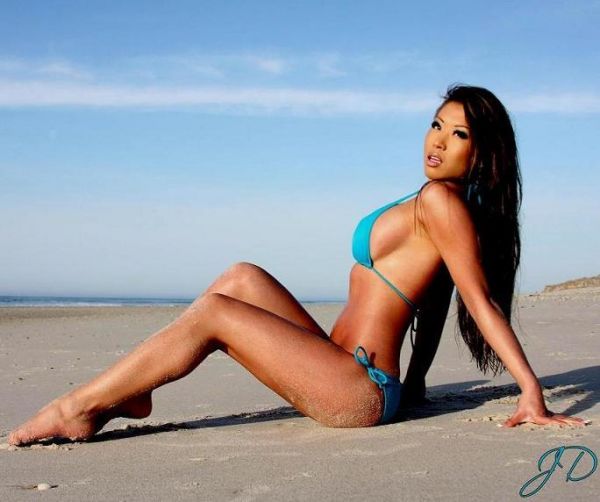 Q: With any 'spotlight' type of job, you are looked upon as a role model. What advice would you give out to aspiring models?
Hannah Lynne Leigh: Do it for as long as you love every minute of it, and be your best at it. Don't try to do it someone else's way. You do "you" better than anyone else in the world, and embrace it, and take it wherever you go. Be honest with yourself about your expectations, and outcomes, and consequences, but don't ever accept anything less than the sky as the limit.
Q: Words to live by?
Hannah Lynne Leigh: yippie kie-yay, mother f*****!
Q: Any shout-outs or last words?
Hannah Lynne Leigh: I'd like to thank Oscar for being a mountain of support, and my photographers James Dentel, George C. Peper, Chad Martel, and Allan Caporuscio. I also want to give a shoutout to my Sugar family, including Dan Devlin, Richie Pedone, T., and my wonderful co-workers. Love you guys!