Written by pasmag staff
The Essentials
Name (First/Last): Vanessa Rose
Birth date (mm/dd/yyyy): 08/24/1989
Location (City, State/Province): Seattle, WA
Zodiac Sign: Virgo
Height: 5'5"
Weight: 120lbs
Measurements: 34D/26/36
Ethnicity (Mother/Father): Filipino/White
Turn-ons: A great smile and ambition
Turn-offs: Laziness
Pet Peeves: My biggest pet peeve is when people are late. Punctuality is key.
Facebook: www.facebook.com/volson3
Twitter: @Vanessa_Rose3
PASNATION Username (http://pasnation.pasmag.com): VanessaRose
The Interview
Is "Name" your real name or model name?
It's my real first and middle name.
Where are you from? And, are you currently living there? If not, where are you currently living?
Originally, I'm from a small town about an hour away from Seattle called Bremerton. I am currently living in Seattle.
Does your personality match your Zodiac sign? Describe.
Since my birthday is right on the cusp of  Leo and Virgo, my personality has a little of each. On the Virgo side, I am very hard working and practical. On the Leo side, I love my hair and am very warmhearted and loving.
How long have you been modeling?
I just started modeling July 2011.
What would you say are your strengths as a model? (ex. body, eyes, smile, certain poses and emotions...)
I would say my biggest strength, as a model is my body. I've worked hard to get it where it's at now.
Do you have any birthmarks, scars or tattoos? Please state "what", "where", "how noticeable?"
I have 5 tattoos
One on my left shoulder: 2 Hibiscus and a Plumeria
One on my upper right side of my back: A butterfly shape with 2 Hibiscus and a Tiger Lily
I have "love conquers all" in Arabic on the back of my neck
2 butterflies and 3 Cherry Blossoms on my right hip
And last, my first dog's name 'Ty' on my left ankle
Describe yourself in 3 words or statements.
Bubbly, charismatic and outgoing.
What is your best beauty secret?
I take vitamins everyday for my hair, skin and nails.
What do you look for in a guy? What would he have to do to get your attention and to keep you interested?
Initially, the physical appearance catches my eye. I love tall athletic guys. My attention is really tough to keep. A guy needs to stand out and know what to do to keep me interested.
What gets you in the mood? What are some of your turn-ons?
A couple glasses of wine and a hot body.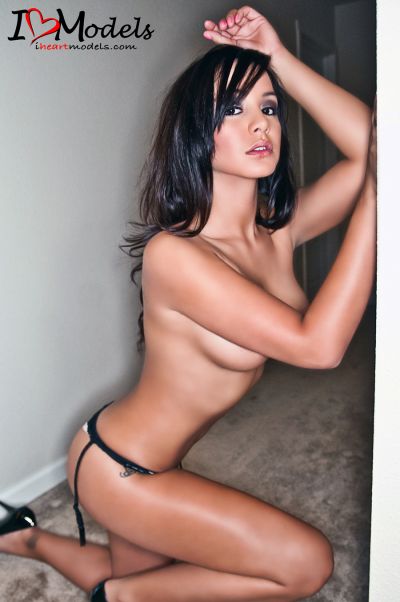 How do you feel about pick-up lines? What was the best line that was used on you? Did it work?
I think pick up lines are hilarious. Every guy should read 'The Game' if they want to learn how to hit on girl with ease. Unfortunately, pick up lines don't work with me.
So what is the weirdest thing that has ever happened to you on a date? How did the rest of the night go?
I've never had a weird date. Crazy I know!
On a scale of 1 to 10, how wild are you in the bedroom?
A 10 for the right guy.

What do you wear to bed?
A pair of boxers, nothing else.
What item of clothing or accessory makes you feel the sexiest?
Nothing but Platform pumps.
Have you posed in the nude? If so, how did it make you feel?
Never.
Where can we see you? (ex. shows, TV, magazines, etc)
I was recently on MyxTv's Myx-Rated Season 2 Episode 2
What is your dream car? What modifications/upgrades would you make, and why?
Oh, there's so many to choose from, but if I had to it would be a black Mitsuoka Orochi…No modifications.
Do you have any traffic violations? Any stories you'd like to share with us?
I always get out of my tickets.
With any 'spotlight' type of job, you are looked upon as a role model. What advice would you give out to aspiring models?
If it seems too good to be true it usually is and you have to work hard to succeed.
Words to live by?
Live everyday as if it were your last.
Any shout-outs or last words?
A special shout out to my I Heart Models family!