Written by PAS STAFF | Photos by Jeremy Cheshareck Photography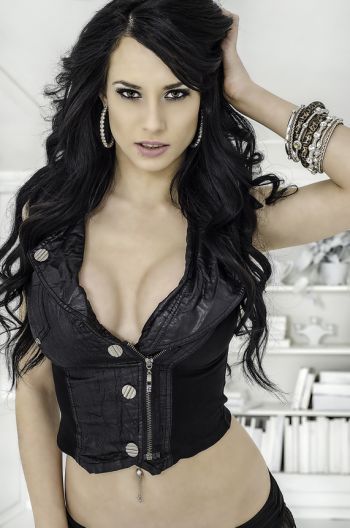 Name: Heather Mëw Moore
Location: Chicago, IL
Check out Heather Mëw Moore on Facebook, Twitter, and Instagram.
Birthday: November 18
Zodiac Sign: Scorpio
Height: 5'7"
Measurements: 32D-25-33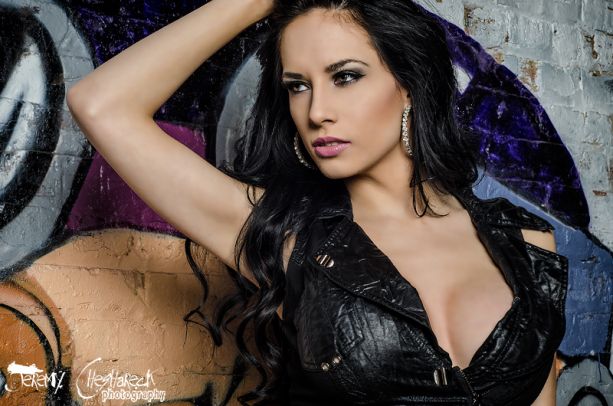 Where are you from and do you live there now?
I'm originally from Hobart, IN, but I now reside in Crown Point, IN, just 30 mins outside of Chicago, IL.
Are you also working?
I'm currently lucky enough to make a living off of modeling and DJ work.
Are you currently in school?
I'm no longer in school. I graduated high school with a core 40 with technical honors and a cosmetologist license at the same time. I went on to do 1 year of college where I studied Theological Studies and then went on to pursue my modeling and DJ career which I currently do now.
What would you say are your strengths as a model?
My personality. I've been told many times that I was initially booked off my look, but I was rebooked because of my personality.
What is your best beauty secret?
I brush my teeth with bicarbonate soda once every two weeks to keep them white.
What kind of car do you drive?
A 2005 Subaru WRX STI. I've always been an import girl, although I do have a crush on the 1969 Boss 302 Mustang. (Shhhh...) I love that my Subie is fast and sounds like a killer going down the street! LOL! But because of its lack of suspension, it's a bumpy joy-ride and it definitely doesn't like the Chicago winters.
Do you have a dream car?
Easily a Nissan Skyline R34 GTR. Why, you ask?.. Just look at the thing!! What's not to like?!?
Do you know how to change a spare tire?
Yes. I've only had to change mine twice, but unfortunately both of the times were in the middle of the Chicago winter, in about negative 5-degree weather, while snowing on the south side of Chicago, at about 4:00 am and while coming home from a DJ gig... Yeah. I told you she hates the winters..
What are your future plans or long term goals?
I want to tour the world more. I've been lucky enough to tour the United States, Canada, and soon Mexico through modeling and DJing, but I want to get off this big island and jump over the big pond! So if you're reading this and you're on the other side... Book me over there!!! ;)
Do you drink?
Yeah, I drink. Often, but not a lot. I've only been drunk a few times in my life. I'm a social drinker so it's only at parties or gatherings. I normally like to drink a Grey Goose and Redbull...or a martini.. I like all martinis ;)
Where do you like to eat, and what do you usually order?
I LOVE SUSHI!!! Seriously.. Like way too much!! I think I could eat it every day. I also love tastings, like a 10 or 15 course meal tasting with a paired wine. I just enjoy trying new things.
What's your prize possession?
My car easily... or my DJ equipment. I think I'd go on a killing spree is someone ever stole either of them.
What are your hobbies? Describe what you do.
Well I DJ as you already know. I actually spend a lot of my time doing behind the scenes work that no one thinks about like remixing songs, looking for new music, practicing sets, keying up sets.. It's very long work.
Other than that I love to travel, try new foods, see shows/musicals (don't judge!), and do anything outside like going to the beach or riding 4-wheelers.
How do you keep in such excellent shape?
Well I'm actually lucky to have a very high metabolism... So staying skinny really isnt the problem, it's staying fit. I like to be healthy and I like my muscles to show a little bit in photo shoots. I hate going to the gym so I do other things like yoga, riding bikes, playing tennis and stuff like that. If I trick myself into thinking I'm not working out then I'm fine haha!!
Are you big on first impressions? What do you first notice on a man?
I am, but I believe if your first impression is ruined, everyone deserves a second chance. The first thing I notice about a guy is his personality. I need you to be a gentlemen before I care about your eye color, or how big your chest is.
What's on your travel itineary? Are you planning to go to any events in the future?
I'm always traveling between Chicago, LA, and Vegas for work. I want to hit Miami a little more and Canada too (but only in the summer!!) and like I said earlier, I'd love to make the jump over the big pond!!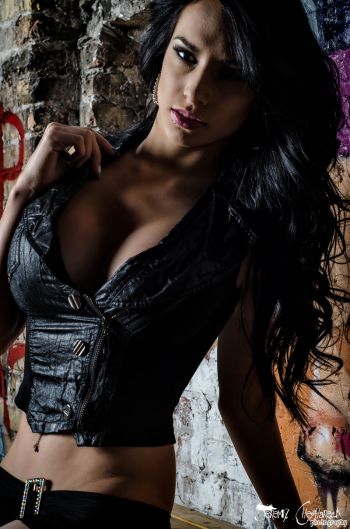 Who is your favorite musical artist or band?
Well, being a DJ I mainly listen to a lot of House and Electronic music. Frankie Knuckles is amazing. He is the whole reason the entire genre of house music even exists. He's incredibly inspiring. I'm also a fan of pop music.. I grew up in the 90's where Brittney, Christina, And N*Sync were all we listened to. I can still sing almost every song any of them ever made haha!! Oh and Michael Jackson.. Doesn't matter where you are or what time it is.. When the DJ spins an MJ track, you dance.
Who motivates and inspires you?
Oh my gosh, waaaayyy too many people to list them all, but most of them aren't famous or people you would really know. I'm inspired by the high school girl who serves at a food pantry after school hours, and the music artists who donate whole show profits to non-profit organizations, the people who pay the $1.00 extra at Walgreens to donate to a children's hospital, and the young kids who rake leaves and shovel snow for the elderly just to help make their day easier. At the end of the day, if you didn't help put a smile on someone else's face... you failed.
What else can you tell us about yourself?
I love adventure and thrills. Fast cars, dirt biking, riding four wheelers. People don't expect it from me because I'm really girly. I guess I almost have an alter ego haha! I love to get dressed up and go out some place nice, but you can also throw me on the back of a crotch rocket (or I'll drive and you can ride on the back).
Shout-outs?
Always.. hahaha! Shout out to my amazing management, WorldWide Cyber Enterprises Inc, my amazing family, friends, and fans who have all supported me along the way. I don't think they will ever really know how much they all mean to me, and my God, Jesus Christ, who if it wasn't his will I wouldn't be where I am today. Thank you for allowing it.
Finally, why do you feel you should be featured in PASMAG?
I think I should be featured because I think I'm the type of girl your readers want to hear about. I'm classy, fun, outgoing and I'm not going to call you if my tire blows on the highway and I'm 2 hours away.
I have an exciting job and lifestyle that interests people and I always want to give back. I'm a firm believer in remembering where you came from.
Model Submission: Click Here