Written by Randi Bentia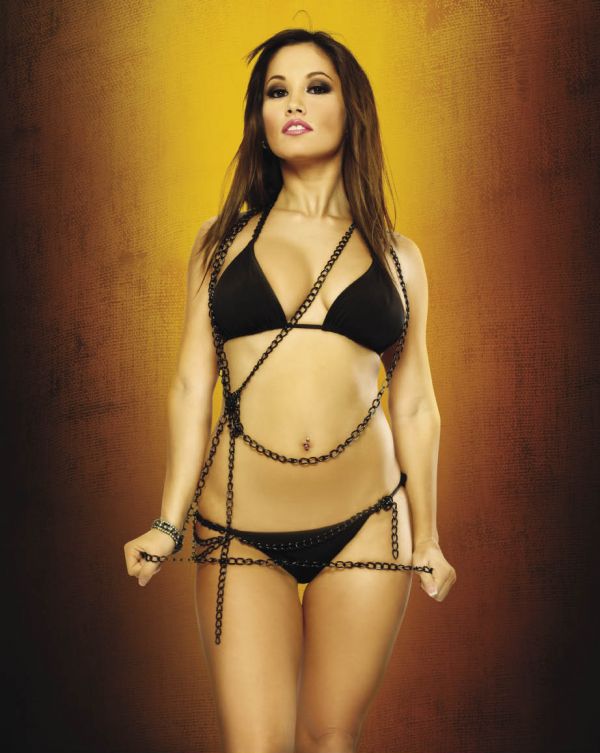 If you are looking for a serious, cold-blooded model type, Sara Brinsfield is definitely not for you. The feisty Capricorn is unpredictable and mysterious, but is always having a good time. We could tell by the 'smiley' faces and "LOLs" in her responses that she is very rarely serious and loves to laugh. Good thing for you guys out there with a sense of humor because Sara says any man that can keep her laughing has her for life. But it might not be easy to keep up with this compact Caucasian/Laotian mix, as she has rated herself an 11 out of 10 when the lights go out! But she also loves shopping and being treated like a princess which, as you can judge from the pictures, would have any guy handing over their VISA in short order.
Where are you from? And, are you currently living there? If not, where are you currently living?
I was born in Oregon, lived a good part of my life for too long in Arkansas and have been living another good part of my life and currently reside in LA!
How long have you been modeling for?
Since 2003, that's 8 years baby.
How did you get your start in modeling?
I started doing photoshoots on my own, then started doing car shows and created my own buzz. Import Tuner liked me and put me on their cover,
so it went from there.
Describe yourself in three words or statements.
Silly, Playful, Feisty.
What are some of you modeling highlights so far?
PASMAG first, Import Tuner, Earth Defense Force Calendar, Nerdcore calendars...too many others to remember, LOL.
Does your personality match your Zodiac sign? Describe.
I'd say so. Capricorns are mysterious, stubborn, thinkers, usually creative and can be loners at times.
What is your best beauty secret?
I don't really have any beauty secrets other than to BE YOURSELF!!!
How do you keep in such great shape?
I work out here and there but have always been pretty active all my life.
What is your top unfulfilled fantasy?
Nothing comes to mind so maybe I've fulfilled them all, ha-ha!! Shhhhh!
Do you have any pets? What kind?
I don't right now, but I had a Persian cat for 10 years but she died a year ago. She was my best pal for a long time.
What are your hobbies? Any hidden talents you'd like to share with the world?
My hobbies are sleeping, watching my TV series, shopping, casual drinks, football, sun. No hidden talents though-just being myself.
What is your favorite food?
Tom Kha...anything spicy, so Thai and Indian are usually winners…and Sushi.
Do you have any weird habits that no one else knows about?
If you know me, you know my habits but I can reveal that I have a habit of picking at dry skin.
What do you look for in a guy?
I look for genuineness. Just keep me laughing I'll stay interested, I'm sure.
On a scale of 1 to 10, how wild are you when the lights go out?
LOL not sure how to rate myself, so I'll go with 11.
What do you wear to bed?
Beater and a thong.
What item of clothing or accessory makes you feel the sexiest?
Garters look awesome on my body.
Have you posed in the nude? If so, how did it make you feel?
I thought it would be weird or awkward but it was just like normal. Rarely will I do anything I'm not comfy with.
What do you most value in your friends?
Realness and knowing you can depend on someone to either make you laugh or help if needed, and going out for drinks is always lovely!
Who are your heroes in real-life? Why?
Anyone who does the right things in life could be my hero LOL.
If you could have one superpower, what would it be and why?
I already have superpowers, but if i could have a clone to do boring crap in life that I don't wanna do, then I'd be all for it.
Tell us about any upcoming projects of yours?
I'm open to any job that wants to come my way... well, not ANY job!
With any 'spotlight' type of job, you are looked upon as a role model. What advice would you give out to aspiring models?
SB: Only do shoots that make you happy and only do things your comfy with. Never bend your rules or limits and you'll always be happy with your work
Do you have any shout outs or last words?
SB: YO, YO, YO LOL I'd like to give a shout out to the awesome peeps at PASMAG, www.asiandime.com fans are always the #1 best, Steve you da man!!! And anyone who has followed me since 2003, I give you mad props!!!
www.twitter.com/sarabrinsfield
www.facebook.com/sara.brinsfield