Written by Neal Jones | Photos by Mike Brochu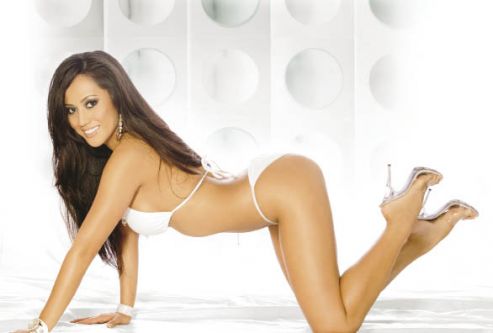 As a Southern California dream girl, Michelle Anderson constantly faces the spotlight of whatever show she attends. And while the men quickly turn to their digital cameras for a chance to get a quick picture of the bombshell as she walks the floor, they best be wary as this is one girl who knows how to hand out the punishment if anyone gets too close.
Anderson has only been modeling for a couple of years, but she has spent several years developing her sweet physique through kick boxing. So, if you actually find the nerve to talk to the luscious LA lady, leave the attitude at home or you'll be on the receiving end of a classic Chuck Norris roundhouse. Now that I think about it, please bring the attitude because there's nothing we'd like to see more than watching Anderson deliver a spin kick to someone's temple!
It all began for Anderson when a judge requested her presence in a Miss Hawaiian Tropic competition. She took top honours as her silky skin and engaging smile won over the judges at both the 2004 Century City event as well as at Hermosa Beach in 2005.
She has graced the cover of SuperStreet and was the first model used in Open Your Eyes magazine to launch its "We Wish You Were Latina" section. And then the jobs started rolling in for the LA woman as she has been in high demand for shows like SEMA and Hot Import Nights. In addition to working in various company booths, she won over HIN organizers and this year was part of the HIN Model contingent. D'Vinci Wheels was so taken back by her sexy nature and playful attitude that they hired her as their spokesmodel for 2006. With her high visibility at various events, it's no wonder that Anderson stars in more than one man's fantasy.
Anderson definitely packs a punch in the ring or in front of the camera, but there is a lot more to the stunning brunette as she currently attends Cal State Northridge in pursuit of a degree in Business for Consumer Affairs. Beauty, brawn and brains – talk about a killer package. This is one girl who will make you race to catch up as she is constantly on the go, looking for adventure and excitement around every corner.
A self-professed 'workaholic,' Anderson keeps her lovely shape by hitting the ring, the gym or on the dance floor, where she sets even more hearts aflutter with her jaw-dropping moves. That's what we call a real knockout punch!
---
THE ESSENTIALS:
Birthdate : December 8
Sign of the Zodiac : Sagittarius
Measurements : 34C-24-34
Nationality : Filipina, Irish, Spanish
Hometown : Los Angeles, CA
Turn-ons : Good hygiene, sense of humour, family values, fit, successful, sweet and romantic
Turn-offs : Bad hygiene, self-centered, unfit, smokers and no ambition
Hair & Makeup by Katie B. - www.katiebco.com
---

PAS: Describe yourself in three words.
Michelle Anderson: Sassy, sexy and classy.
PAS: How did you get started in modeling?
Michelle Anderson: I was at Century Club minding my own business when a judge randomly picked me from the crowd to do a Hawaiian Tropics contest, which to my surprise I won. After that, I won many bikini competitions, which I thought I was never able to do.
PAS: What is the strangest photo shoot you've done?
Michelle Anderson: A guy just kept rambling on and on like there was no tomorrow. Like, hellooo! Please just shoot! I don't need to know about your whole life story or how you can make me famous.
PAS: Tell us your likes / dislikes about modeling.
Michelle Anderson: Likes – I get treated like royalty and with respect for the many companies I have modeled for.
Dislikes – Some people stereotype me for my T & A (Booo). Get to know me and then have your opinion about me.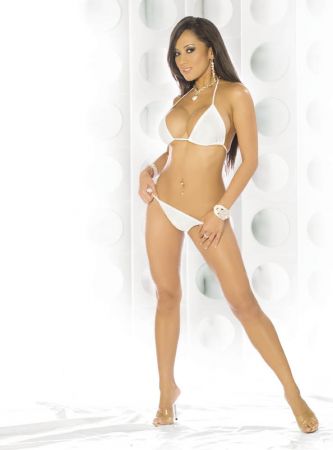 PAS: What is your top unfulfilled fantasy?
Michelle Anderson: Strawberries, cherries, whip cream with rose petals and champagne in a high end hotel suite in the Bahamas or Caribbean. Or a romantic candle light dinner in front of those beaches and hot, passionate… ummm… you know.
PAS: What is your best physical feature?
Michelle Anderson: My smile.
PAS: What physical feature would you change if you could?
Michelle Anderson: My height! I wish I was a little bit taller.
PAS: How do you stay in such great shape?
Michelle Anderson: I eat a large pizza and burn it off in kick boxing.
PAS: What's the best prank you ever played on someone?
Michelle Anderson: Pranks are mean! Usually, the pranks are on me.
PAS: What is your dream car?
Michelle Anderson: A Pagani Zonda.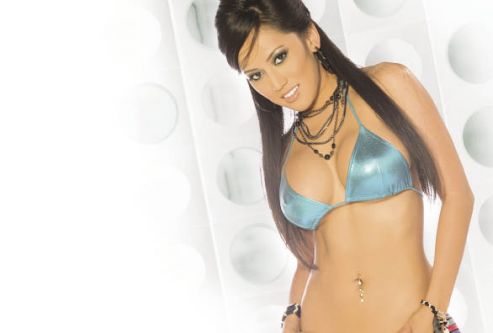 PAS: What can a guy say to make you melt?
Michelle Anderson: "Come with me to another country for a vacation, I want you to relax and have a blast, take you out to dinner, caress you and make you feel like the woman you are."
PAS: If you had one wish, what would it be?
Michelle Anderson: I wish all grumpy people would not take their attitude out on people they don't even know, especially at the workplace. Instead, I wish they would take it out on an object, like a dummy or take a class on how to be nice to people they don't know.
PAS: What do you like to do for fun?
Michelle Anderson: I like kick boxing, rock climbing and jumping, going to the gym, hanging out with my girls, cooking, boxing, hiking and hip hop dancing.
PAS: Have any of your fantasies become a reality?
Michelle Anderson: Not yet! But hopefully soon, if the right guy ever comes along.
PAS: How do you seduce a guy?
Michelle Anderson: I start talking in a seductive tone of voice, asking him how his day was when he comes home from work. I take off his jacket and shoes, cook great cuisine with candle lights, plays sexual healing music, start dancing in sexy lingerie, take him to the bubble bath and feed him his favourite dessert. After, dry him off and then go back to dry land and make it wet again… if you know what I mean. Use your imagination!
PAS: Any shout-outs or last words?
Michelle Anderson: I'd like to give a shout-out to my brother, Theo, who's stationed out in Hawaii! Good luck in all your adventures in the Air Force – I am so proud of you! Katrina, my bro's girlfriend. Dang girl, that's right, you know you be learnin' from the 'Ultimate Hustler,' Michelle Anderson. Sona, my best girlfriend in the whole world – I can't wait to go on our modeling adventures. Also, my Valley People! And last, but not least, to all the Bragados, you know who you are. I love you dearly. XOXO. This is Michelle Anderson and I'm out!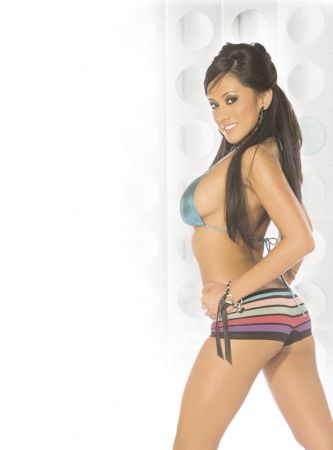 {yoogallery src=[/images/phocagallery/902Michelle_Anderson] width=[150]}