Written by Randi Bentia
Page 2 of 2
What is your dream car?
Bentley GTC - I love that car!!!
What do you look for in a guy? What would he have to do to get your attention and to keep you interested?
I like guys who are independent and have aspirations. Guys who want to live life the fullest. Of course, they have to be loyal and most of all, have a good heart. That's important to me.
What is the weirdest thing that has ever happened to you on a date? How did the rest of the night go?
I was out with a guy that was so nervous he was shaking! I felt so bad for him. He was like that the whole time it. He was handsome, but I guess not very confident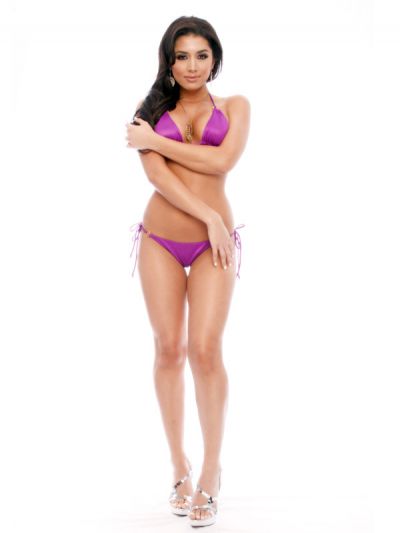 What item of clothing or accessory makes you feel the sexiest?
Honestly, I fell sexy when I'm comfortable. If you're not comfortable then that's not sexy to me. A good hair day makes me fell sexy!
Have you posed in the nude? If so, how did it make you feel?
No, I've never considered it, not really my thing. I don't have a problem with models who decide to pose nude, but once you have, you can never take it back.
What do you most value in your friends?
Loyalty! In this industry people want be your friends just to be seen with you - not because they really care about you. In time, their true colors always come out. I'm very blessed that I have great friends that care about me.
Who are your heroes in real-life? Why?
My Mom – she's my hero. She is the strongest person I know!
If you could have one superpower, what would it be and why?
I want to be able to travel through time to see what life was like. I just love history.
Tell us about any upcoming projects of yours?
I'm just super excited about going to Australia to work on a swimsuit calendar. I'm also going to be shooting for a very sexy magazine you may have heard of – Maxim.
With any 'spotlight' type of job, you are looked upon as a role model. What advice would you give out to aspiring models?
Always believe in yourself and work hard to improve. Don't loose your self in progress and always remember the people that care about you. Your family is very important!
Do you have any shout outs or last words?
I wan to thank my beautiful family - my brothers and my little sister Sabaha, my aunt Carmen and Hayden. Thanks to everyone that believed in me! I love my fans – they are the best! A very special thanks to Lester and James - I love you guys, thank you for being such great friends!!!