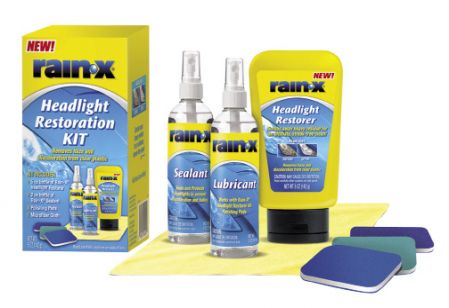 Rain-X Headlight Restoration Kit
The new Rain-X Headlight Restoration Kit provides a deep clean to oxidized, yellow and hazed headlights with the use of a specially designed polish and sealant to ensure they shine bright again. Don't replace headlights when you can restore them and improves safety with clearer headlight lenses.
For more visit www.rainx.com
---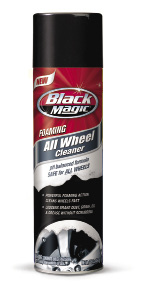 Black Magic Foaming All-Wheel Cleaner
The Black Magic Foaming All-Wheel Cleaner is designed with ease in mind. The foaming action quickly loosens brake dust, grime, oil and grease without scrubbing. The Black Magic Foaming All-Wheel Cleaner's pH-balanced formulation ensures it will not haze or pit and is safe for all wheel types.
For more visit
www.blackmagicshine.com
---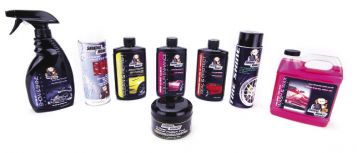 Shining Monkey Car Care Products
Not sure what you need for your car? Well, Shining Monkey understands and we have simplified the decision making for you! We would like to introduce you to our new look! We have taken the confusion out of buying the right product for your application. Not everyone needs all three products. With our new Clean & Repair, Color Enhance, and Seal & Protect you will get the right product for your specific needs. No more wasting time and money buying the wrong product. All of our formulas will save you time and provide you with amazing results. Shining Monkey is available in most local performance shops and at all PEPBOYS and PartSource locations.
For more visit www.shiningmonkey.com or www.shiningmonkey.ca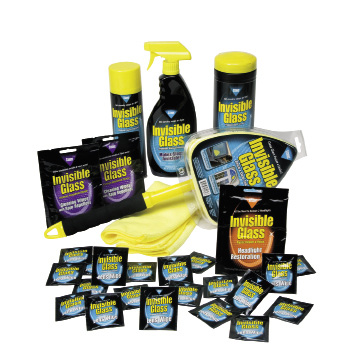 Invisible Glass Ultimate Cleaning Kit
Invisible Glass premium glass cleaner is created using a complex, multi-component formula, which removes dirt, dust, sap, droppings, bugs, grease, adhesives and fingerprints from glass surfaces. The non-abrasive, non-streaking formula of Invisible Glass contains no soaps, foams, scents or dyes. The Invisible Glass Ultimate Glass Cleaning kit includes one each of Invisible Glass aerosol, trigger bottle, wipes canister, Reach & Clean glass cleaning tool kit, two packets of Invisible Glass with Rain Repellent, one Headlight Lens Restoration Kit, 20 individually packaged Lens Wipes, and one microfiber glass cleaning towel.
For more visit www.InvisibleGlass.com
Read on for More Products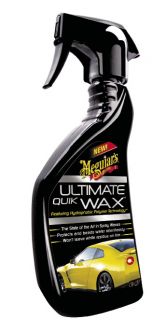 Meguiar's Ultimate Quik Wax
Meguiar's Ultimate Quik Wax is the fastest way to a dazzling, show-car shine! Featuring Meguiar's Hydrophobic Polymer Technology, it makes paint come alive with a deep, wet-look shine you would only expect from liquid or paste waxes. Our new technology leaves no white residue on plastic and trim, and it can even be applied in direct sunlight! Simply mist on and wipe off. So fast and easy that you can wax your entire car in just minutes! The protection and relentless water beading, however, lasts for weeks.
For more visit www.meguiars.com or www.meguiarscanada.ca
---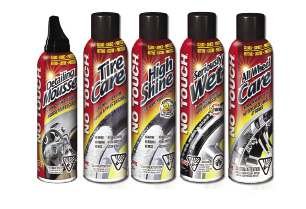 Permatex No Touch Tire Shine
No Touch starts 2011 off with a fresh new look. No Touch appearance products are specifically designed to meet the demanding needs of car enthusiasts. No Touch makes it easy to detail your tires, rims and dash in minutes. Just spray on and walk away for a rich long lasting high gloss shine. Go to www.notouch.ca to see it for yourself. Next time you want to ride in style, reach for a can of No Touch® and Get Your Shine On!
For more visit www.bestdressednation.com or www.notouch.ca
---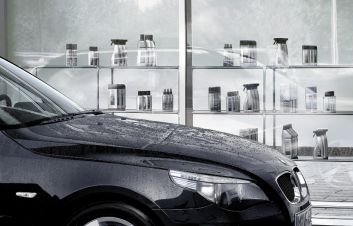 BMW Car Care Products
Keep your BMW looking as exhilarating as it performs with Original BMW Care Products. Original BMW Care Products ensure your BMW continues to shine as on the first day you drove it home. The products range from wheel rim cleaner gel and brushes, tire shine, insect, tar, and tree resin remover, car wash shampoo, express wax, glass cleaner with antifog, interior cleaner and more. They're all made with top-quality and effective elements which provide the ideal solution for every application.
For more visit www.bmw.ca/accessories or your local BMW Retailer.
---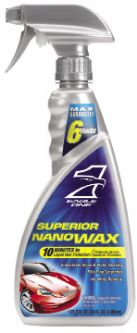 Eagle One Superior Nanowax
The patented carnauba-based formula in Eagle One Superior Nanowax produces unbeatable shine and water beading as well as long-lasting protection.  It also fills fine scratches and unsightly swirl marks. Ease-of-use sets Superior Nanowax apart from traditional liquid waxes. Just spray on and wipe to a radiant shine with no hand buffing, haze, white residue or discoloring of trim. Special conditioners and UV protectors quickly penetrate the paint surface for deeper protection which can last six months or longer.
For more visit www.eagleone.com