---
Stoner
Invisible Glass
www.invisibleglass.com
Just in time for spring-cleaning, Stoner introduces its Invisible Glass "Reach & Clean Tool." You won't find a faster or easier way to clean glass, especially in hard-to-reach areas. It helps users achieve the superior results and "invisible" clarity they already count on from Invisible Glass aerosol and trigger cleaners. This new versatile tool has a flexible pivoting head and a 14-inch extending foam handle that enables you to access hard-to-reach areas such as those corners and curves on the inside of your windshield, as well as glass and mirrors that are out of your arm span. It easily and quickly tackles fingerprints, smudges, smears, fog, smoke film, haze, dust, water spots, and other grime that frustrates even professional cleaners.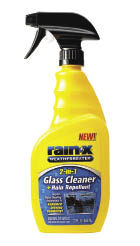 RAIN-X
www.rainx.com
The new Rain-X, X-treme Clean uses a slightly abrasive cream formula that removes harsh build-up from windshields and headlights to deliver ultimate driving visibility. Rain-X X-treme Clean quickly and easily removes dirt, bugs, and road grime from glass or clear plastic for an ultimate, streak-free clean.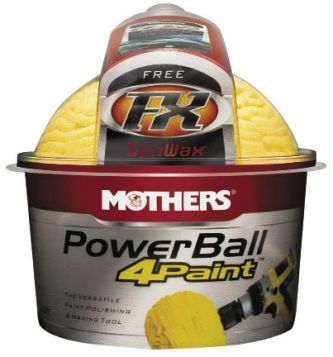 Mothers Powerball
www.motherspowerball.com
Whether you are polishing, waxing, or both, the hundreds of professional-grade foam fingers on the PowerBall 4Paint provide unmatched coverage and efficiency with the help of your variable-speed drill. Its soft, pliable design makes short work of contoured edges, curves and other hard to reach areas such as door handles, spoilers and curved, aerodynamic bumpers. The end result is a more thorough and even coverage in less time and with less effort than applying by hand. These features make the PowerBall 4Paint a versatile paint polishing and waxing tool that provides an affordable, easy-to-use and efficient way to get a professional quality finish at home. It's washable, reusable and reversible, too.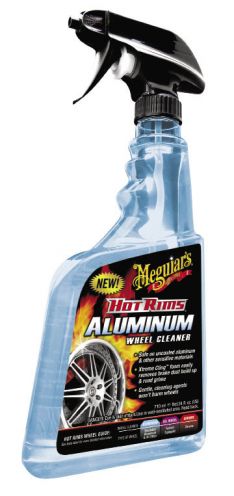 MEGUIAR'S
www.meguiars.com

Featuring a specially designed formula guaranteed safe for uncoated and polished aluminum wheels, as well as anodized and powder-coated wheel surfaces, Hot Rims Aluminum Wheel Cleaner is even safe for use on brake components. Available in an easy-to-use 24-ounce spray bottle, this unique formula build on the its popular Hot Rims lineup and features Xtreme Cling foam technology that grabs onto vertical surfaces to deliver effective cleaning while removing brake dust, oxidation, and grime without hazardous chemicals.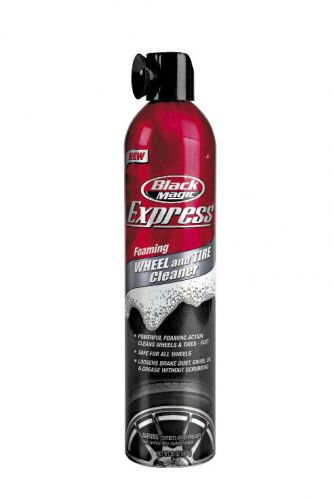 Black Magic

www.BlackMagicShine.com
The tire and wheel experts at Black Magic have made cleaning a vehicle's tires and wheels a little easier with the introduction of the new Black Magic Express Foaming Wheel & Tire Cleaner. This new combination product eliminates the need for separate cleaners to achieve the ultimate shine for your tires and wheels. Developed with ease of use in mind, the powerful, acid-free foaming formulation in Black Magic Express Foaming Wheel & Tire Cleaner easily removes dust and dirt from the tough grooves and contours of both wheels and tires. The rich foam settles into crevices to clean the hard-to-reach spots that other tools can easily miss, restoring the shine and luster to the entire tire and wheel.
For More Products Read On
The Glosser
www.cleantools.net
The Glosser cleaning pad is safe for all finishes. The key to the Glosser's success is the patented technology used to make the wipe. The two outer micro fiber layers contain cleaners. So as you gently wipe your vehicle the micro fiber and cleaners gently remove surface dust and dirt. The middle layer has an embedded wax that is released as you wipe, leaving a bright shine with minimal effort. Glosser pads are a great idea weather your ride needs a quick touch up at the show or in your driveway.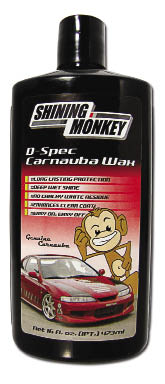 Shining Monkey
www.shiningmonkey.com
Shining Monkey introduces a full line of high quality of car care products, aimed specifically at the demanding consumer. Shining Monkey strives for customer satisfaction and puts innovation and market research into all their products. The superior quality of Shining Monkey products is apparent on the show circuits such has Hot Import Nights and Cavallino Classic in Palm Beach, Florida. Shining Monkey has a full line up of detailing products from high quality carnauba wax to interior detailing products to keep your ride looking great.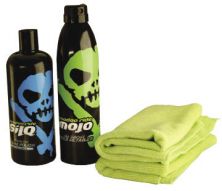 Voodoo Ride
www.voodooride.com
The Voodoo Ride "Ultimate Shine Package" features one 12-ounce bottle of Mojo, one 16-ounce bottle of Silq and two Jakd microfiber towels. Voodoo Ride manufactures a complete line of automotive surface care products including Mojo (all surface speed detailer), Shoq (tire and wheel cleaner), Hypd (high gloss tire finish), Silq (synthetic liquid polish), Hexx (scratch remover), JuJu (concentrated car wash soap) and Jakd (micro fiber cloths).

No Touch
www.permatex.com
No Touch High Shine Tire Care provides twice as much shine as leading tire foams. The patented formula cleans, shines and protects against UV and ozone all in one step. Just spray on and walk away. No wiping, no rubbing, no mess. The result is a long lasting, high gloss shine on your tires that looks as good as the rest of your ride. Show your attention to detail with No Touch High Shine Tire Care.