Page 2 of 2
The Glosser
www.cleantools.net
The Glosser cleaning pad is safe for all finishes. The key to the Glosser's success is the patented technology used to make the wipe. The two outer micro fiber layers contain cleaners. So as you gently wipe your vehicle the micro fiber and cleaners gently remove surface dust and dirt. The middle layer has an embedded wax that is released as you wipe, leaving a bright shine with minimal effort. Glosser pads are a great idea weather your ride needs a quick touch up at the show or in your driveway.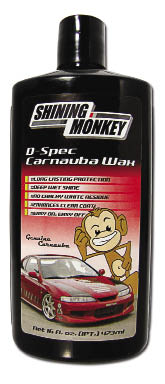 Shining Monkey
www.shiningmonkey.com
Shining Monkey introduces a full line of high quality of car care products, aimed specifically at the demanding consumer. Shining Monkey strives for customer satisfaction and puts innovation and market research into all their products. The superior quality of Shining Monkey products is apparent on the show circuits such has Hot Import Nights and Cavallino Classic in Palm Beach, Florida. Shining Monkey has a full line up of detailing products from high quality carnauba wax to interior detailing products to keep your ride looking great.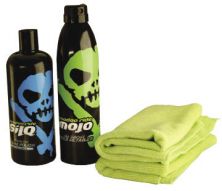 Voodoo Ride
www.voodooride.com
The Voodoo Ride "Ultimate Shine Package" features one 12-ounce bottle of Mojo, one 16-ounce bottle of Silq and two Jakd microfiber towels. Voodoo Ride manufactures a complete line of automotive surface care products including Mojo (all surface speed detailer), Shoq (tire and wheel cleaner), Hypd (high gloss tire finish), Silq (synthetic liquid polish), Hexx (scratch remover), JuJu (concentrated car wash soap) and Jakd (micro fiber cloths).

No Touch
www.permatex.com
No Touch High Shine Tire Care provides twice as much shine as leading tire foams. The patented formula cleans, shines and protects against UV and ozone all in one step. Just spray on and walk away. No wiping, no rubbing, no mess. The result is a long lasting, high gloss shine on your tires that looks as good as the rest of your ride. Show your attention to detail with No Touch High Shine Tire Care.