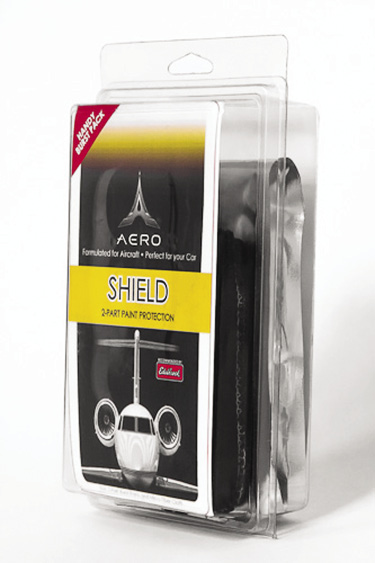 AERO Products SHIELD 2-Part Paint Protection
SHIELD is a catalyzed, co-polymer protector that chemically binds to painted surfaces to create a deep, luscious shine, while protecting painted surfaces for up to two years. The easy-to-apply protector has been a detailing staple of its sister company International AERO Services, which has been cleaning muti-million-dollar private aircrafts for years.
MSRP: $39.99 (USD)
Visit www.internationalaeroproducts.com for more information.
---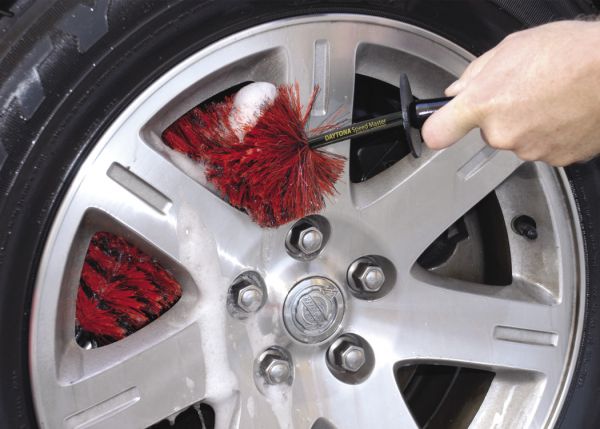 Daytona Speed Master Wheel Brush
Your search for the perfect wheel brush is over! The Daytona Speed Master Wheel Brush lets you clean where you never thought possible! A flexible wheel brush with a thick, reinforced stem that curves, bends and conforms to clean behind spokes, in between the brake caliper and the dirtiest part of any wheel – the barrel. The feathered bristles provide the necessary agitation to remove brake dust without scratching the finish.
MSRP: $29.99 (USD)
Visit http://www.autogeek.net/ezdebrfca.html for more information.
---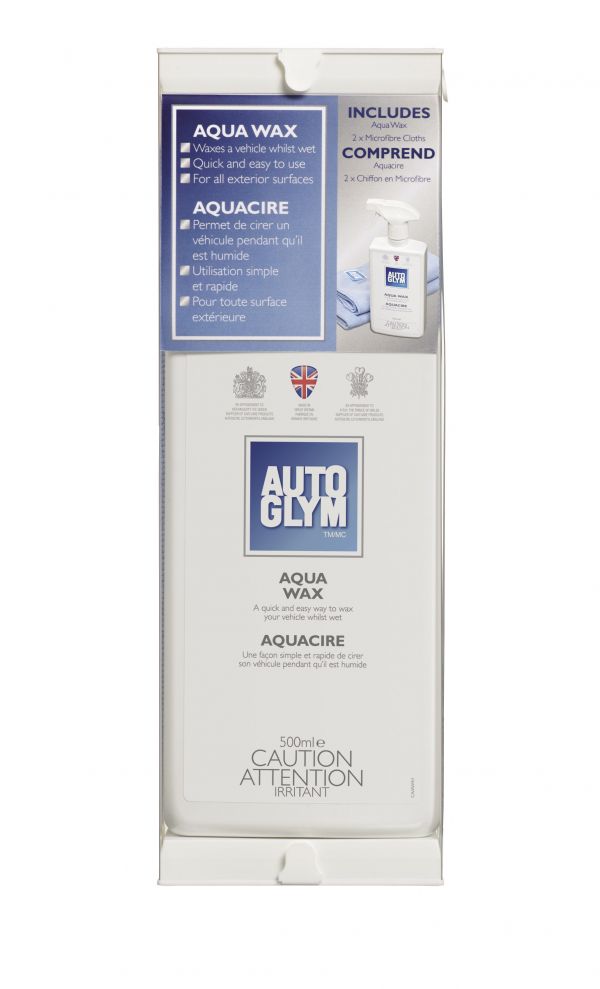 Autoglym Aqua Wax
Aqua Wax is a super-fast product designed for a brilliant, smear-free finish on all exterior surfaces, even when the vehicle is still wet! There is no need to dry the car between washing and polishing. Aqua Wax contains carnauba wax for exceptional durability and is suitable for all paint types, including metallics, rubber, plastic and glass.
MSRP: $21.99 (USD)
Visit www.Autoglym.com for more information.
---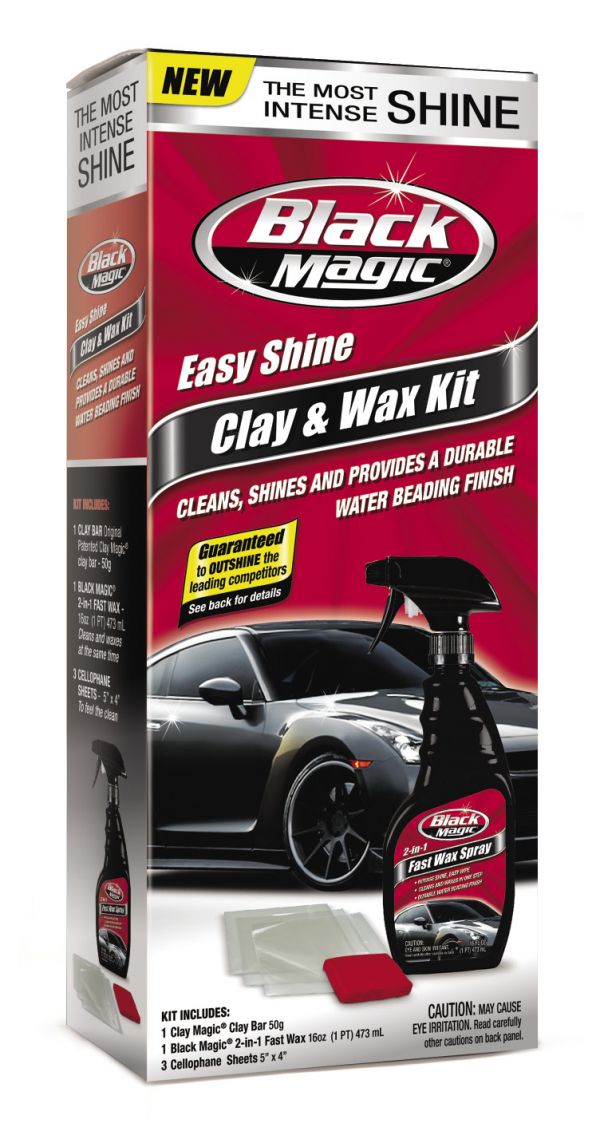 Black Magic Easy Shine Clay & Wax Kit

The new, patented 'Clay Magic' clay bar cleaning system is a fast 2-in-1 clay and wax system that eliminates deep dirt and contaminates that the typical car wash can't remove. The kit leaves a durable, wax shine that beads water and provides a beautiful, deep finish.

MSRP: $16.99 (USD)

Visit www.blackmagicshine.com for more information.
---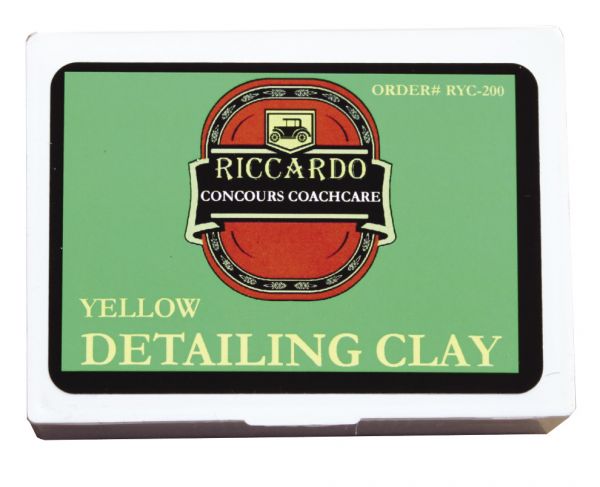 Riccardo Detailing Clay

Riccardo Clay is a premium, mild Claybar that will effectively remove contaminants without harming your paint surface. Using three pre-cut flat pieces, it eliminates the need to cut and flatten sections off a large bar. The unique Polyelastic formula sets this clay apart; not only is it very flexible, it will not crumble and works great with any clay lube. Comes with a plastic flip-top case for storage.

MSRP: $21.99 (USD)
Visit www.eshine.ca for more information.
---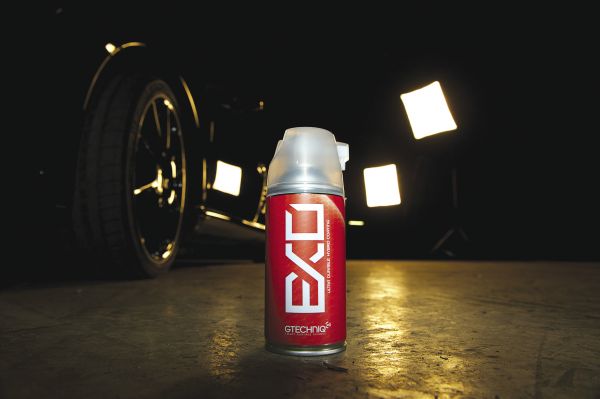 GTechniq EXO Ultra Durable Hybrid Coating

For the ultimate in dirt, sun and moisture protection, GTechniq EXO gives your paint a long-lasting, showroom quality finish. Tested to last over 600 washes, it is strong enough to use on cars, boats, planes and recreational vehicles! The UV filter also gives excellent protection against long periods in the sun, and water beads dry without leaving dreaded spot marks. Enjoy years of surface protection with just one application!

MSRP: $169.99 (USD)

Visit http://autobionix.com/shop/gtechniq-exo-410ml for more information.
---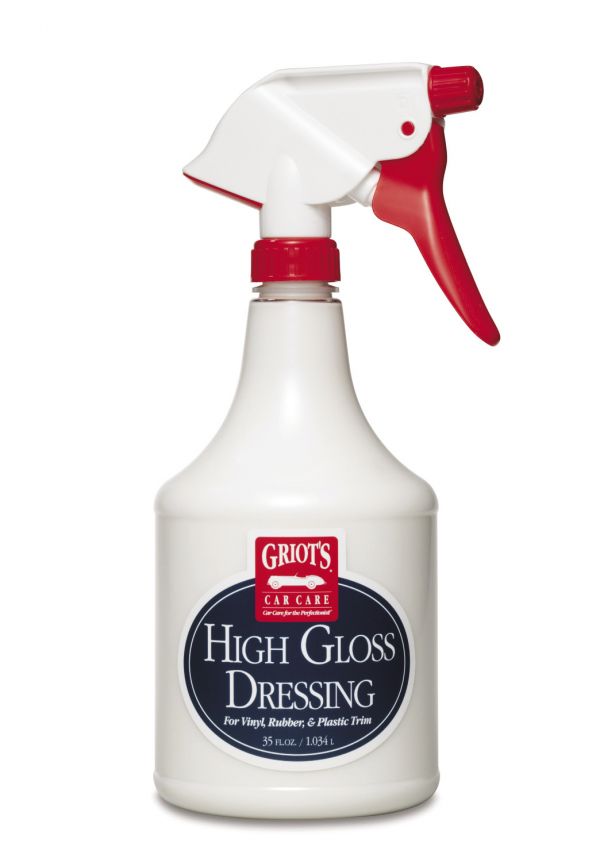 Griot's High Gloss Vinyl and Rubber Dressing
Griot's High Gloss Dressing allows you to achieve professional results on interiors, exterior trim, tires and all the plastic and rubber parts of your vehicle. There are no dangerous solvents, keeping your surfaces clean and moisturized for years to come. Special UV blocking agents also keep your vinyl and rubber parts from cracking, fading or hardening.
Visit www.griotsgarage.com for more information.
---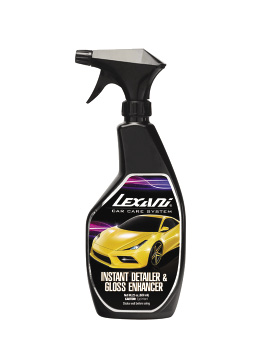 Lexani Car Care System
Lexani Wheel Corporation introduces four cleaning products for automotive enthusiasts who want nothing but the best in car care. The Spray Wax, Instant Detailer and Gloss Enhancer, Tire Shine, and Wheel and Tire Cleaner are made from superior formulas created to prolong that "fresh from the showroom" feeling. Designed to use on conventional finishes, quickly remove fingerprints, oils and deep dirt for a spotless, high-luster finish from your tires to your interior.
MSRP: $15.99 to $17.99 (USD)
Visit www.lexani.com for more information.
---

Lucas Oil Slick Mist Speed Wax
Lucas Oil Slick Mist is a polymer paint gloss intensifier that can also be used on glass, chrome and vinyl decals. Use it as a traditional wax, quick detail spray or just spray it on your vehicle between rinsing and drying for the easiest polish ever. Slick Mist out performs the competition and will leave your finish slippery and shiny, with long lasting protection.

Visit www.lucasoil.com for more information.
---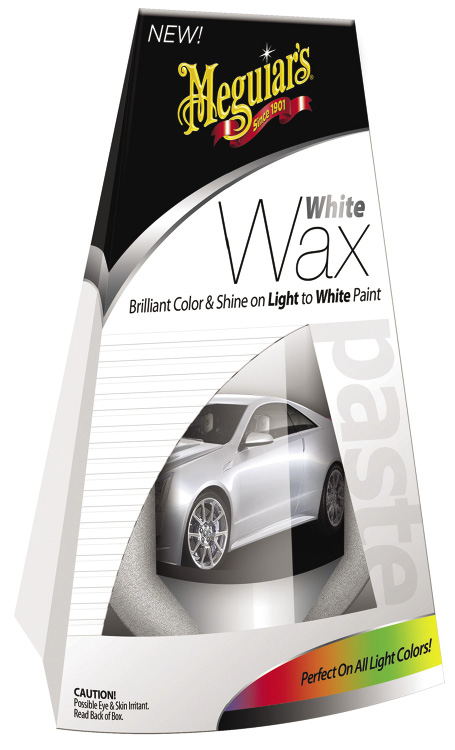 Meguiar's White Wax and Black Wax
Knowing that and black cars account for 70 percent of the vehicles on the road, Meguiar's introduces its new White Wax and Black Wax, designed to tackle specific problems facing light and dark paints and maximize the results consumers crave. Using Super Micro Abrasive Technology (SMAT), the waxes deep clean surfaces and accent the brilliance of white paint, as well as the 'wet' look that only dark paint can achieve. They're also backed by Meguiar's well-known, industry-leading care technology and performance guarantee.
Visit www.meguiars.com for more information.
---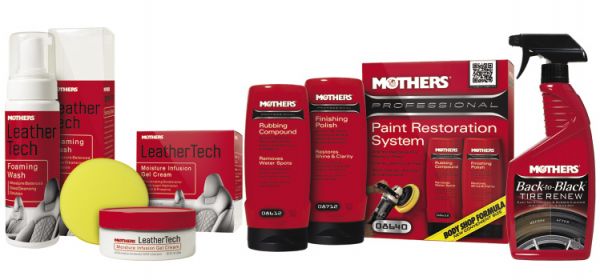 Mothers Car Care Products
For 2013, Mothers has four new and innovative products to enhance your vehicle's appearance, including the LeatherTech Foaming Wash and Moisture Infusion Gel Cream, Professional Paint Restoration System and Back-to-Black Tire Renew. With special micro-emulsion and hydrating formulas, the LeatherTech line is meant to clean and restore your surfaces to like-new condition, while the Paint Restoration takes car of water spots, oxidation and swirlmarks and scratches from damaging car washes. The Back-to-Black cleaner will remove tire scuff marks and dirt, even restoring white walls with no rinsing required.
Visit www.mothers.com for more information.
---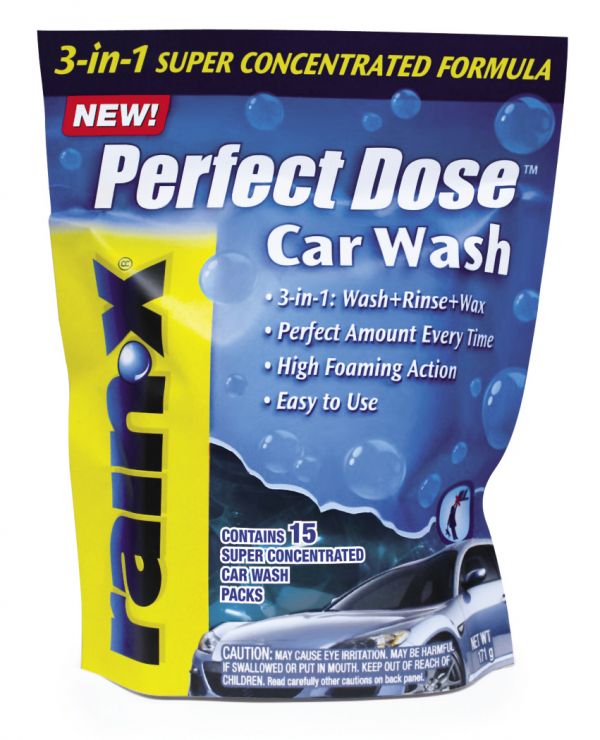 Rain-X® Perfect Dose Car Wash
Because it's almost impossible to get the right mixture of products when cleaning your car, Rain-X ensures the perfect amount of car wash every time. New water soluble film technology allows car wash packs to dissolve quickly in water, providing a perfect 3-in-1 mix to wash, rinse and wax your car. It also means less mess and wasted product compared to jug car wash alternatives.
MSRP: $7.99 (USD)
Visit www.rainx.com for more information.
---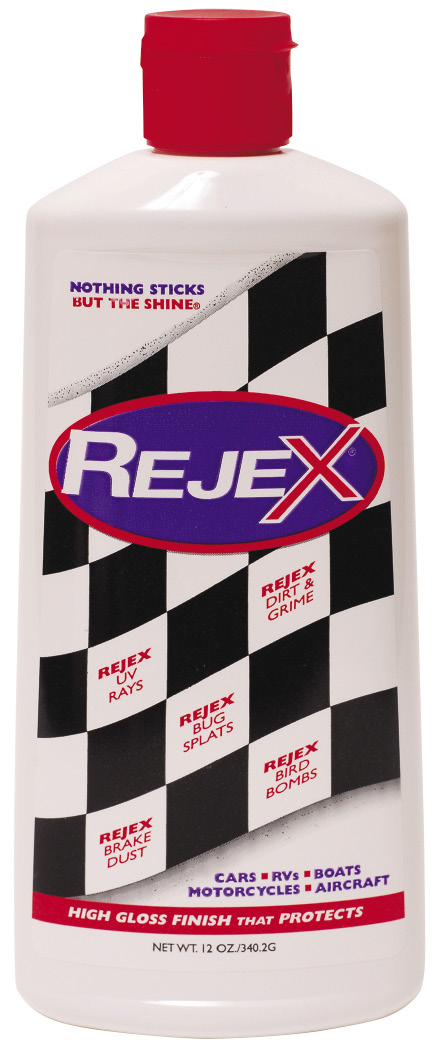 RejeX Protective Finish
RejeX is a thin-film polymer paint sealant designed to provide an ultra-high gloss, nonstick protective finish for any vehicle. Forget about old-fashioned waxes; this very thin film (less than a micron) that prevent stains and adhesion of common contaminants such as brake dust, melted racetrack rubber, exhaust and bug splats for a quicker cleanup every time.
MSRP: $14.95 to $129.95
Visit www.rejex.com for more information.
---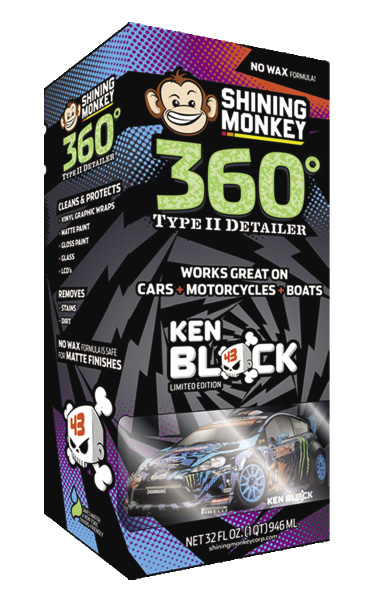 Shining Monkey 360 Type II Detailer

Introducing a first-to-market formula that is safe on all vinyl and paint matte finishes. Made to clean and protect the surface, the 360 formula will build resistance to staining and fingerprints the more you use it! Use it on your interior, exterior, glass, LCD screens, iPad, iPhone, smartphones, dashboards, and any other hard surface. This is an environmentally friendly formula that uses proprietary polymers to protect the surface by leaving behind an invisible nano layer of hydrophobic film.
MSRP: $19.99 (USD/CAD)

Visit www.shiningmonkeycorp.com or Part Source Stores in Canada for more information.
---

SONAX Wheel Cleaner

SONAX Wheel Cleaner is a highly-effective, environmentally-friendly, acid-free solution that is safe for all wheel surfaces. Just spray the yellow solution on your wheels and when it's ready to rinse, the color changes purple. Power spray or manually wash to remove dirt and brake contaminants for an impeccably clean wheel surface.
MSRP: $15.99 (CAD)

Visit www.sonaxcanada.com for more information.
---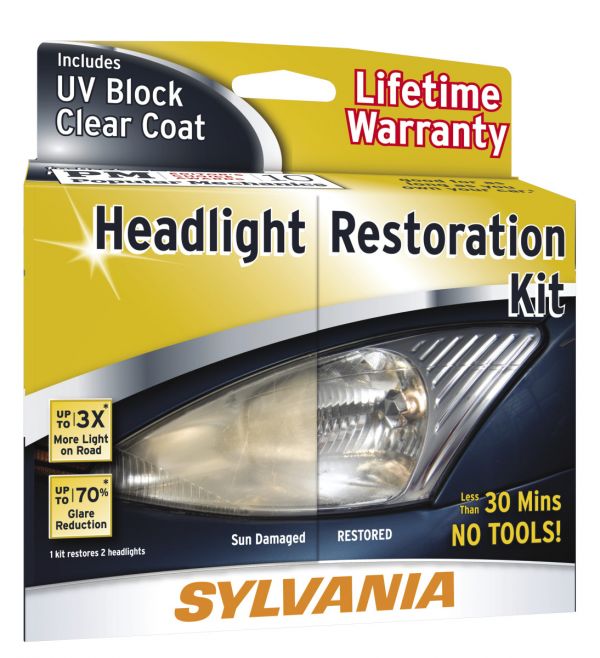 Sylvania Headlight Restoration Kit
Over time, the sun's harsh UV rays make your vehicle's plastic headlight lenses hazy and cloudy, drastically reducing light output and creating potentially dangerous glare during nighttime driving. The Headlight Restoration Kit from SYLVANIA restores road visibility and minimizes glare for oncoming traffic. Featuring a durable and proprietary UV block clear coat, it prevents future hazing and yellowing.
MSRP: $20 (USD)
Visit www.sylvania.com/HRK for more information.
---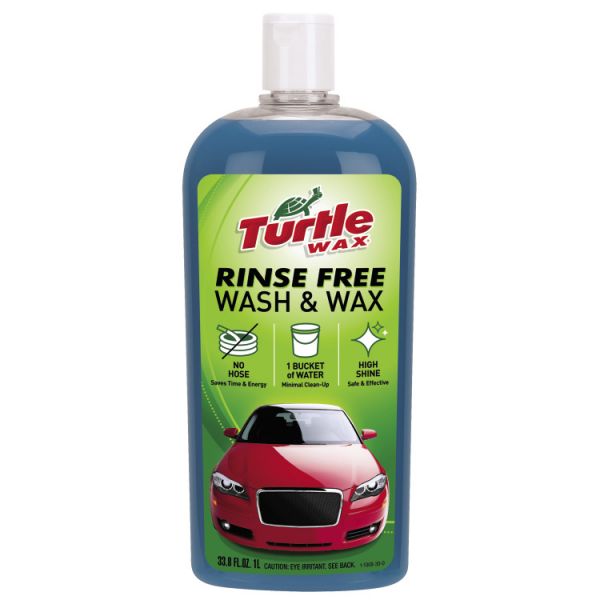 Turtle Wax Rinse Free Wash & Wax
Turtle Wax Rinse Free Wash & Wax is the fastest, easiest way to clean and shine your car without rinsing. This product will remove dirt without scratching your finish and leaves a protective layer with extraordinary shine. Appropriate for paint, plastic, rubber, decals, glass, chrome and more; urban dwellers and those without access to a hose can wash anywhere, anytime. It also conserves water and prevents harmful run-off into the environment. One bucket of water will wash and wax an entire vehicle!
MSRP: $7.99 (USD)
Visit www.turtlewax.com for more information.